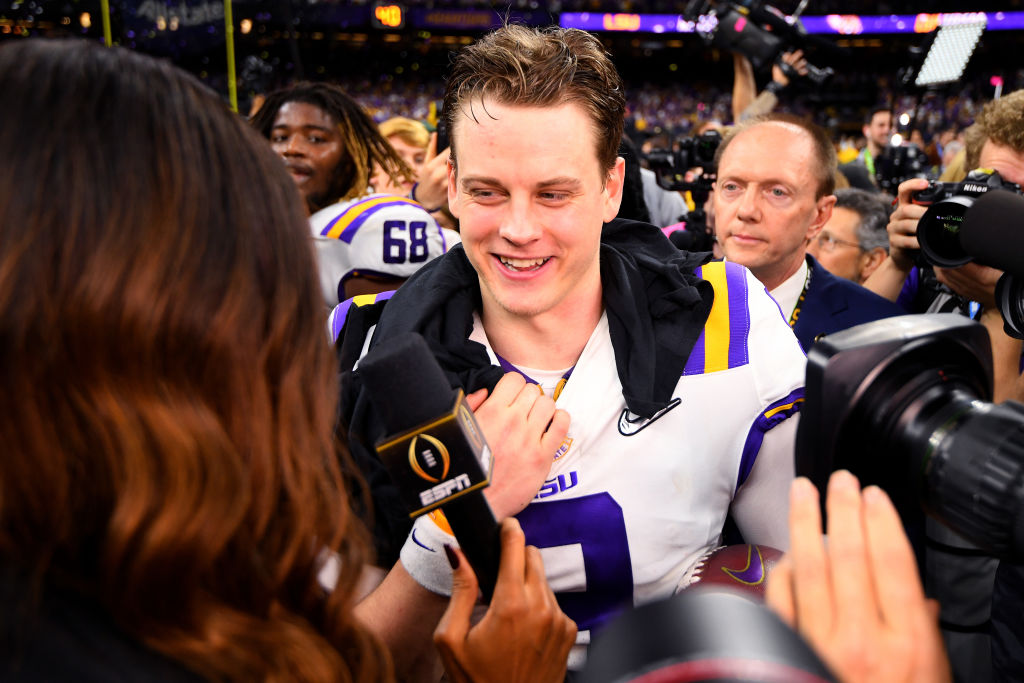 Joe Burrow Almost Didn't Transfer to LSU
Joe Burrow is the projected No. 1 overall pick in the NFL draft because of his legendary season at LSU. He almost did not go there, though.
Joe Burrow just had maybe one of the greatest seasons a college quarterback has ever had. Now, he is the top prospect in the 2020 NFL draft. While choosing to transfer to LSU was a life-changing decision for Burrow, it almost didn't happen. He almost transferred somewhere else. 
Joe Burrow was in a crowded QB room at Ohio State
Joe Burrow first went to Ohio State in 2015, and, with the Buckeyes already having a lot of quarterbacks, Burrow redshirted that season. The Buckeyes had just won the national championship the year before with their third-string QB. All three of their quarterbacks – Cardale Jones, J.T. Barrett, and Braxton Miller – were back in 2015 too and wanted to play.
Then in 2016 and 2017, Barrett was still at Ohio State. Barrett played a large role in Ohio State going all the way in 2014 despite not playing in the College Football Playoff due to injury. So, there was no way Burrow would beat him out. 
The QB competition at Ohio State was then open for the 2018 season. It ended up coming down to Burrow and Dwayne Haskins. However, Haskins beat him out and ultimately had a great season in 2018. He even became a first-round draft pick in the 2019 NFL draft.
So, Burrow, who graduated from Ohio State early as he graduated in May 2018, announced he was transferring. 
Transferring to LSU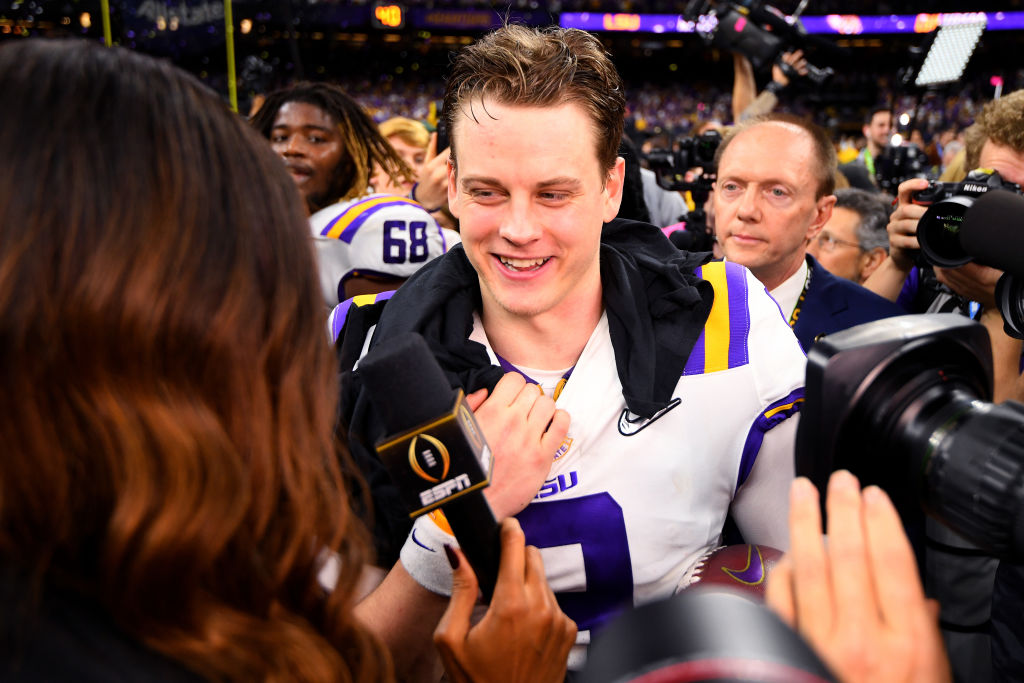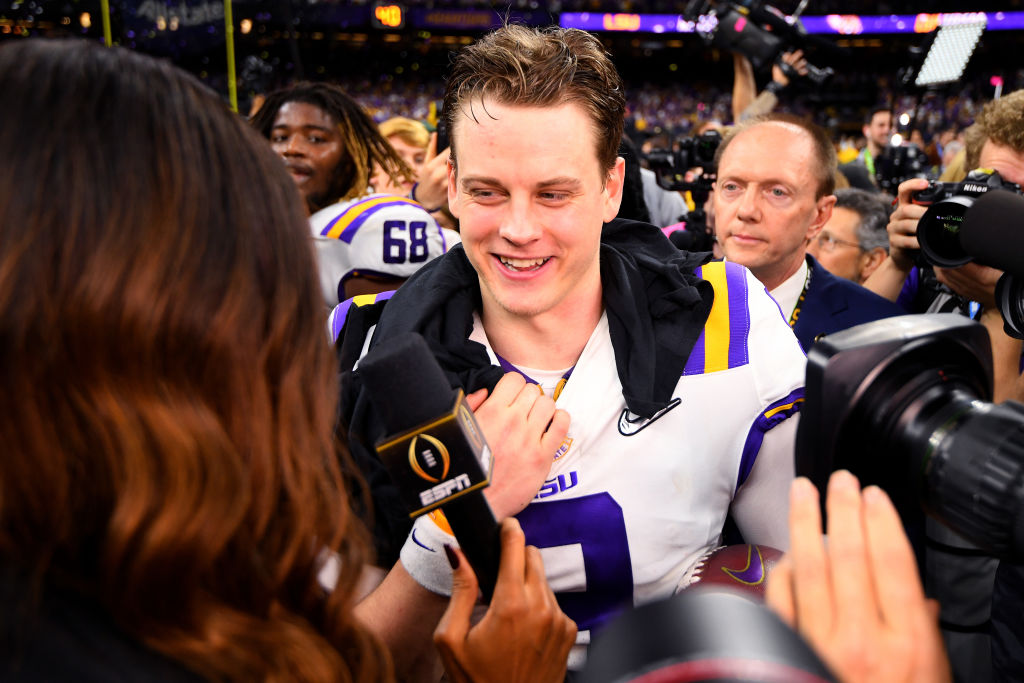 Burrow ultimately transferred to LSU. He had a decent season in 2018 as he thew for 2,894 yards, 16 touchdowns, and five interceptions. Haskins threw for 4,831 yards, 50 touchdowns, and eight interceptions that year, though. So, Ohio State probably made the right choice. 
However, Burrow had a legendary season in 2019. He ultimately threw for 5,671 yards, 60 touchdowns, and six interceptions for the Tigers. This led to Burrow ultimately winning the Heisman Trophy, over two Buckeyes too as Ohio State had multiple finalists. He also led LSU to a national championship win.
Now, Burrow is projected to be the No. 1 pick in this year's draft as the Cincinnati Bengals are expected to pick him. However, he was almost in Cincinnati just a couple of years ago.
Narrowing it down to LSU and Cincinnati
Joe Burrow is an Ohio guy. He played at Athens High School in Ohio. He won Ohio Mr. Football there. His dad Jimmy Burrow is the defensive coordinator and associate head coach at Ohio University. Joe, obviously, went to Ohio State. So, of course, he would consider another Ohio school to go and play football at.
That school was the University of Cincinnati. Luke Fickell is the head coach for the Cincinnati Bearcats and he was a long-time assistant coach at Ohio State. He also played for Ohio State. Additionally, Fickell was still at OSU in 2015 and 2016 when Burrow was there. So, naturally, there was some familiarity there. Bruce Feldman of FOX Sports then reported that Burrow planned to visit Cincinnati. Then, according to the Cincinnati Enquirer, Burrow narrowed it down to LSU and Cincinnati. He would either become a Tiger or a Bearcat. Would he choose to stay close to home or travel far away but with a chance to play on a bigger stage?
Obviously, you know where he chose to go. Burrow ultimately went to LSU and while Cincinnati has definitely been good since then, they have not had a QB like Burrow. 
Can you imagine what things would be like had Burrow gone to Cincinnati? LSU would probably not have won the national championship. He probably would not have won the Heisman Trophy and he probably would not be the projected No. 1 pick. It is safe to say that he made the right choice. It even looks like he will still be going to Cincinnati after all.