Joe Burrow's Bold Observation Should Have Ravens Fans Panicking About Their Injury-Plagued Defense
Article Highlights:
Cincinnati Bengals quarterback Joe Burrow offered a bold message about the Baltimore Ravens' defense
Ravens fans have every right to start panicking after the quarterback's comments
The Dec. 26 showdown between Burrow's Bengals and Lamar Jackson's Ravens could decide the AFC North
If what we're seeing now from Cincinnati Bengals quarterback Joe Burrow is what we should expect to see over the next decade, something tells us that decades-long streak without a playoff victory will end sooner than you can say, "Hey, Burrow just connected with Ja'Marr Chase for another touchdown."
Burrow, in case you had yet to realize and accept it, has become one of the NFL's top young quarterbacks. Not only is the LSU product pleasing his own fanbase, but he just casually and confidently sent Baltimore Ravens supporters an alarming message.
Joe Burrow cracked the code in figuring out the Baltimore Ravens' defense
At the time of publication, it'd been three days since Burrow shredded the Ravens' defense for 416 yards and three touchdowns in a 41-17 victory. We apologize to Ravens fans who spent recent nights turning over in bed while dreaming about the second-year quarterback's dominant start.
In the Oct. 25 edition of Football Morning in America, Burrow explained what helped the Bengals' offense thrive in Week 7. The Ravens had outscored opponents 107-55 over its previous four games and only allowed more than 17 points once in that span.
Burrow explained the Ravens put opponents in one-on-one situations, which clearly worked during the four-game stretch. However, Baltimore's overachieving defense wasn't ready for the Bengals' high-octane offense.
"At the beginning, they were winning those matchups and playing really well. We just kept putting our guys in positions we knew they could win, and we started making those plays. When we started making a few [of] those plays, they got out of that zero blitz, blitzing every snap. Eventually, we got back into the normal flow of our offense."

Joe Burrow
Burrow's adjustments paid off in a big way. After trailing 17-10 with 13:20 left in the third quarter, the 2019 Heisman Trophy winner led three scoring drives — including an 82-yard touchdown connection with Chase, the fifth overall pick in April's NFL draft — over the next 20 minutes of in-game action.
Chase finished with 201 yards on eight catches, and veteran tight end CJ Uzomah continued his breakout campaign with 91 yards and two touchdowns. Second-year wideout Tee Higgins added seven receptions for 62 yards in the rout.
Ravens fans should be extremely worried after Burrow's comments
On one side of the Ravens' proverbial coin is Lamar Jackson. The fourth-year quarterback has carried the team all season and, depending on the day, beat teams with his arm and his legs. Without the 2019 NFL MVP, the Ravens might be competing for the No. 1 overall pick instead of a fourth consecutive playoff berth.
Burrow's bold admission should bring significant attention to the other side of the Ravens' coin: injuries. Although most of the injury talk regarding the Ravens has revolved around the running back room, don't forget that Pro Bowl cornerback Marcus Peters tore his ACL on the eve of the regular season.
Baltimore lost another cornerback, Chris Westry, with a meniscus injury in mid-September. Rookie linebacker Daelin Hayes went down with an ankle injury later that month, and it is not yet known if he will return this season.
No one is going to discredit the Ravens' 5-2 start in large part because of Jackson's MVP-level play. He's the one who rallied his team to a controversial victory against the Detroit Lions in Week 3 and come-from-behind home victories against the Kansas City Chiefs and Indianapolis Colts. Again, the Ravens don't get as far as they have this year without Jackson at quarterback.
With that said, Burrow's Week 7 performance certainly shows what can happen if a team catches on to the Ravens' adjustments. He publicly outlined Baltimore's defensive strategies and how teams can exploit it so long as they have the talent. The Minnesota Vikings, the Ravens' Week 9 opponents, have the talent and weapons, as do the Green Bay Packers (Week 15) and Los Angeles Rams (Week 17).
Those three matchups, all of which are in Baltimore, will go a long way in determining if the Ravens win the AFC North. What once seemed like a guarantee now requires a defense willing to possibly change its ways after Burrow picked it apart.
It's alright to start panicking, Ravens fans. Just be grateful that you have Jackson at quarterback.
The Ravens-Bengals rematch on Dec. 26 could very well decide the AFC North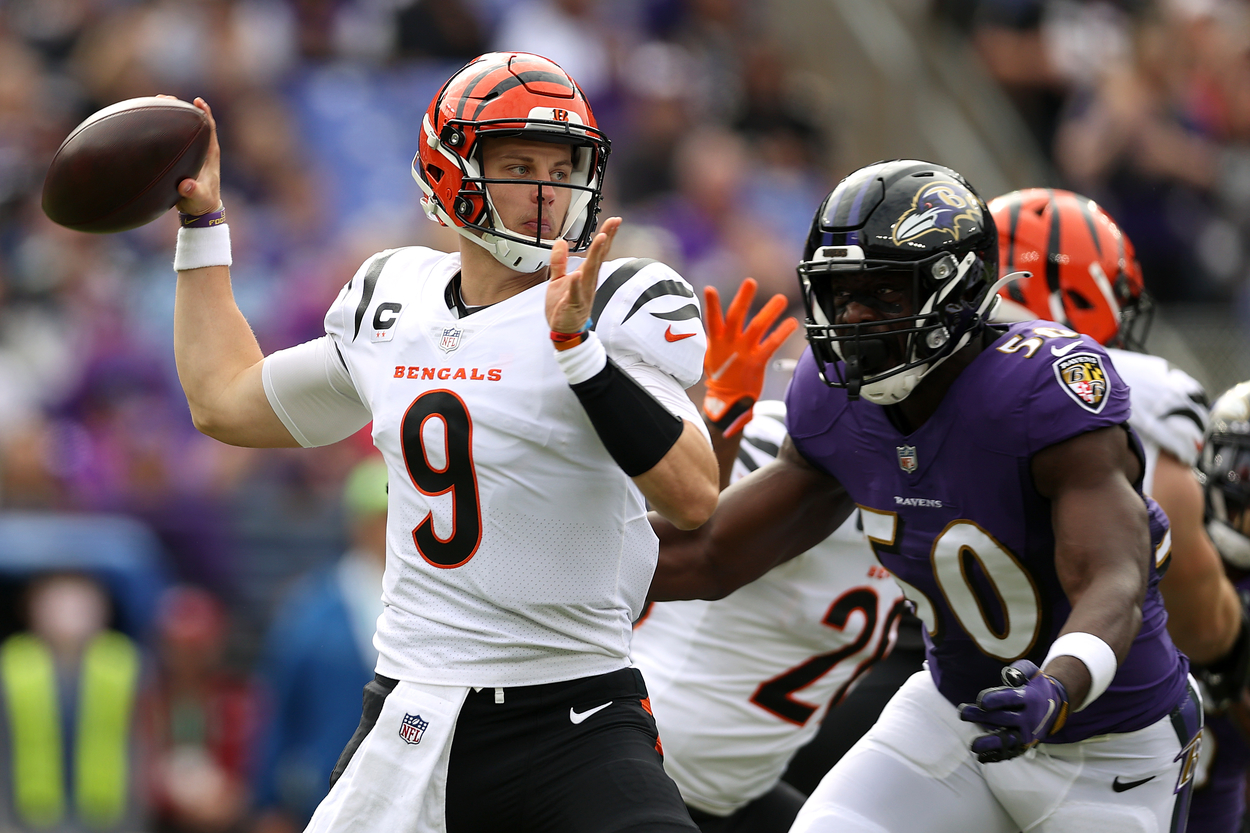 If the season ended today, we'd have teams reaching the postseason having played only six or seven games. That doesn't sound right. More importantly, the Bengals would be the AFC's top seed, and the Ravens, at No. 5, would be playing a Wild-Card Game on the road in January.
The Bengals are scheduled to host the Ravens on Sunday, Dec. 26, in a game which could be moved to Sunday Night Football if both continue playing at their current levels. Although both teams will have two games left after that showdown, that Week 16 matchup could very well decide the AFC North division.
Only time will tell if Burrow will regret speaking so brazenly about an opposing team's defense and what they did wrong. With the way he's playing, though, there doesn't seem like much the Bengals can do in two months to stop him.
Like Sportscasting on Facebook. Follow us on Twitter @sportscasting19.
RELATED: Joe Burrow Might Be a 'Modern-Day Joe Montana,' but Colin Cowherd Says That's Not Good Enough in 2021: 'I'm Not Looking for the Next Chrysler, I'm Looking for the Next Tesla'