Joe Burrow Calls Himself the 'LeBron' of His High School Basketball League
Cincinnati Bengals fans are thankful Joe Burrow didn't pull the plug on football in high school.
Joe Burrow is doing just fine as the quarterback of the Cincinnati Bengals. A Super Bowl appearance in his second year in the NFL isn't too shabby. His 4,611 passing yards and 34 touchdown passes last year hint at a promising future in the league.
Recently, Burrow reiterated basketball is his favorite sport. When asked if he could have gone on to play college basketball, he said he could have. When asked what position he played, he simply said he was the "LeBron" of his high school league.
Joe Burrow knew football was the right career path to take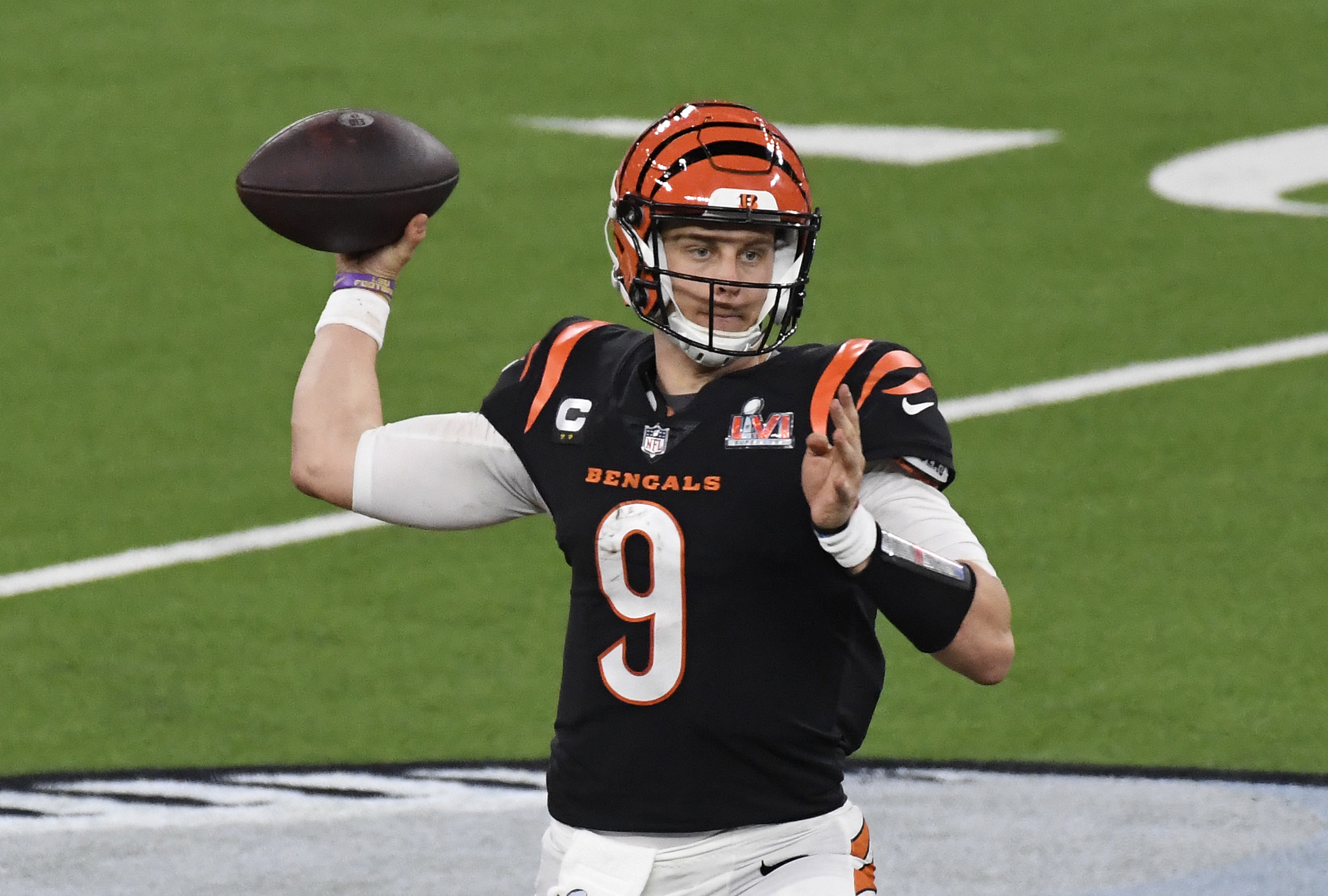 Burrow has secured himself as one of the best young quarterbacks in the NFL. And that's after tearing his ACL in his rookie season. Burrow went 2-7-1 as a rookie before the injury ended his first year in the NFL. After some intense rehab, Joe Cool had quite a bounce-back year. Burrow led the Bengals to a 10-6 mark in his 16 starts and propelled Cincinnati to an unexpected berth in the Super Bowl.
It wasn't always easy for Burrow. He struggled to find a home at the college level. He had very few offers from big-time schools, and his stint at Ohio State was short-lived. Burrow transferred to LSU, where he found a home and thrived.
He spent two years as the Tigers' quarterback, putting up record-setting numbers as a senior by throwing for 5,671 yards and 60 touchdowns. He led LSU to the national title and was the first pick in the 2020 NFL Draft.
Recently on the Full Send Podcast, Burrow admitted football isn't even his favorite sport. His first love has always been basketball, but he knew throwing the ball instead of shooting it was his key to a successful pro career.
"Almost quit football to play basketball," Burrow said. "I was the starting point guard as a freshman at my high school on varsity basketball, and I was playing freshmen football. I was kind of starting to lean toward basketball.
"All of a sudden, I had this awesome sophomore season in football, and I thought I'm pretty good at this football thing, so I might as well focus on this."
Burrow said he was the 'LeBron' in his high school basketball league
Burrow clearly made the right choice to stick with football. Although he was a gifted athlete, he admitted he never would've had a career in the NBA.
As a kid, Burrow played three sports — baseball, basketball, and football. He said he didn't play baseball in high school, but he excelled at both basketball and football at that level.
"I played baseball growing up and I played basketball all through high school," he said.
He said he thinks he could have had some offers to play basketball collegiately.
"Basketball, I could have played somewhere if I wanted to," he said.
He was asked if he could dunk.
"I could dunk, yeah," he said.
Then he was asked what position he played.
"I was kind of the LeBron of my little league," Burrow said with a laugh. "We didn't exactly have the stiffest competition, but I kind of did everything. The LeBron of Southeast Ohio."
The LeBron of Southeast Ohio is now the king of Cincinnati, Ohio, and Bengals fans are certainly happy with his decision to stick with football.