Joe Burrow Can Blame the Cincinnati Bengals for Foolishly Allowing His Injury To Happen
Shortly after the 2020 NFL draft, Sportscasting published a story, saying that the Cincinnati Bengals were about to foolishly waste millions of dollars on quarterback Joe Burrow because they had no offensive line to protect him. Well, fast forward about seven months, and that claim has proven to be true. Burrow was in the midst of an outstanding rookie season with the Cincinnati Bengals, but he was getting hit, and he was getting hit a lot. Now, he is out for the year after suffering a brutal injury in Week 11. He has the Bengals to blame for his season ending prematurely, too.
Joe Burrow has had a fantastic rookie season for the Cincinnati Bengals
After an incredible 2019 season in college at LSU, Joe Burrow continued to find a ton of success for the Cincinnati Bengals in 2020 after going to Cincy with the No. 1 overall pick in the 2020 draft.
Through nine games and in part of another, Burrow led the NFL in passing attempts and completions, and he had 2,688 passing yards to go with 13 touchdown passes and only five interceptions. He was proving to be the real deal.
However, he was practically running for his life every game. He has been sacked 32 times this year, which is No. 3 in the NFL, and could have been higher had he played deeper into the Week 11 game. He also entered the game tied with New York Giants quarterback Daniel Jones for most hits taken by a QB through their first nine games since 2000 with 72 QB hits, according to Sports Illustrated.
It did appear that the line was getting better. It didn't allow a sack at all in Week 8 against the Tennessee Titans. Additionally, from Week 6 through Week 10, Burrow's pressure rate was 27.2%, according to ESPN. That number is only a little higher than the NFL average of 25.1%.
However, despite the improvement, Burrow ultimately took one few too many hits.
Joe Burrow's season appears to be over
During the Bengals' Week 11 game against the Washington Football Team, Burrow suffered a brutal knee injury. According to ESPN, Burrow reportedly tore his ACL and MCL and had other structural issues.
"I didn't really have many words," Bengals backup quarterback Ryan Finley said after the game, according to ESPN. "I didn't know what to say other than I hope he recovers very soon, because he's a hell of a player. It's been a lot of fun watching this first half of the season."
This injury is a brutal blow to the Bengals, as Burrow was giving the organization hope for the future. However, the Bengals have no one to blame but themselves.
The Cincinnati Bengals are to blame for his brutal injury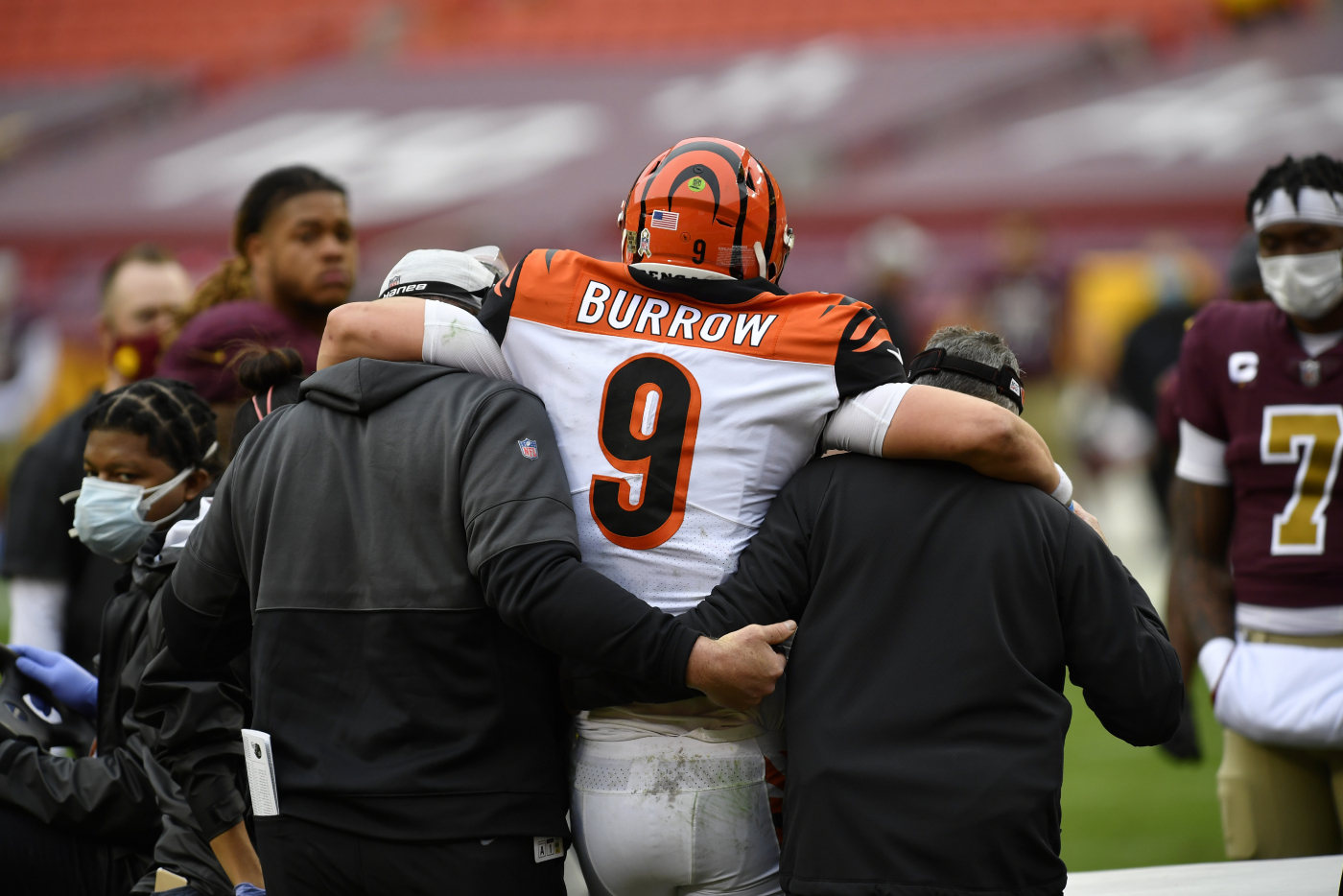 Many people are looking toward the offensive line's poor play throughout the season for why Burrow got hurt. Bengals head coach Zac Taylor stood up for his line, though.
"The hit as I saw it wasn't when he had the ball in his hand," Taylor said, according to ESPN. "And people keep talking about the offensive line without seemingly watching the film from the last four weeks."
He continued: "Joe's done a good job moving us down the field, and we felt like we're making a lot of progress over the last five weeks, and we're not going to apologize for any of that."
The Bengals' offensive line certainly improved, but it was still not a good offensive line. The Bengals should absolutely be apologizing to Burrow and their fans. The line could have been much better had they actually made moves to protect their franchise QB.
Following the 2019 season, the Bengals' offensive line ranked No. 30 out of all NFL offensive lines, according to Pro Football Focus. Other than first-round pick Jonah Williams returning from injury this season, the Bengals didn't do much at all to improve that unit. Cincinnati didn't draft an offensive lineman until the sixth round of the 2020 NFL draft. They didn't really address the problem in free agency, either, as Pro Football Focus ranked the Bengals' line at No. 31 out of 32 teams heading into the 2020 season.
So, yes, the line has maybe improved throughout the season, and some new faces like Quinton Spain and Hakeem Adeniji have performed well, but it could have been exponentially better had the Bengals focused on improving it during the offseason.
The Bengals knew that they were drafting a once-in-a-lifetime type quarterback but still completely mismanaged the situation in terms of protecting their most valuable asset. They are entirely to blame for his injury.
Cincinnati's franchise quarterback just went down with a season-ending and potentially career-altering injury. The Bengals have no one else to blame but themselves, either.
Stats courtesy of Pro Football Reference