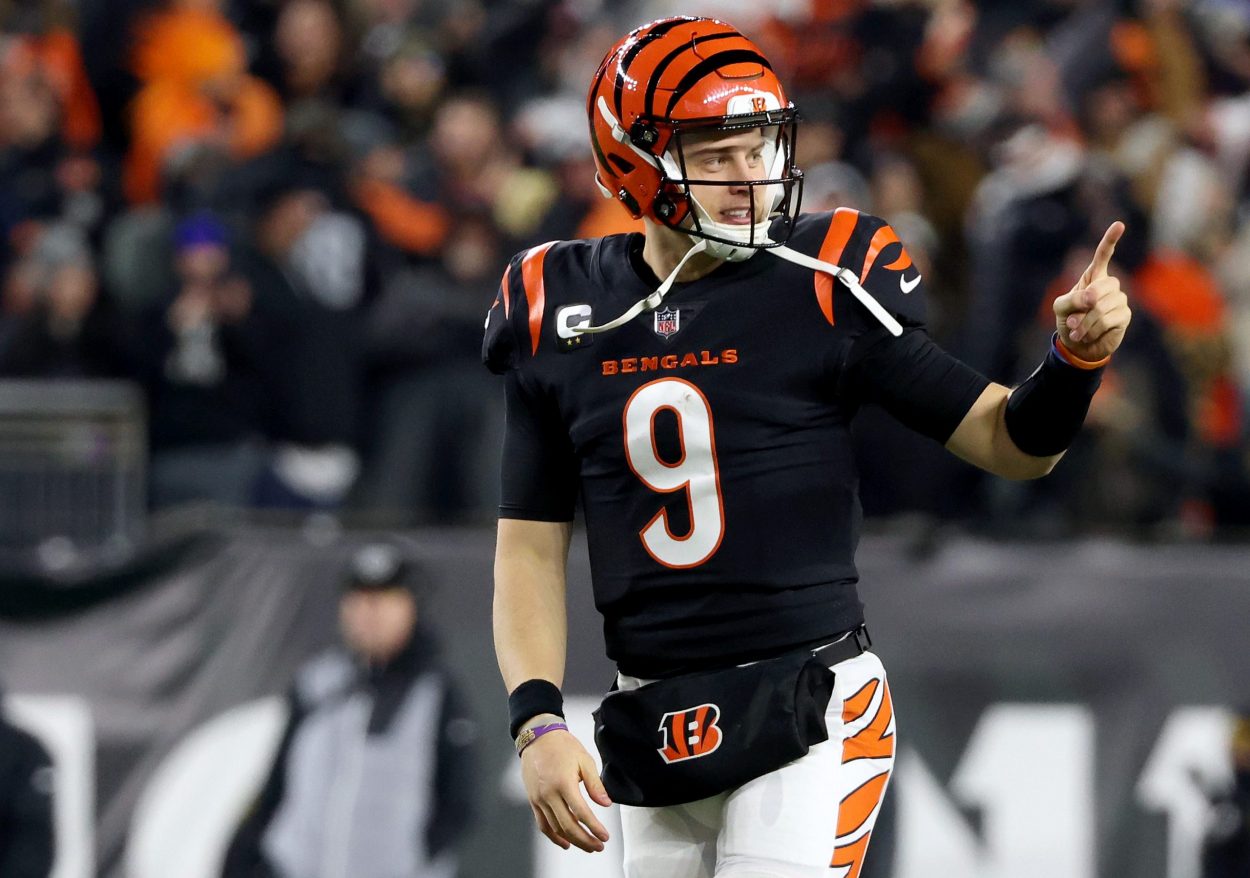 Joe Burrow Can't Cool the Joe Montana Comps as His Play Heats Up in NFL Playoffs
Joe Burrow continues to draw comparisons to Joe Montana as the Bengals continue in the NFL Playoffs.
Maybe it's the name. More likely, it's their game. But with each passing week, it seems like more and more former NFL quarterbacks are comparing Cincinnati Bengals quarterback Joe Burrow to the greatest Joe of them all, Joe Montana.
Trent Green, the former QB whose knee injury back in 1999 opened the door for the amazing story that was Kurt Warner, was positively glowing this week about Burrow, another quarterback who endured a torn ACL and his now writing his own storybook season, leading the Bengals to their first playoff victory in 31 years last weekend.
On Saturday, Burrow will try to keep the Bengals on the path to the Super Bowl, taking on the Tennessee Titans in the Divisional Round of the NFL Playoffs. Taking on the No. 1 seed in the AFC, particularly with Derrick Henry returning from his toe injury, is a daunting task for any quarterback, let alone one in his second season in the league.
But Green says Burrow has that Montana magic. Call him "Joe Cool" 2.0.
What's in a name? Green says everything that makes a quarterback a playoff winner
Now working for CBS Sports as an NFL analyst, Green was not shy in his praise of Burrow after the Bengals dispatched the Las Vegas Raiders last weekend. Burrow, who has been playing the best football of his young career in the past month, did not show even a hint of nerves despite playing in his first-ever NFL Playoff game.
This is perhaps not surprising, considering Burrow is only two years removed from winning the College Football Playoff National Championship Game with LSU – been there, done that – but Green was not deterred from playing the name game to make his point.
"Joe Montana had the nickname 'Joe Cool' because of the way he was able to perform in big moments in big Super Bowls," Green said this week. "But I think Joe Burrow is going to have to take on that name as well because of the way he conducts himself."
Joe Montana was never cooler than when he broke Bengals hearts in 1989
No one knows exactly when the "Joe Cool" nickname stuck to Montana, but it's not hard to figure out why. Montana played in four Super Bowls and won all four. In Montana's second season as a starter, he led the 49ers on an 89-yard drive in the final five minutes against the Dallas Cowboys in the 1981 NFC Championship Game, culminating with "The Catch."
The 49ers went on to beat the Bengals in Super Bowl 16. Eight years later, another length-of-the-field drive in the final minutes beat the Bengals directly in Super Bowl 23, cementing Montana's legend for cool under fire.
But Montana explained it to Russell Wilson in 2020 that it was in practice, those moments no one saw except his teammates and coaches, that the Joe Cool thing really came out.
"People always say, 'I never saw you yelling or screaming.'" Montana said. "You know what, why am I going to yell and scream? I'm going to make mistakes. Do I want to throw an interception? No. Does that guy in front of me want to miss a block? No. Does that guy want to drop a pass? No. It happens. Those guys on the other side get paid, too. As long as you get the best of them the majority of the time and get to where you want to get, it's OK."
Burrow would rather be an ordinary Joe, but he keeps playing like a legend in the making
For what it's worth, Burrow himself wants no part of the comparison. Phil Simms, who knows a little about competing against Montana, said the same thing back in October. Burrow wouldn't touch it with a ten-yard set of poles.
"Let's all relax with that," he implored the media when asked about the comparison. "Let me be me."
But if he comes through Saturday against the Titans, he may have no choice but to accept his fate.
The Bengals have never won a road playoff game in the entire history of the franchise, going 0-7. But the last time they played in a postseason road game was in January 2015, when Burrow was a senior in high school.
Like Montana, Burrow does not carry any of that baggage into this game. Bo Jackson Curse? Burrow just kept on rolling, throwing for 244 yards and two touchdowns without an interception. In his last five games, including the Wild Card victory, Burrow has thrown for 1,720 yards and 13 touchdowns without an interception.
"His first playoff game, he was outstanding, completing over 70 percent of his passes," Green said. "You have to remember he's coming off major knee surgery. The way he handled himself all season long. I think it's hands-down, Comeback Player of the Year, because of the way he's played. He's still a young player, just his first playoff game, he stepped up in the big moment."
Stats courtesy of Pro Football Reference