Joe Burrow Gives Bengals Fans Hope as He's 'Morphing Into His Heisman Season Before Our Eyes'
The NFL is back! We've officially moved from preseason into regular season, and we're seeing both expected power rankings and some surprises. There's always a wildcard or three in every season — the NFL even has wildcard playoff games — and it's fun to see a player emerge with a bright future. A team that has had a long dry spell starting to look good is always fun to see, whether you're a fan or not. Joe Burrow is one of those brilliant rays of light, and Cincinnati Bengals fans are here for it. 
Joe Burrow was the number one draft selection in 2020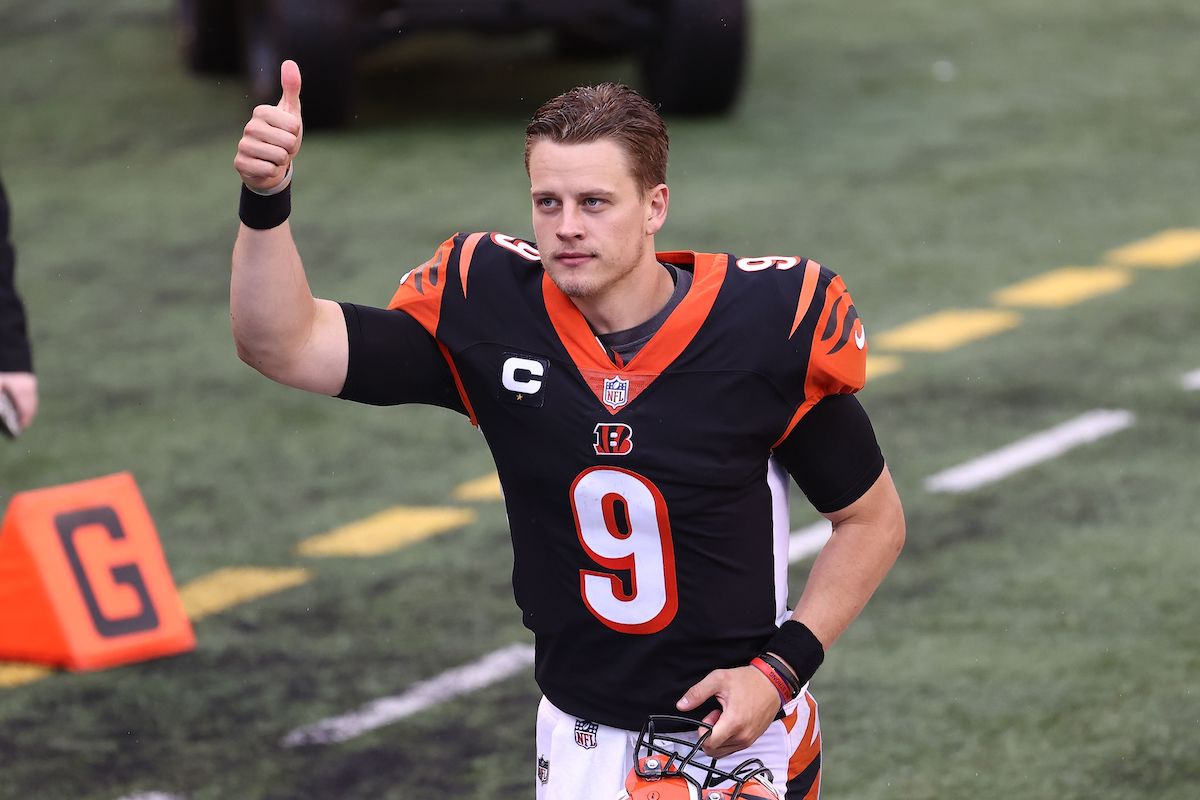 Joe Burrow was a number one selection in the 2020 draft. A number one overall pick is a huge expectation to live up to. All too often, those who were great in college don't quite live up to the expectation. Burrow didn't really even have a chance to try. That's because during his rookie season with the Cincinnati Bengals, the QB suffered an injury.
In the first 10 weeks of the season, Burrow wasn't spectacular, but he was constantly improving. Both fans and the front office were excited to see what he could do in the last third of the regular season.
Unfortunately, though, Burrow went down in Week 10. Playing against the Washington Football Team, Burrow found himself sandwiched between two defenders; the resulting hit tore his ACL.
It was a season-ended injury. Fans were devastated, and the Bengals struggled to finish out the season.
Joe Burrow is giving Bengals fans hope this season
This season, Burrow is back in the driver's seat, with some offensive weapons given to him by Cincinnati's front office. Coming back from an injury like a torn ACL is difficult, and oftentimes, an athlete's performance either just isn't what it used to be or it takes a lot of time to get back to achieving what they did before.
Fans were understandably nervous, but Burrow came back in Week 1 with gusto and determination.
However, when asked, "Who on your team showed up in a clutch must have moment this week?" Redditors who are fans of the Bengals called Burrow out in the best ways. 
"Joe Burrow is morphing into the Heisman season before our eyes. Anything to win. Supreme confidence in himself and his team. That 4th down throw in OT took huge nuts, and it was perfect," said one Redditor.
Another jumped on the thread with "I don't know if we'll make the playoffs, but this team is going to be entertaining and competitive, more than I can say for the last four or five seasons, so I am pumped."
Another Redditor summed it up: "Fun to watch and actually a reason to have hope."
Fans are excited to see Burrow back and leading the team. Only time will tell if he keeps improving — but judging by the way he did last season before his injury, Bengals fans have every reason to be jumping for joy.
Who else came in clutch?
Redditors who are fans of other teams chimed in, too.
Juan Thornhill of the Kansas City Chiefs punched out the ball and caused a fumble on an impressive defensive play.
Greg Joseph of the Minnesota Vikings hit two over 50 yard field goals, and one of them put the game into overtime.
Even a few punters got some love. The Eagles have a rookie punter who kept pinning Atlanta inside the 10, and the Seahawks Michael Dickson not only recovered a messed up snap, but got the punt off, too. 
RELATED: Cincinnati Bengals Rookie Receiver Ja'Marr Chase Had 1 Good Game Then Promptly Turned off Fans With His Selfishness