Joe Burrow Is the Riskiest Top NFL Draft Pick Since JaMarcus Russell
Joe Burrow earned the right to be the NFL draft's top selection. An Ohio State transfer who won the Heisman Trophy and national championship at LSU last year, Burrow brings winning and a record-setting arm to a Bengals team in desperate need of life.
Joe Burrow could be the Bengals' long-awaited savior, or he could be out of a starting job in three years. Regardless, Burrow's brief college success and his rapid rise from late-round pick make him the riskiest No. 1 NFL draft pick since another LSU quarterback, JaMarcus Russell, in 2007.
Joe Burrow had an unexpected path to the NFL draft's top pick
Joe Burrow is in the rare category of recent projected first-round quarterbacks who opened the previous season as likely Day 3 picks. Fittingly, his ex-Ohio State teammate, Dwayne Haskins, fell into the same boat last year.
Thirty quarterbacks earned a first-round selection in the 2010s. Haskins, Auburn's Cam Newton — a junior college transfer — and Baylor's Robert Griffin III are the main quarterbacks who jumped into the first round.
Haskins had an inconsistent rookie season last year, and injuries impacted Griffin's career. Griffin is now Lamar Jackson's backup in Baltimore.
Tim Tebow is in a separate category. Although Tebow is one of the greatest college quarterbacks of all-time, he was a projected Day 2 or Day 3 pick in 2010.
Tim Tebow's proven college track record separates him from Joe Burrow, Haskins, and Newton, all of whom turned one excellent season into a first-round selection.
Tebow only lasted three NFL seasons, though, and is now pursuing a professional baseball career.
Old mock drafts and quarterback rankings, even those a year in advance, often did an excellent projecting what quarterbacks would go early. The likes of Andrew Luck, Johnny Manziel, and Sam Bradford were locks and hailed as long-term saviors.
The same went for Josh Allen and Paxton Lynch, raw quarterback prospects. Joe Burrow is a far-more talented prospect than either of those two, but that doesn't change how unorthodox Burrow's journey to top NFL draft pick is.
The Bengals took a risk drafting Burrow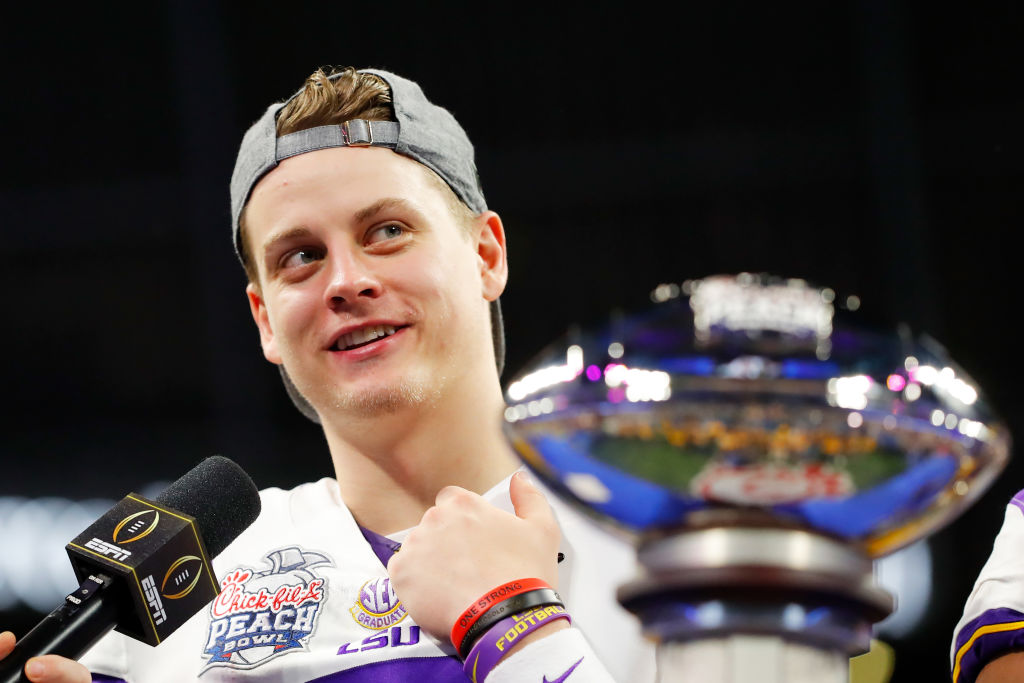 The Cincinnati Bengals wanted to use the NFL draft's top pick on a quarterback pick and, after Tua Tagovailoa's hip injury, Joe Burrow was the safe choice.
With that said, Cincinnati may regret investing the No. 1 overall selection into a quarterback who had one elite — albeit record-breaking — season at LSU.
The strengths Joe Burrow showed last season far outweighed his weaknesses. Burrow is a proven leader who doesn't rattle in the pocket, can pick up plenty of yards with his legs, and shows excellent vision.
But is the jump Burrow took last season for real, or was that a product of playing in a loaded offense under wunderkind offensive assistant Joe Brady?
Bengals coach Zac Taylor believes it is the former. Taylor told ESPN on Wednesday that Burrow is "as advertised."
"We talked to a lot of guys but certainly formed a good relationship with Joe and [we have] been really impressed with everything we've seen from him."
Joe Burrow won't be JaMarcus Russell, but the parallels are there
Saying Joe Burrow is the riskiest top NFL draft pick since JaMarcus Russell doesn't mean Burrow is bound to be among the greatest busts in league history. Russell was a one-year wonder in college who lacked the maturity and work ethic to thrive in the NFL.
Then-Raiders coach Lane Kiffin even told owner Al Davis that Russell wasn't ready to be the top pick. Davis ordered the team draft the LSU quarterback and fired Kiffin a year later.
Joe Burrow doesn't have those same personality flaws. He enters the NFL as a feel-good story and with an attitude that will make players respond to him and fans root for him.
But the questions about if Burrow's Heisman season was a sign of things to come, or if it was just a talented college quarterback thriving in the college game, will deservedly linger. Those questions occur when a quarterback who goes from projected Day 3 pick to the NFL draft's first selection in less than a year.

Burrow hopes to join a rare club of quarterbacks who won a Super Bowl after being selected No. 1 overall. Eli and Peyton Manning, Jim Plinkett, John Elway, Terry Bradshaw, and Troy Aikman make up that group.
Drew Bledsoe won a Super Bowl with New England in February 2002, although he didn't start that game. Tom Brady won his first of six Super Bowls that day.
The Cincinnati Bengals have their man in Joe Burrow. If Burrow can do what he did so well at LSU and quiet the doubters, he and the Bengals could enjoy a successful decade.