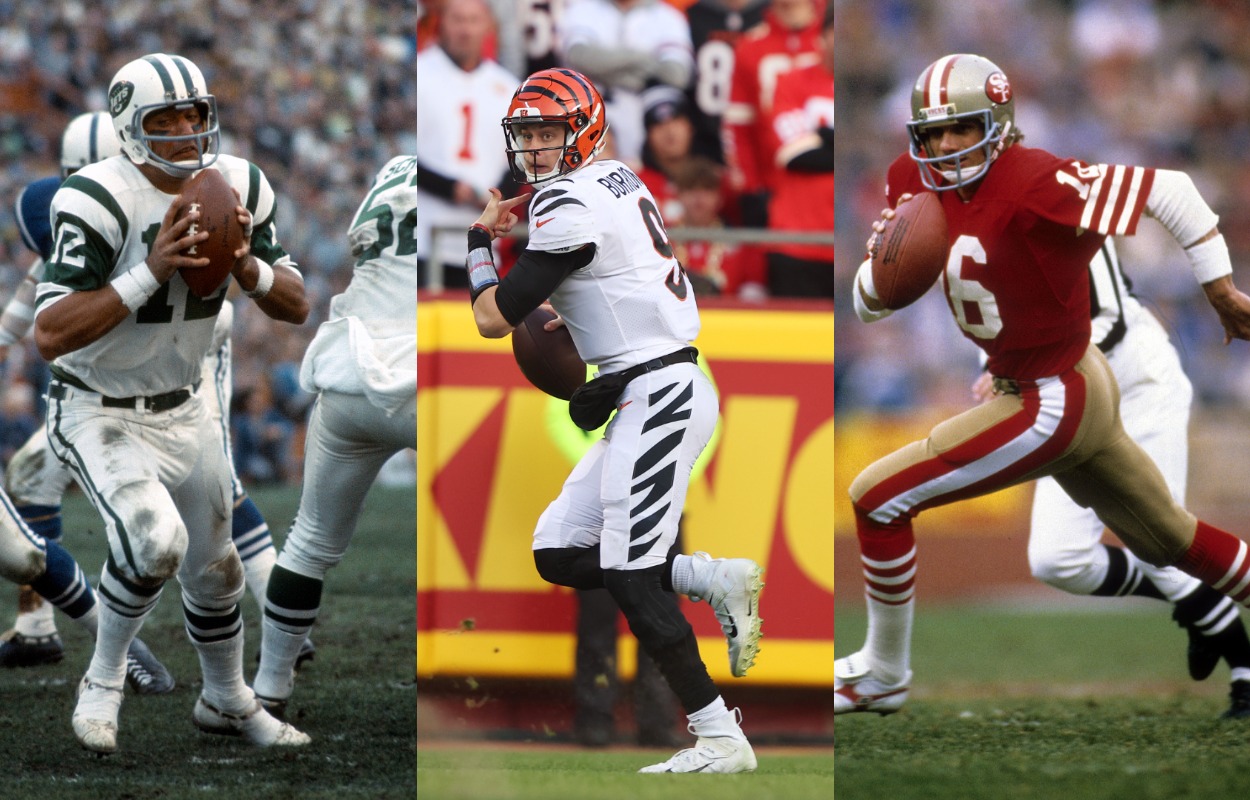 Joe Burrow Could Join Joe Montana and Joe Namath in a Little-Known Joe Club With a Super Bowl 56 Victory
Joe Burrow is a Super Bowl victory away from joining Joe Montana and Joe Namath in a little-known quarterback club.
Article Highlights:
Cincinnati Bengals quarterback Joe Burrow will join Joe Montana and Joe Namath in an exclusive club if he wins Super Bowl 56
The 2019 Heisman Trophy winner would follow those two as quarterbacks who won a national championship and a Super Bowl
Burrow will create his own club if he wins because he played in the National Championship Game era
Cincinnati Bengals quarterback Joe Burrow, the No. 1 overall pick in the 2020 NFL Draft, is already guaranteed to join one rare club if he emerges victorious in Super Bowl 56. Either he or Los Angeles Rams star Matthew Stafford, the top pick in 2009, will become the ninth quarterback in NFL history to win a Super Bowl after being selected first overall.
However, there exists a separate group that only Burrow can enter if he earns the right to party with the Lombardi Trophy, and it's a brotherhood currently occupied by two of the most influential quarterbacks in NFL history.
Joe Burrow could join Joe Namath and Joe Montana in an exclusive club if he wins Super Bowl 56
As football fans know, Burrow led the LSU Tigers to a national championship victory in January 2020. He and the Tigers capped off a perfect 15-0 season by routing Trevor Lawrence's Clemson Tigers, 42-25, in the Ohio State transfer's final college game.
Over two years later, Burrow has an excellent opportunity to add a Super Bowl ring to his resume. If he is successful, he will join New York Jets legend Joe Namath and San Francisco 49ers great Joe Montana as the only starting quarterbacks in NFL history who won a national championship and a Super Bowl. Namath won Super Bowl 3 and Montana captured four victories in the Big Game.
Namath and the Alabama Crimson Tide were controversially recognized as national champions in 1964 despite losing to No. 5 Texas in the Orange Bowl. At the time, the Associated Press and United Press International did not conduct post-bowl polling. The NCAA currently recognizes Alabama, and not No. 2 Arkansas, as that year's national champions. Montana and Notre Dame went 11-1 in 1977 and defeated Texas in that year's Cotton Bowl to finish No. 1 in the final polls.
It is essential to clarify that this list only includes starting quarterbacks. Although seven-time Super Bowl champion Tom Brady played at Michigan when the Wolverines were named national champions in 1997, he served as Brian Griese's backup. Therefore, the three-time NFL MVP is ineligible for this list.
Peyton Manning, a two-time Super Bowl champion, never won a national title at Tennessee. Vince Young, who led the Texas Longhorns to a thrilling championship game victory in January 2006, never made it to an NFL conference championship game, much less a Super Bowl. The list goes on in both directions.
As of publication, the list is only Montana and Namath. Only time will tell if Burrow increases the club's membership by one.
Burrow would also technically create his own group because he played in the National Championship Game era
When discussing college football's history of national champions, the conversation can get especially confusing and frustrating at times. For decades, various outlets, primarily newspapers and writer's groups, voted on the national champions through end-of-year polls.
It wasn't until 1998, long after Montana's final game at Notre Dame, that the NCAA finally realized it'd be worth it to have a legitimate national championship game. Whether or not the BCS or College Football Playoff systems have worked is another conversation.
With a victory on Sunday, Burrow would become the first quarterback in the National Championship Game era (1998-present) to win both a national title and a Super Bowl. By no means is this club, assuming it's created, a negative indictment on Montana and Namath's accomplishments. However, it is interesting no starting quarterback in the last 25 years has managed to win both a national title and a Super Bowl.
At least, not yet.
The likes of Jalen Hurts and Trevor Lawrence still have plenty of time to potentially join Burrow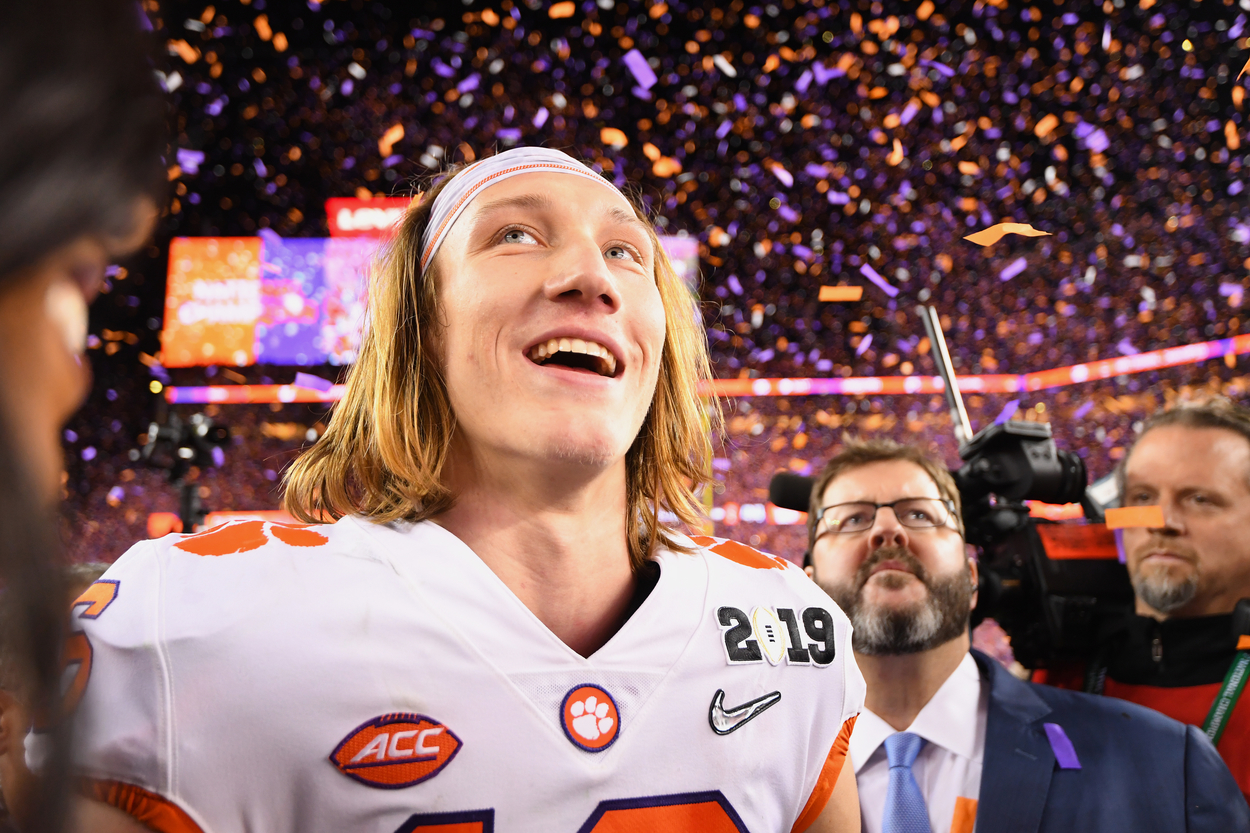 As dangerous as assuming is, let's project Burrow and the Bengals win on Sunday. Sorry for the negative energy, Rams fans, but we urge you to work with us for a second.
As of February 2021, there were three active starting NFL quarterbacks (not counting Burrow) who won a national title in college as their team's starting quarterback. Lawrence, who now plays for the Jacksonville Jaguars, won the National Championship Game in January 2019, a year before he and Clemson fell to Burrow and LSU. New England Patriots rising star Mac Jones led Alabama to a national title during the pandemic-affected 2020 season.
Philadelphia Eagles Pro Bowler Jalen Hurts is in a unique situation. Remember when current Miami Dolphins quarterback Tua Tagovailoa took over midway through the 2017 National Championship Game and engineered Alabama's comeback victory over Georgia? Hurts started that game and, as a result, is eligible to eventually join Montana and Namath — and, perhaps, Burrow.
New Orleans Saints quarterback Jameis Winston, who won a Heisman Trophy and national title in 2013, is a pending unrestricted free agent. Winston would have joined the other three had he not missed the second half of the 2021 campaign with a torn ACL.
Cam Newton (2010, Auburn) and Deshaun Watson (2016, Clemson) are also in intriguing situations. Although Newton is technically an active player, his playing future is uncertain after an inconsistent 2021 season with the Carolina Panthers. Watson, who remained with the Houston Texans as of publication, didn't play in 2021 amid his ongoing legal issues, and it is not known if or when he'll return to the field.
Based on the current crop of young quarterbacks, don't be surprised if Montana and Namath have more company in the coming years. It all starts with Burrow, who can expand the club's membership to three on Sunday night.
Like Sportscasting on Facebook. Follow us on Twitter @sportscasting19.