Joe Burrow's Latest Admission Should Frighten NFL Teams Ahead of a Halloween Clash With the Miserable New York Jets
Article Highlights:
Cincinnati Bengals quarterback Joe Burrow doesn't fear playing on the road after starring in the SEC
NFL teams have a collective losing record at home in 2021
Burrow's commentary should have the NFL at large frightened by a potential end of home-field advantage
Cincinnati Bengals quarterback Joe Burrow isn't just working magic in his sophomore season. The 2019 Heisman Trophy winner is slinging touchdowns and winning on the road.
Cincinnati played four of its first seven games in hostile territory and went 3-1 in those games en route to a 5-2 start. As Burrow prepares for another road showdown, this time with the miserable New York Jets, he just shed light on an alarming trend that should have the rest of the NFL extremely concerned going forward.
Joe Burrow said life in the SEC helped prepare him to thrive in NFL stadiums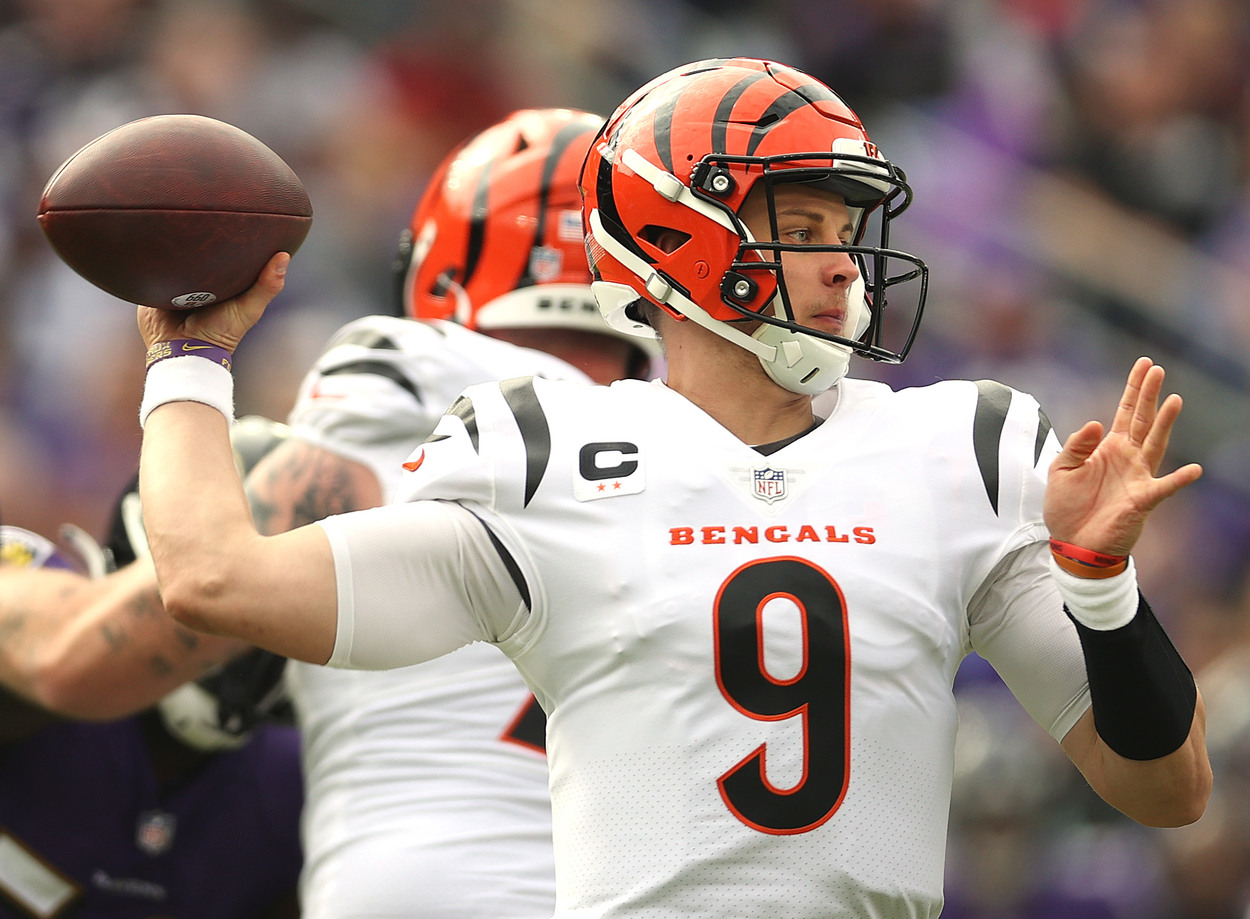 Road games are supposed to be difficult. Just ask any team that faced the New Orleans Saints in the Drew Brees era or played against Richard Sherman and the Seattle Seahawks' defense at Lumen Field.
Tell that to Burrow, the second-year quarterback who completed 65.2% of his passes in the Bengals' first four road games this year and threw for 1,066 yards, 11 touchdowns, and six interceptions. Across a 17-game season, that's a 4,531-yard, 47-touchdown, and 26 interception pace.
Alright, maybe the 17-game pace argument doesn't exactly work here. The point, though, is that Burrow is taking care of business in away games, especially after throwing three interceptions in a Week 2 loss to the Chicago Bears.
In the Oct. 25 edition of Football Morning in America, Burrow told NBC Sports' Peter King that he's not exactly fazed by playing on the road. Not even an AFC North clash with the Ravens at M&T Bank Stadium in Baltimore had the LSU product quaking in his boots.
"We knew that they were gonna be jacked up for us to come in and expecting to beat our ass. But we were ready for it. Playing in the SEC definitely, definitely helped. Gets way louder in the SEC than in any of these NFL stadiums."

Joe Burrow
Nearly two years after leading LSU to a national championship, Burrow completed 23 of 38 passes for 416 yards, three touchdowns, and an interception in a 41-17 rout of Lamar Jackson's Ravens. Bengals rookie Ja'Marr Chase, the fifth overall pick in April's NFL draft and Burrow's former top wideout at LSU, had a career-high 201 receiving yards in the win.
The rest of the NFL should be terrified by Burrow's comments
Burrow's rookie season in 2020 coincided with an intriguing NFL trend. Home teams went 127-128-1 last year, the first time in league history that hosts went under .500 for a full season. Of course, it was easy to dismiss that number because many teams didn't host fans, while some had limited attendance.
According to theScore, home teams went 50-54 in the 2021 NFL season's first seven weeks. That does not include the three neutral-site games, two of which occurred in London. Following Hurricane Ida, the New Orleans Saints hosted Aaron Rodgers and the Green Bay Packers in Jacksonville in Week 1.
As New York Mets fans likely know by now, a 50-54 record is under .500. In fact, it means the home team has a 48.6 winning percentage in 2021. Consider that home teams won 57.6% of the time from 1970-2019. We're not talking about dropping a percentage point or two here.
It's too early to know what's really causing the potential end of home-field advantage. NFL teams collectively won at home throughout the 2000s and 2010s, even with the likes of the Cleveland Browns, Detroit Lions, and Jacksonville Jaguars always good for double-digit losses per year.
Burrow's comments about playing in the SEC raise an interesting idea, though. We're seeing more quarterbacks, whether it's former Alabama star and current Philadelphia Eagles starter Jalen Hurts or Jacksonville Jaguars rookie Trevor Lawrence, get thrown into the fire as true freshmen. Lawrence even won a national title as a freshman in 2018.
Burrow, who only started after leaving Ohio State, isn't a part of that club. However, keep in mind that he was starting games in the SEC, not Conference USA. If he's comfortable playing in front of over 100,000 hostile fans at Alabama, what are 68,400 fans in Pittsburgh or 71,000 fans in Baltimore going to do to rattle him?
We'll see how Burrow, who missed the second half of last season with a knee injury, will handle playing in the elements this year. Something tells us that snow and wind might give him more trouble than intoxicated Steelers and Ravens fans.
Burrow has the Bengals locked and loaded at the perfect time
As of publication, Odds Shark listed the Bengals as -10.5 road favorites against the Jets. Despite the saying about assumptions, let's go ahead and presume the Bengals will win and move to 6-2 at what used to be the NFL's halfway point.
If the Jets hold up their part in this scenario, the Bengals will enter November having won four of five away games. Because AFC teams are all playing nine home games this season, the Bengals would only have three road matchups left after the Jets game; those games are against the Las Vegas Raiders (Nov. 21), Denver Broncos (Dec. 19), and Cleveland Browns (Jan. 9).
Even with the current home-field advantage, the Bengals have done their part. Burrow and teammates won two of their first three home games this year, and don't forget that the loss came in overtime against Rodgers and the Packers in a game featuring numerous missed kicks on both sides.
Cincinnati already has road wins against Baltimore and Pittsburgh in large part because of Burrow's improved play as a sophomore. If anyone stands to benefit from the NFL's home-field advantage problems, it appears to be a team looking for, and well on track to earn, its first playoff appearance since 2016.
How to get help: In the U.S., contact the National Council on Problem Gambling helpline at 1-800-522-4700.
RELATED: Bengals QB Joe Burrow Earned the Ultimate Praise From a Former Pro Bowler: 'You're Watching a Modern-Day Joe Montana'