Joe Burrow Could Be on His Way Toward a Massive Second Season With the Bengals Thanks to His Latest Injury Update
Cincinnati Bengals fans have a lot of optimism heading into future NFL seasons, as they finally have their franchise quarterback in Joe Burrow.
Throughout his rookie campaign, Burrow proved he has the potential to become one of the NFL's next great quarterbacks, but he eventually suffered a horrific injury in Week 11 and missed his team's last six games.
As Burrow heads into his second year in Cincy, though, he may be on a path toward a massive season.
Joe Burrow is coming off a successful, but injury-shortened, season with the Bengals
After going to Cincinnati with the No. 1 pick in the 2020 draft, Joe Burrow proved to be everything Bengals fans hoped for and more.
He threw for 2,688 yards, 13 touchdowns, and five interceptions in nine games and part of another last season. In Week 11, though, Burrow suffered a torn ACL and MCL against the Washington Football Team, and the former LSU quarterback has been on his road back ever since. Many now wonder if he can still be as effective in future seasons as he was in 2020.
However, heading into 2021 training camp, while we don't know whether Burrow can still be as successful just yet, the QB's latest injury update might be pointing toward a massive second season for him.
He is healthy heading into training camp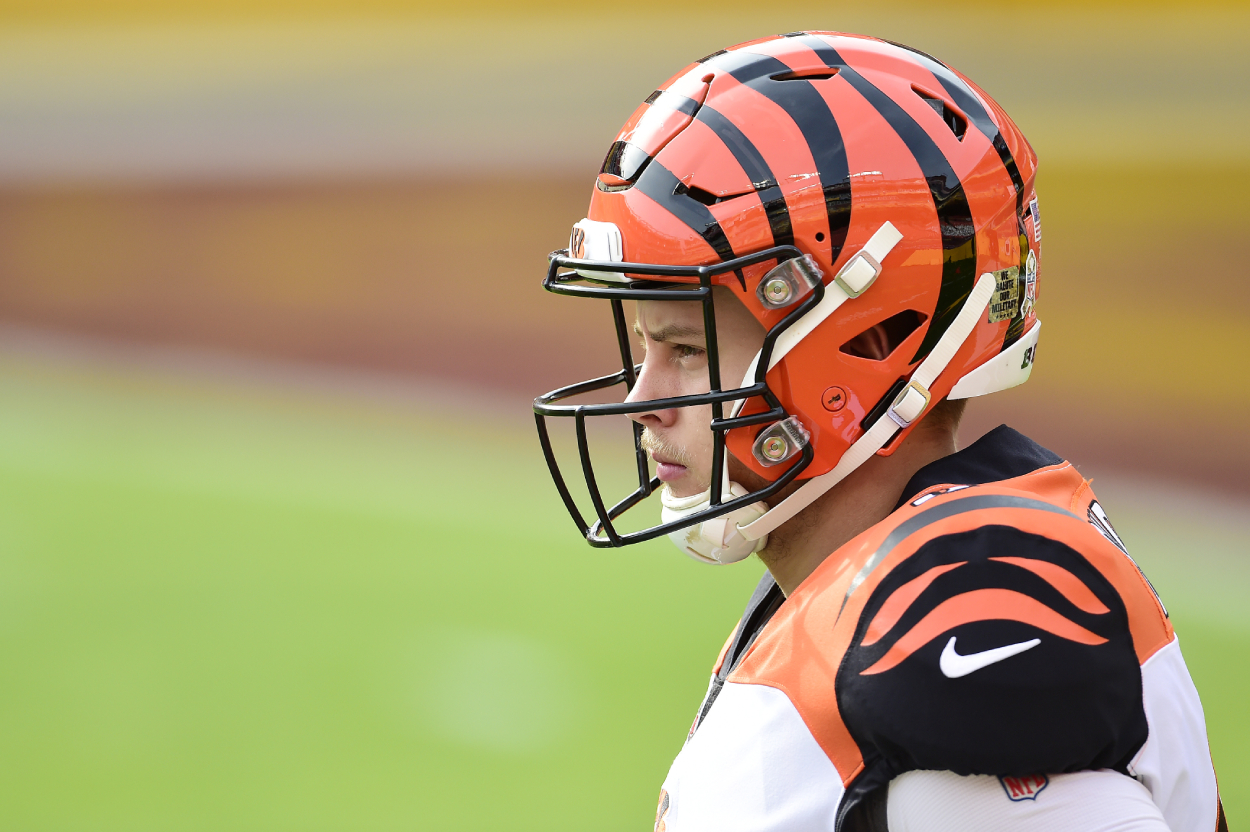 Burrow and the Bengals begin training camp on July 27. And despite the initial skepticism that he could miss a couple of weeks at the start of the 2021 season, it appears Burrow should hopefully be ready to go.
NFL Network's Ian Rapoport recently reported that, ahead of camp, Burrow was not on the Bengals' physically unable to perform list or its non-football injury list. He will reportedly be on the field and will be healthy once camp begins this week.
The latest update comes after Burrow said he was at about 85% in May, and Bengals head coach Zac Taylor said he was the "same old Joe" at OTAs in terms of throwing the ball, per NFL.com. So, if everything just mentioned above proves to be true, Burrow could be on a path toward a massive second season in 2021.
Joe Burrow could have a huge second year on the Bengals
Burrow's latest update is not only huge in terms of him (most likely) being available in Week 1. But it will also give him time to develop a chemistry with his squad before the season begins.
It's a much-improved squad, too.
Burrow already had significant success with his two star receivers, Tee Higgins and Tyler Boyd, in 2020. Higgins caught 67 passes for 908 yards as a rookie, and Boyd caught 79 passes for 841 yards. He, however, also has a new weapon in No. 5 overall selection, and his former LSU receiver, Ja'Marr Chase.
In 2019 at LSU with Burrow, Chase caught 84 passes for 1,780 yards and 20 touchdowns.
But not all fans were thrilled with the team selecting Chase. The Bengals' fan base was split on whether they should have drafted him or offensive tackle Penei Sewell, as the major cause of Burrow's injury was the lack of stability along the offensive line. Before his season ended early, the o-line allowed opposing defenses to sack Burrow 32 times in 10 games.
Cincinnati still improved its line this offseason, though, by signing Riley Reiff and drafting Jackson Carman. So, if their quarterback can stay off the ground, the Bengals should see Burrow have a massive season in year two, especially since he'll be healthy and will have a ton of weapons to throw to, while also having running back Joe Mixon in the backfield. 
No, Cincinnati won't contend for the AFC North title in 2021; the division already has three 2020 playoff teams. But the franchise should take a significant step in the right direction, and Burrow has a chance to further prove his unreal potential.
Watch out AFC, the Bengals are no longer an easy W.
Stats courtesy of Pro Football Reference