Joe Burrow Might Become the Next Great NFL Quarterback, but He Could Have Dominated in Another Sport
The Cincinnati Bengals have to be feeling good about their decision to make quarterback Joe Burrow the first overall pick in the 2020 NFL Draft. The 24-year-old ended his rookie season with 13 touchdowns and five interceptions and was on pace to lead the league in pass attempts.
While he showed immense potential, Burrow's season ended due to a torn ACL and MCL suffered in Week 11 against the Washington Football Team. But Burrow is healthy and now has an opportunity to become one of the NFL's top young quarterbacks. However, the hardwood could have been his true calling.
Joe Burrow's grandparents were outstanding basketball players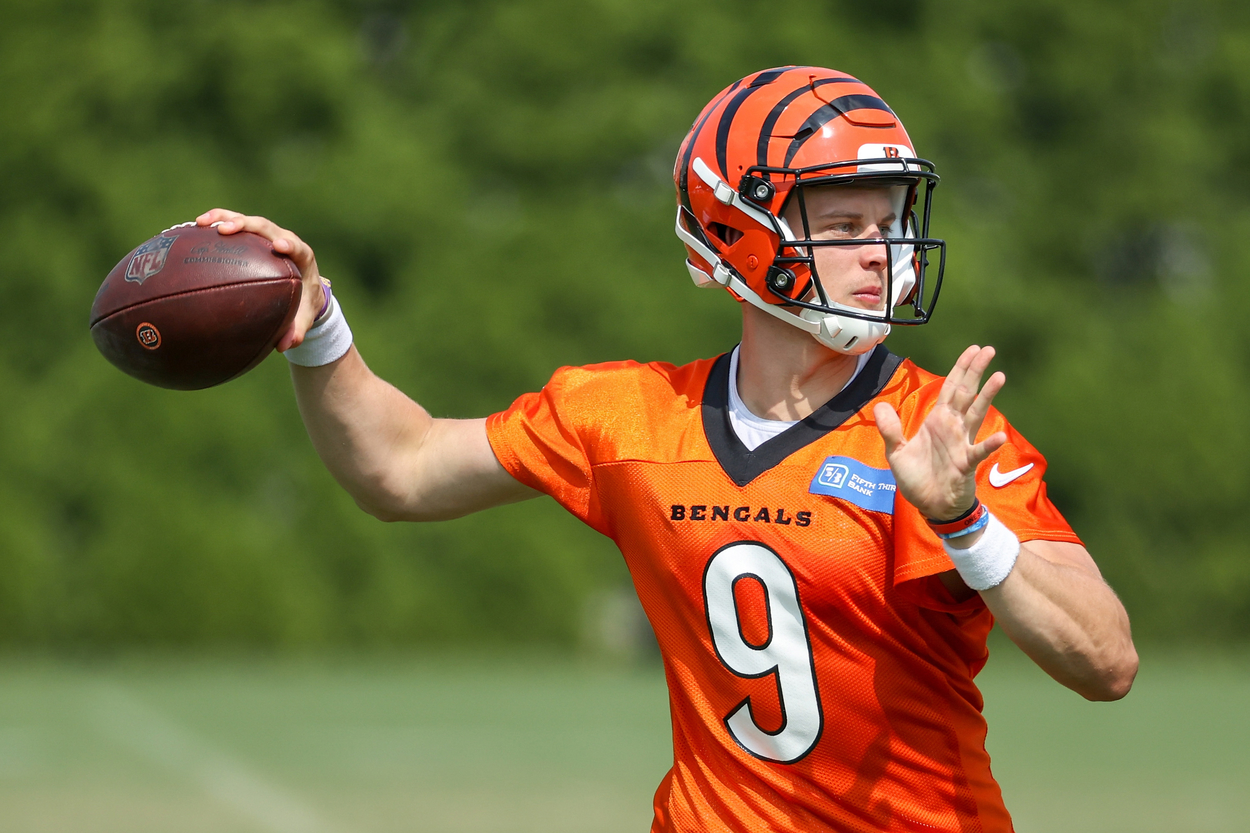 Burrow's excellence on the football field has never been questioned. After winning the Heisman Trophy and a National Championship at LSU to being the first pick in the draft, football has worked out quite alright for Joe.
However, his grandparents proved that basketball is in his genes.
Burrow was born in Iowa and attended high school in Ohio, but his family roots are planted in northern Mississippi. As Ross Dellenger of Sports Illustrated reported, his grandmother Dot Ford was a basketball star and averaged over 50 points per game for her high school team in Caledonia, Mississippi. Her biggest achievement was scoring a state-record 82 points in a game, beating her own previous record of 72.
But it's not just Dot who was a star. James Burrow, Joe's grandfather, played point guard for Mississippi State from 1949 to 1952.
Burrow's first love was basketball
Before playing college football at Ohio State and LSU, Burrow was a two-sport athlete at Athens High School in The Plains, Ohio. He won the state's Mr. Football Award as a senior, guiding the Bulldogs to a 14-1 record.
But when football season ended, Burrow was one of the best hoopers in the Buckeye State.
In four years on the varsity team, Burrow scored 1,426 career points, the second-most in school history. He averaged 20 points per game his senior year, sharing the Division II Southeast District Player of the Year Award while also being an All-Ohio First Team selection.
Jeff Skinner, his coach for all four years at Athens High School, told The Athens Messenger he knew Burrow was different than other players he had seen.
"I remember telling his dad (Jimmy Burrow), 'You know coach Burrow, there's something different about Joe. There's something really special about him,'" Skinner said. "I know that I'm no prophet, I know other people see him in it too, but there's just something different and special about him."
Burrow was a great basketball player, and he loved the sport as well (h/t Cris Collinsworth Podcast).
"You really find out somebody's coordination and athleticism when you put them on the basketball court. Some guys look like naturals out there, and then some guys you just wonder how they're in the league, how they got recruited. They just can't shoot, can't dribble, looks terrible. That was my first love was basketball."

Joe Burrow
Although it never resulted in anything beyond high school, Burrow's basketball career was as solid as they come.
Burrow hopes to carry his high school basketball stardom to NFL stardom
As Skinner mentioned, he knew Burrow was special even before he became a household name. And one of the things he liked most about his former player is a big reason why Burrow can succeed in the NFL.
"From an IQ standpoint to being this prophetic leader who didn't have to say a word in order to lead, it was a thing of beauty to behold," Skinner said. "I can't imagine how great a leader he is now that he's found his voice, but as a high school player, he didn't have to say much, and everybody just followed."
Burrow will need to become a leader for a young Bengals team that hasn't made the playoffs since 2015. In an effort to make him even more comfortable, Cincinnati drafted Ja'Marr Chase, his former teammate and top target at LSU.
Last year's first overall pick might not have made it as a professional basketball player. But Burrow can take his top traits on the court — leadership and poise — and apply them to become a star on the football field.
All football statistics courtesy of Pro Football Reference.
RELATED: Joe Burrow vs. Justin Herbert Is the Wrong Question for ESPN to Be Asking