Joe Burrow Oozes Confidence About His Readiness to Start Despite Playing 3 Snaps in the Entire Preseason
Cincinnati Bengals quarterback Joe Burrow is coming back from an ACL tear and hardly took his usual spot under center during the preseason, yet he has unmitigated confidence.
Burrow usually carries himself with a certain swagger. It's been that way since he starred at LSU and has since carried into the NFL. The No. 1 overall pick in the 2020 NFL Draft is raring to go as he looks to have a big season and make fantasy football managers everywhere beam with joy.
Joe Burrow had a solid 2020 before suffering a torn ACL
Joe Burrow's NFL career got off to a strong start last fall despite the Bengals having one of the worst offensive lines in the football.
Burrow completed 65.3% of his passes for 2,688 yards and 13 touchdowns against five interceptions in his first 10 games. He amassed those numbers in the face of unwavering pressure, as he was sacked 32 times during that 10-game stretch.
The Bengals signal-caller showed a good deal of resilience and leadership for an organization in desperate need of both. But things were about to come to a screeching halt.
Burrow led the Bengals into Washington, D.C., to play the Football Team in Week 11. He dropped back to pass early in the third quarter with the pocket collapsing around him, but multiple Washington linemen caught Burrow down low. He crumpled to the turf and was carted off the field, with later testing revealing a torn ACL in his left knee.
It was a devastating moment both for Burrow and the Bengals franchise. Still, Burrow immediately expressed that he would work as hard as possible to recover ahead of schedule.
Cincinnati has been careful with its budding quarterback during the preseason as he makes his return from such a debilitating injury. However, the 24-year-old is not concerned with his lack of preseason reps. Burrow is chomping at the bit for the season to start.
Bengals QB says he is "ready" for Week 1 despite playing just three preseason snaps
Joe Burrow admitted to facing a "mental hurdle" early in camp as he resumed on-field work for the first time since suffering the injury. Having cleared that hurdle, he's ready to get back to business, even if he only played three total preseason snaps.
Bengals head coach Zac Taylor said that he would be exceptionally cautious with Burrow to keep him out of harm's way throughout the preseason. The former Heisman Trophy winner saw his first preseason action during Sunday's game against the Miami Dolphins, though Burrow took just three snaps and threw only one pass.
Burrow's lack of in-game reps didn't prevent him from expressing confidence about his (and the team's) readiness.
"Yes. We are ready to go," Burrow said after Sunday's game, via Pro Football Talk. "I'm excited about this next week. We have a chance to get our minds right. This will not be as taxing on the body. We have a chance to physically be ready for Week One. I'm excited to get a game plan and get ready to go."
Burrow isn't the only quarterback who's been handled carefully during the preseason. The Dallas Cowboys have taken a similar approach with Dak Prescott as he returns from an ankle injury. It's fair to wonder whether the two will need a brief readjustment period because of the lack of preseason reps.
That unfamiliarity in terms of game speed might be there for Burrow early on. Still, he doesn't appear to be fazed by the challenge. The second-year quarterback will likely have a big role to play in Cincy's year-over-year improvement. He might also be a strong upside guy for fantasy managers.
Assessing Burrow's fantasy football prospects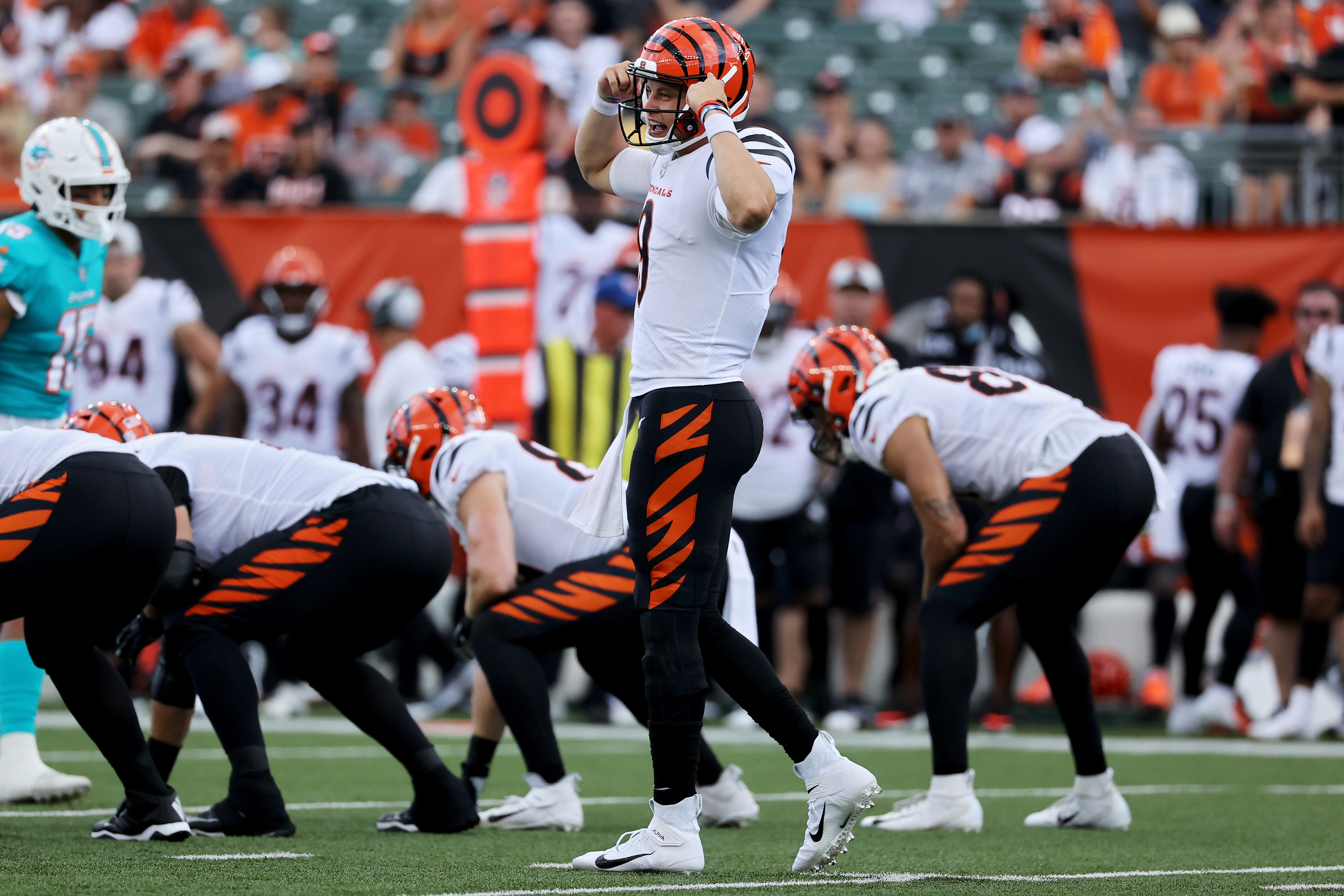 Joe Burrow's fantasy football stock is a bit hard to decipher. Some managers could reasonably be concerned about his knee and protection up front. However, he might be a QB2 with serious QB1 upside in fantasy football.
Burrow's consensus average draft position (ADP) is QB13, per Fantasy Pros. That puts him just outside the realm of being a starting-caliber quarterback in standard, 12-team leagues. However, he has the offensive weapons to be a top QB in fantasy football.
Burrow developed a great rapport with fellow rookie Tee Higgins in 2020. Tyler Boyd had back-to-back 1,000-yard seasons in 2018 and 2019. Most notably, Burrow has a sense of familiarity with former LSU teammate Ja'Marr Chase lining up at wide receiver. Chase struggled in the preseason, but it's important to remember he didn't play any football in 2020. He's still an immensely talented player.
Plus, the offensive line will likely perform much better in 2021. Cincy signed left tackle Riley Reiff in free agency and drafted offensive tackle Jackson Carman in the second round of the 2021 NFL Draft, though Carman had a rough preseason.
It will be interesting to see how Burrow adapts as he gets more extensive game action. However, the weapons and improvements on the O-line could help him feel more comfortable. As if Burrow needed any more confidence to begin with.
Stats courtesy of Pro Football Reference.