Joe Burrow Is Slinging Touchdowns, Winning Games, and Making Fox's Charissa Thompson Feel Old All at Once
Cincinnati Bengals star quarterback Joe Burrow isn't just trying to help his team win a postseason game for the first time in over 30 years. He's also here to make all of us, including Fox Sports' Charissa Thompson, start feeling our age.
Our feelings of senescence only have so much to do with Burrow's youthful face or the fact that he'll play most of the 2021 season at 24 years old. In a recent interview with Fox, the 2019 Heisman Trophy winner showcased just how old we really are.
Charissa Thompson joked Joe Burrow made her feel old during a recent interview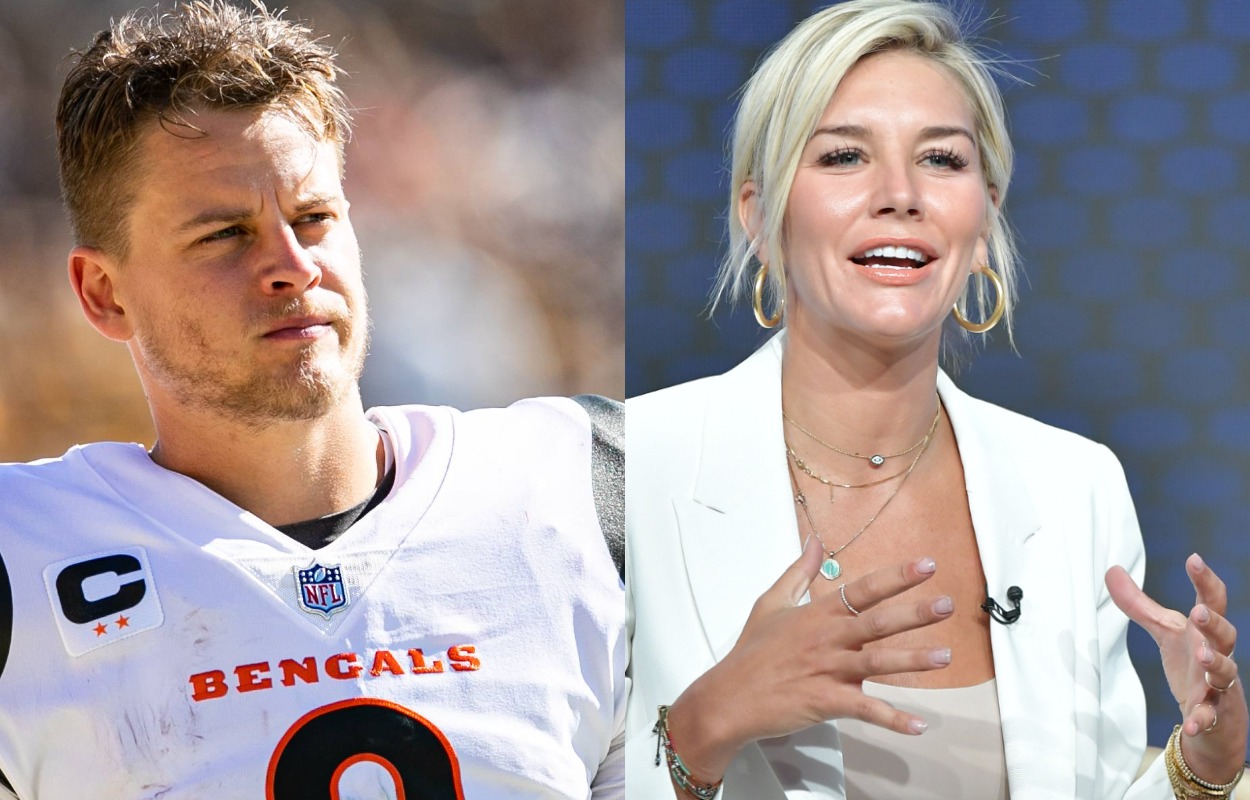 Joe Burrow has won a national championship, been a No. 1 overall pick, and thrown touchdowns in the NFL. He's the owner of a Heisman Trophy and a $36.1 million contract.
He's also never done karaoke or, to his knowledge, watched Top Gun.
On the Sept. 19 episode of Fox NFL Sunday, Burrow primarily discussed his return from last year's knee injury. Near the end of their interview, Thompson asked if he'd ever seen Top Gun, the 1986 action film starring Tom Cruise as a naval aviator.
Burrow said he doesn't believe he's seen it. Thompson incredulously referenced Cruise's character, Pete "Maverick" Mitchell, and Val Kilmer's Tom "Iceman" Kazansky, only to have the Bengals quarterback shake his head.
"I was gonna say you're Iceman. Nothing affects you; there's ice in your veins," Thompson told him.
Thompson jokingly assigned Burrow with the homework of finding a karaoke song and watching Top Gun. He smiled and replied, "You've got a deal."
"That's when you know you're old: your interview subject has never seen Top Gun," Thompson, who turned 39 in May, remarked during a live hit when the segment ended.
The NFL looked much different when 'Top Gun' hit theaters in 1986
Considering that Burrow was born in December 1996, over 10 years after Top Gun hit theaters, we're willing to give him somewhat of a pass. On the other hand, it's Top Gun.
However, just to make matters worse and have everyone feeling old, let's look back at what life in the NFL looked like when Top Gun premiered on May 16, 1986.
Mike Ditka's Chicago Bears were the reigning Super Bowl champions after routing the New England Patriots in January of that year. Defensive end Richard Dent earned Super Bowl MVP honors after totaling 1.5 sacks and forcing two fumbles.
The NFL still only had 28 teams, and the Raiders and Rams each played in Los Angeles. The then-St. Louis Cardinals were about to enter their penultimate season in Missouri before moving to Arizona in 1988.
The Tampa Bay Buccaneers selected Auburn running back Bo Jackson first overall in the 1986 NFL Draft on April 29, 1986. Jackson never signed with the team and instead debuted with the Raiders in 1987. As of October 2021, only Charles Haley — a fourth-round selection of the San Francisco 49ers — had entered the Pro Football Hall of Fame among players selected that year.
Tom Brady was a few months shy of turning 9 years old. Thompson celebrated her fourth birthday 12 days earlier.
The Bengals, decades before adding Burrow, went 10-6 but missed the postseason during the 1986 season. Quarterback Boomer Esiason threw for 3,959 yards and earned Pro Bowl honors for the first time in his career.
Burrow is looking like the quarterback the Bengals hoped he'd become (even if he hasn't seen 'Top Gun')
If Burrow leads the Bengals to a Super Bowl victory, the Cincinnati faithful will almost certainly forgive him for not seeing Top Gun. Maybe.
The second-year quarterback at least opened the 2021 season with a 72.9% completion percentage, 988 yards, nine touchdowns, and four interceptions in the Bengals' first four games. Across a 17-game season, that's a 4,199-yard, 38-touchdown, and 17-interception pace. Even with the high number of interceptions, those are numbers that Bengals fans will absolutely take from their sophomore sensation.
Most importantly, the Bengals won three of their first four games and still have winnable matchups with the Detroit Lions and New York Jets approaching before a Week 10 bye. If the Bengals can sneak into the bye week at 6-3, they may still have an outside chance at reaching the playoffs for the first time since 2015.
If there's no Super Bowl parade in 2022, perhaps Burrow can gather Bengals fans for a live viewing of Top Gun. The original, of course, not the sequel, which is scheduled to release next spring after several delays. The original is always better.
Like Sportscasting on Facebook. Follow us on Twitter @sportscasting19.
RELATED: Joe Burrow Just Helped Urban Meyer and Trevor Lawrence Achieve Personal Milestones That Prove the Jaguars Are a Complete Mess