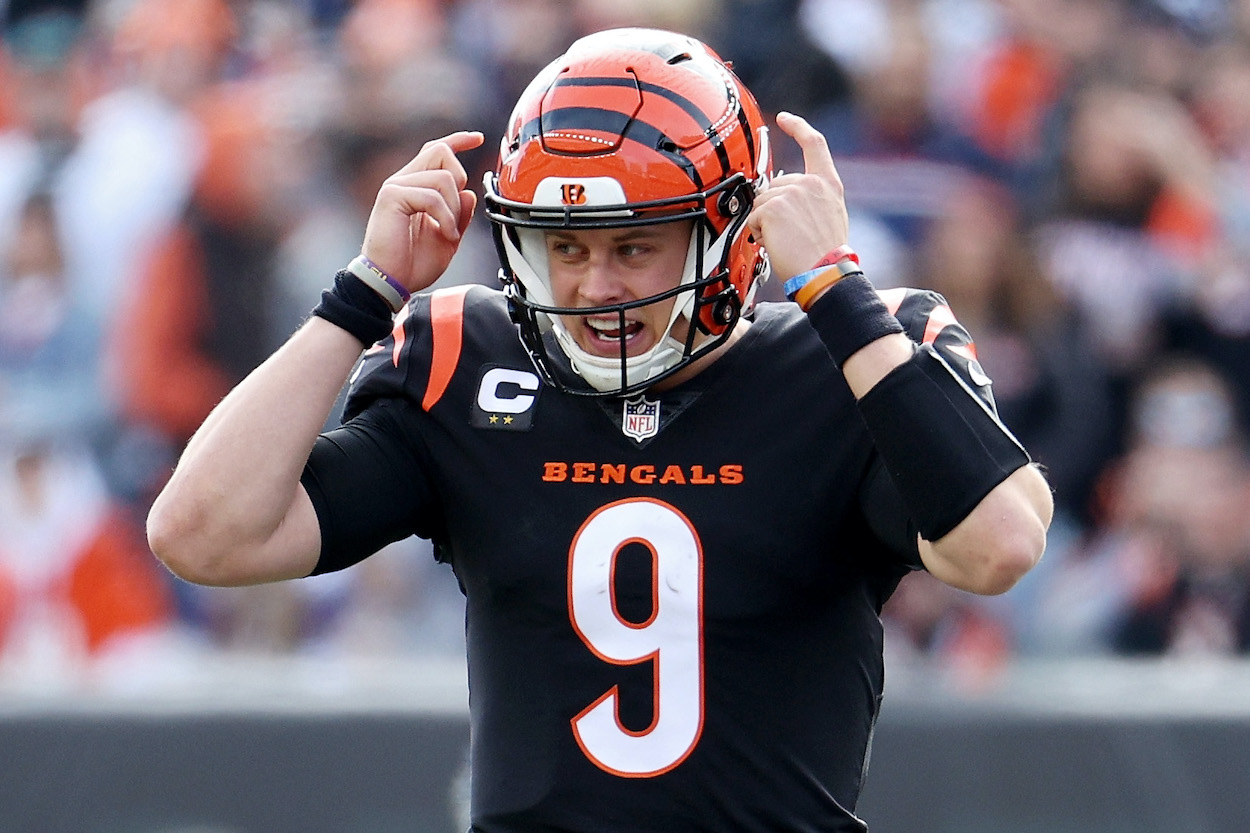 Joe Burrow Torches the Baltimore Ravens on the Field Then Crushes DC Wink Martindale With a Smirk and a Santa Hat
Benglas QB Joe Burrow did his best Kevin McCallister from 'Home Alone' impression responding to the Baltimore Ravens DC's comments after 500-yard game.
If Kevin McCallister, the iconic protagonist from the 1990 Christmas Classic Home Alone, played football, he'd probably be a lot like Cincinnati Bengals quarterback Joe Burrow. Not only is there an uncanny facial resemblance between the two, but Burrow has also shown a Kevin McCallister-like flair for torturing his opponents with a sly grin on his face.
The day after Christmas, Burrow gave his AFC North rival Baltimore Ravens the full Home Alone treatment. He crushed the team on the field in a 41-21 win. Then, after the game, the QB stuck it to his opponent's defensive coordinator, Wink Martindale, for his pregame comments. And he did it all with a smirk that would make Macaulay Culkin proud.
Joe Burrow and the Cincinnati Bengals offense exploded in Week 16 against the Baltimore Ravens
The Baltimore Ravens and Cincinnati Bengals came into their Week 16 showdown with identical 8-6 records. The Bengals owned the divisional tiebreaker with a 3-1 record vs. AFC North opponents as opposed to the Ravens' 1-3 mark.
Despite the inverted division records, the winner of this Week 16 contest would own sole possession of first place in the division.
The Ravens were, admittedly, short-handed. Superstar QB Lamar Jackson was out (again) with an ankle injury, and the injury report included Pro Bowl fullback Patrick Richard (knee), wide receiver Devin Duvernay (ankle), and backup QB Tyler Huntley (COVID-19).
Even at full strength, though, it's unlikely the Ravens would have stood up to the Joe Burrow-led onslaught Sunday.
Burrow set a Cincinnati Bengals franchise record with 525 yards, completing 37 of his 46 attempts. He also threw four touchdowns in the effort.
This led to big days for his offensive cohorts as well. Tee Higgins led the way with 12 catches for 194 yards and two TDs. Ja'Marr Chase had seven for 125, and Joe Mixon added 65 rushing and 70 receiving yards, scoring one TD each way.
It was an announcement that the Bengals are not just the best team in the AFC North but, on their day, can likely beat anyone in the entire league.
After the game, clad in a SpongeBob SquarePants Christmas sweatshirt and a Santa hat, Burrow told the assembled media that the Ravens (and the rest of the league) have Baltimore DC Don "Wink" Martindale to thank for a little extra motivation before his banner day.
Burrow responded to Baltimore Ravens DC Wink Martindale's pregame comments after the big performance
In Week 15, Wink Martindale and the Baltimore Ravens defense implemented a targeted strategy to slow down the potent Aaron Rodgers to Devante Adams connection.
Despite ultimately losing to the Green Bay Packers 31-30, the defense held Adams to six catches for 44 yards and a TD. This helped keep the game close.
When asked if he would push the same buttons in Week 16 vs. Joe Burrow and Ja'Marr Chase, Martindale gave a dismissive answer, per CBS Sports.
"We're going down the wrong street," Martindale said of the question. "Like I said last week, Davante Adams, he's one of the top two receivers in the league, and he's not No. 2, and Aaron Rodgers is a Hall of Fame quarterback, and I don't think we're ready to buy a gold jacket for Joe [Burrow].
After the game, the second-year QB acknowledged that he knew of the remarks but wasn't pleased with them. When asked if he heard the comments, Burrow responded simply, "Uh, yeah. I did"
The reporter followed up, asking the former LSU signal-caller, "Did that mean anything to you at all? Did it resonate with you at all?"
"I didn't think it was a necessary comment," Burrow answered. "I wouldn't say I was offended by it. I mean, I'm in year two. Who knows what's going to happen down the road, but I didn't think it was a necessary comment.
The off-camera questioner finished by asking, "Was it on your mind when you were throwing at the end for 525?"
"Maybe," Burrow answered as a wry smile crept across his face.
The smirk was reminiscent of Kevin McCallister's face after each booby trap hit Joe Pesci and Daniel Stern's Wet Bandits. The numbers were indicative of a future Hall of Fame QB.
Does passing for 500-plus yards in a game make you a Hall of Famer?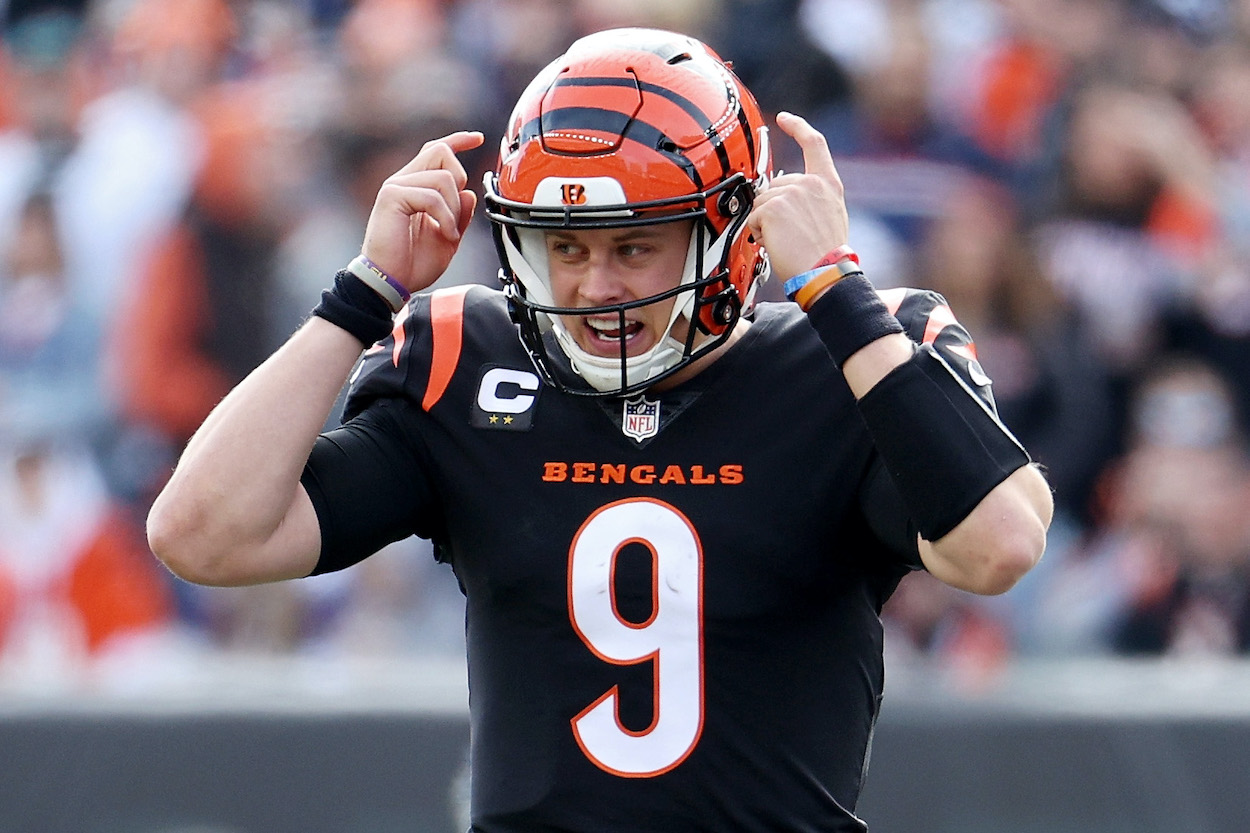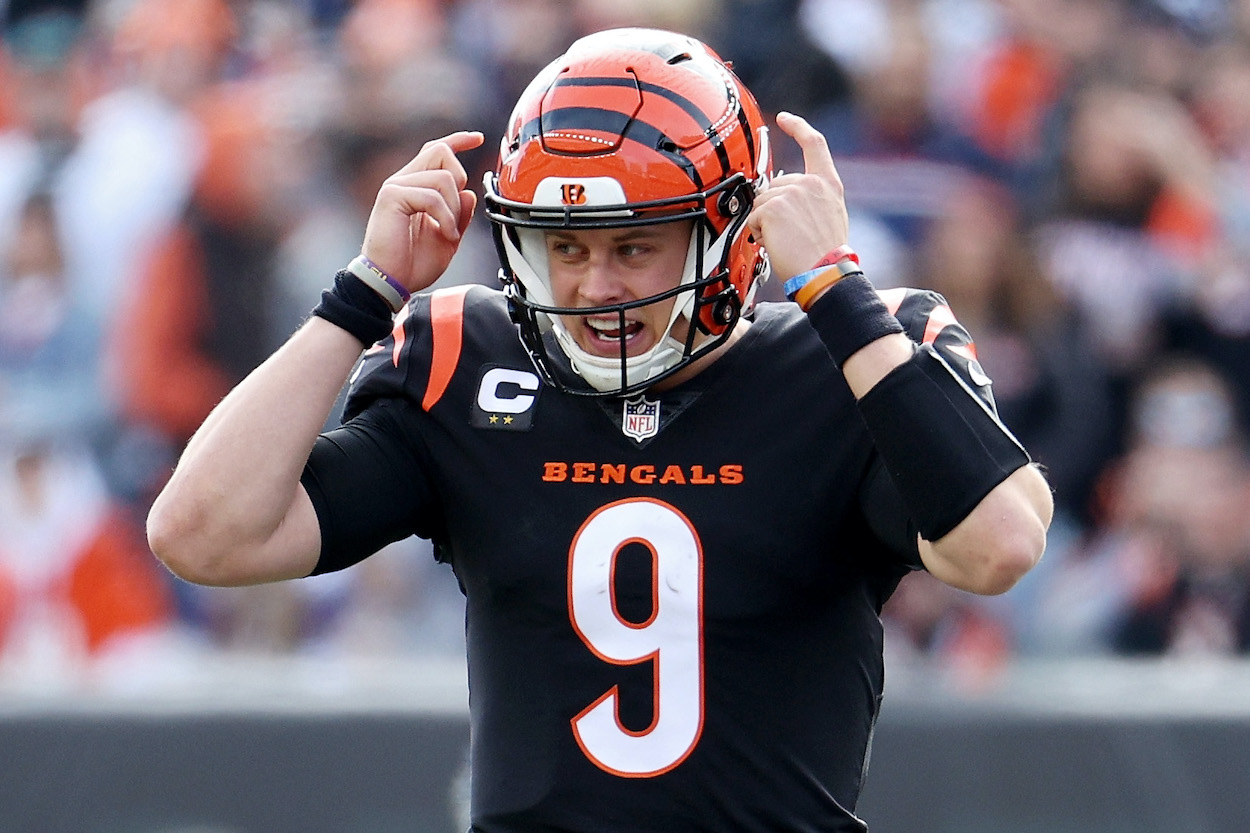 Since Wink Martindale dismissed Joe Burrow's Hall of Fame credentials — which is entirely fair just 25 games into the QB's career, although not wise from a bulletin board material standpoint — let's look at the history of 500-plus-yard passing games in NFL history.
NFL QB's have accomplished this feat 24 times since the first (and still biggest) passing game in league history happened in 1951. That's when Hall of Famer Norm Van Brocklin threw for 554 yards to lead his Los Angeles Rams to a 54-14 victory over the New York Yanks.
Since then, only three of the subsequent 23 500-plus-yard games involve a Hall of Fame QB. This trio includes Warren Moon (527 in 1990), Dan Marino (521, '88), and Y.A. Tittle (505, '62).
However, the list does include several QBs that Canton will one day enshrine. This includes Ben Roethlisberger, who is on the list an incredible three times (522 in '14, 506 in '17, 503 in '09). Also, there is Tom Brady (517, '11) and Drew Brees (510, '06).
The majority of the list of 500-yard passers are borderline Hall of Fame QBs. Most of these signal-callers haven't or won't get into Canton, despite excellent careers.
On this tier of 500-yard passers is Boomer Esiason (522,' 96), Matthew Stafford (520,' 12), Phil Simms (513,' 85), Eli Manning (510,' 12), Tony Romo (506,' 13), Matt Ryan (503,' 16), Philip Rivers (503,' 15), and Dak Prescott (502,' 20).
Finally, only five passers on this list won't or haven't sniffed the Hall. This includes Matt Schaub (527,' 12), Jared Goff (517,' 19), Derek Carr (513,' 19), Vince Ferragamo (509,' 82), and Elvis Grbac (504,' 00).
After less than two seasons, it seems like Joe Burrow has already surpassed the bottom tier of this list. And with the way he's playing now, it would surprise almost no one if he someday ended up near the top tier of 500-yard game passers.
Well, no one except maybe Wink Martindale.
All stats courtesy of Pro Football Reference