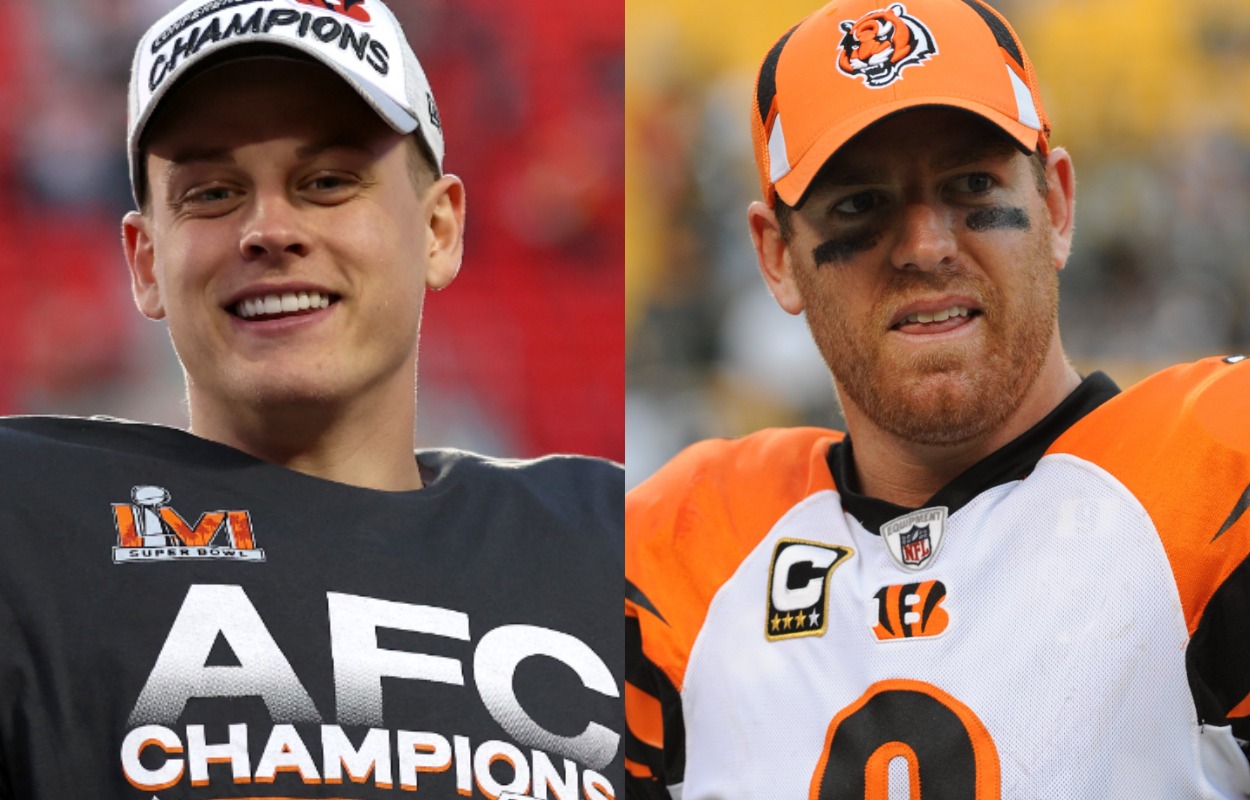 Joe Burrow's Toughness and Demeanor Quickly Impressed Former Bengals Star Carson Palmer: 'There's a Great Belief and Great Energy in That Magic'
Former Cincinnati Bengals quarterback Carson Palmer is a huge fan of young signal-caller Joe Burrow, and he's rooting for his former team ahead of Super Bowl 56.
Article Highlights:
Former Cincinnati Bengals quarterback Carson Palmer is extremely impressed with young signal-caller Joe Burrow
The former Pro Bowl gunslinger raved about the AFC champion's toughness
The Bengals must devote a significant part of the 2022 offseason to upgrading their offensive line and keeping Burrow on his feet
Carson Palmer has made no bones about his issues with the Cincinnati Bengals over the last decade. For years, the three-time Pro Bowl gunslinger insisted the Bengals were an organization that couldn't be fixed and chose not to change their ways.
There was one thing Palmer didn't count on: Joe Burrow.
At least Palmer, for all of his long-standing problems with the Bengals' organization, is willing to admit the reigning AFC North champions have something special in their young quarterback.
Carson Palmer offered lofty praise for Bengals quarterback Joe Burrow ahead of Super Bowl 56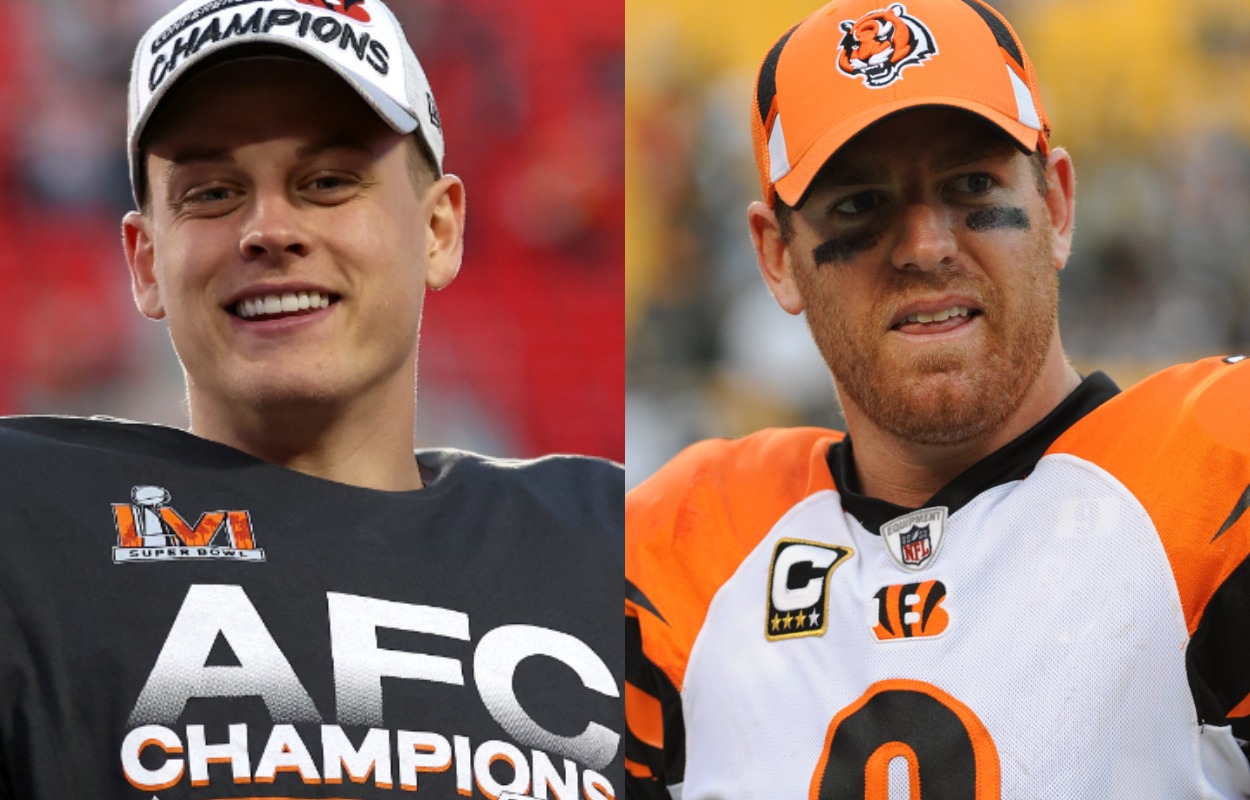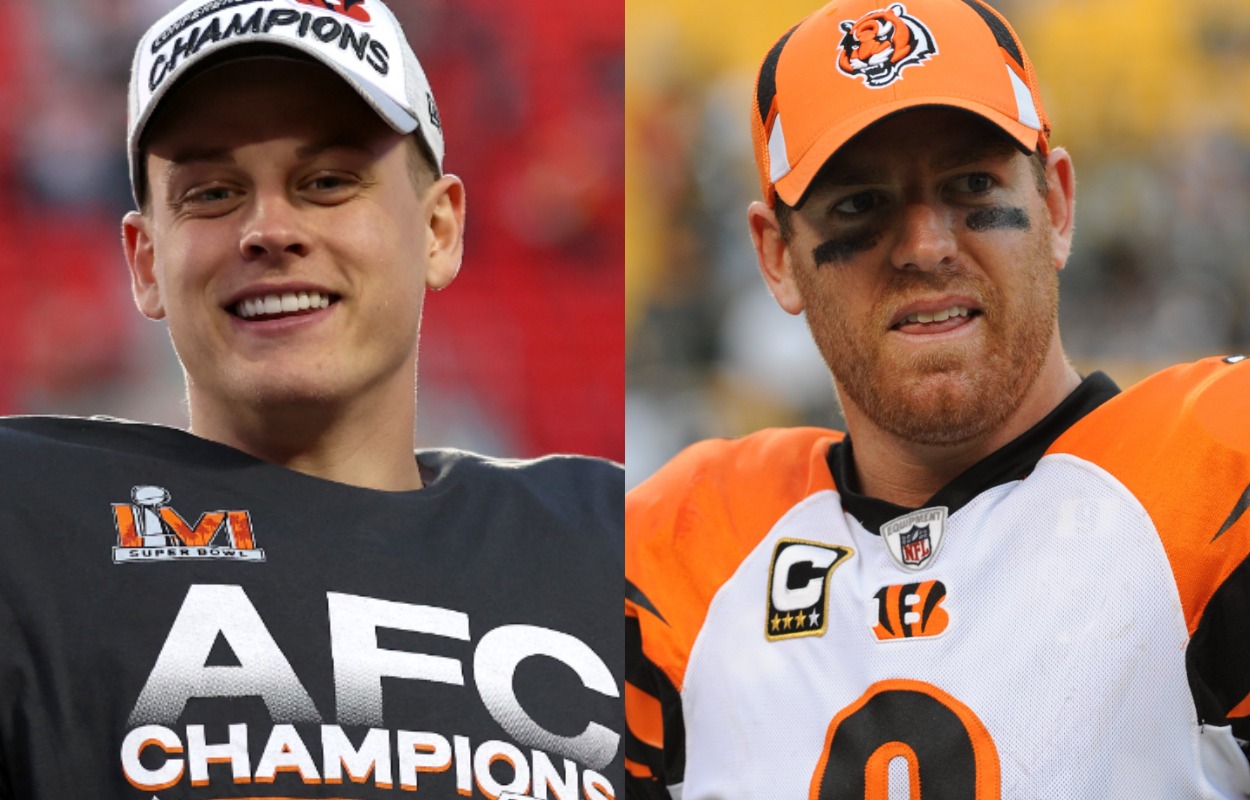 At this point, there's a far better chance that football fans will see the Detroit Lions and New York Jets clash in the Super Bowl than they'll witness Palmer make up with the Bengals.
Still, Palmer's beef with the franchise only goes so far. In a Feb. 10 interview with Geoff Hobson of the Bengals' official website, the 2003 NFL Draft's first overall pick raved about Burrow, who has Cincinnati one victory shy of its Super Bowl victory.
In the process of praising Burrow's energy and leadership, Palmer also fired a direct shot at the Bengals' offensive line ahead of a Super Bowl showdown with the Los Angeles Rams. Opponents sacked the LSU product a league-high 51 times in the regular season. Burrow also took 12 sacks in the Bengals' first three playoff games, including nine times in an AFC Divisional Round victory over the Tennessee Titans.
"It's demoralizing to get sacked that many times … that takes an emotional toll on everybody … but you never felt that way watching him play. He was cool. He was calm. The offensive line believed in him. They knew the defense would get a stop. There's a great belief and great energy in that magic. Just enough to get this team past all those All-Pros and All-Stars, I hope."

Carson Palmer
Burrow's 64 total sacks still rank far below former Houston Texans quarterback David Carr, who went down an NFL-record 76 times as a rookie in 2002.
Palmer also suggested Ja'Marr Chase is the key to the Bengals' chances of winning the Super Bowl
Palmer wisely noted the Los Angeles Rams' deep roster when he spoke with the Bengals' official website. The Rams had three players — wide receiver Cooper Kupp, defensive tackle Aaron Donald, and cornerback Jalen Ramsey — who earned first-team All-Pro honors this season; Kupp and Donald were each unanimous selections.
Along with kicker Matt Gay, those three were also named to the Pro Bowl. For whatever that is worth in 2022.
If the Bengals stand any chance of defeating the Rams, Palmer said they'll need to effectively utilize rookie sensation Ja'Marr Chase. The fifth overall pick earned second-team All-Pro honors after totaling 81 catches, 1,455 yards, and 13 touchdowns in his first season. He tallied 20 catches, 279 yards, and a touchdown in the Bengals' first three postseason games. The LSU product also had five carries for 28 yards in that span.
"Joe has to get the ball out, and he can't hold it waiting for [Chase] to come off that coverage," Palmer said, adding, "They've been so creative with motioning him around and finding ways to get him the ball. You just can't sit back and hold it."
Cincinnati would be wise to focus on upgrading the offensive line during the upcoming offseason
Palmer isn't the first to note the Bengals have a problem protecting Burrow, and he almost certainly won't be the last. A poor offensive line likely played a part in the 2019 Heisman Trophy winner tearing his ACL midway through his rookie season.
Barring any pre-draft trades, the Bengals will either pick 31st or 32nd — depending on who wins Super Bowl 56 — in the 2022 NFL Draft. Cincinnati currently has one draft pick in each round and a projected $58 million in cap space.
The Bengals cannot enter the 2022 season without upgrading the offensive line. Several proven offensive linemen, including New Orleans Saints left tackle Terron Armstead and Jacksonville Jaguars left tackle Cam Robinson, are slated to hit unrestricted free agency.
Boston College guard/center Zion Johnson, Iowa center Tyler Linderbaum, and Central Michigan left tackle Bernhard Raimann could all be available when the Bengals are first on the clock in April's draft. Johnson earned rave reviews for his performance at the Senior Bowl in early February.
The Bengals already have their franchise quarterback and a No. 1 receiver. Next, the franchise must heed Palmer's words and find a way to keep Burrow on his feet. Given how Burrow has played thus far, Cincinnati needs to do everything in its power to avoid him eventually joining Palmer in having misgivings about the Bengals.
Like Sportscasting on Facebook. Follow us on Twitter @sportscasting19.