Joe Burrow vs. Matthew Stafford: Which QB Has the Edge in the 2022 Super Bowl?
The 2022 Super Bowl will feature two great teams in the Los Angeles Rams and Cincinnati Bengals, and both teams boast a great quarterback: Matthew Stafford and Joe Burrow, respectively.
In terms of how they both got to Super Bowl 56, their career paths couldn't be any more different, though both are former No. 1 overall picks. Stafford is in his 13th NFL season and first with the Rams. He previously had been the long-suffering quarterback of the Detroit Lions. On the other hand, Burrow is in just his second NFL season, and he's exactly what the Lions hoped Stafford would be way back in 2009.
It's a story worthy of Hollywood but in terms of the actual game, which of these two quarterbacks has the edge?
Using three key categories, let's figure that out.
Pure Talent: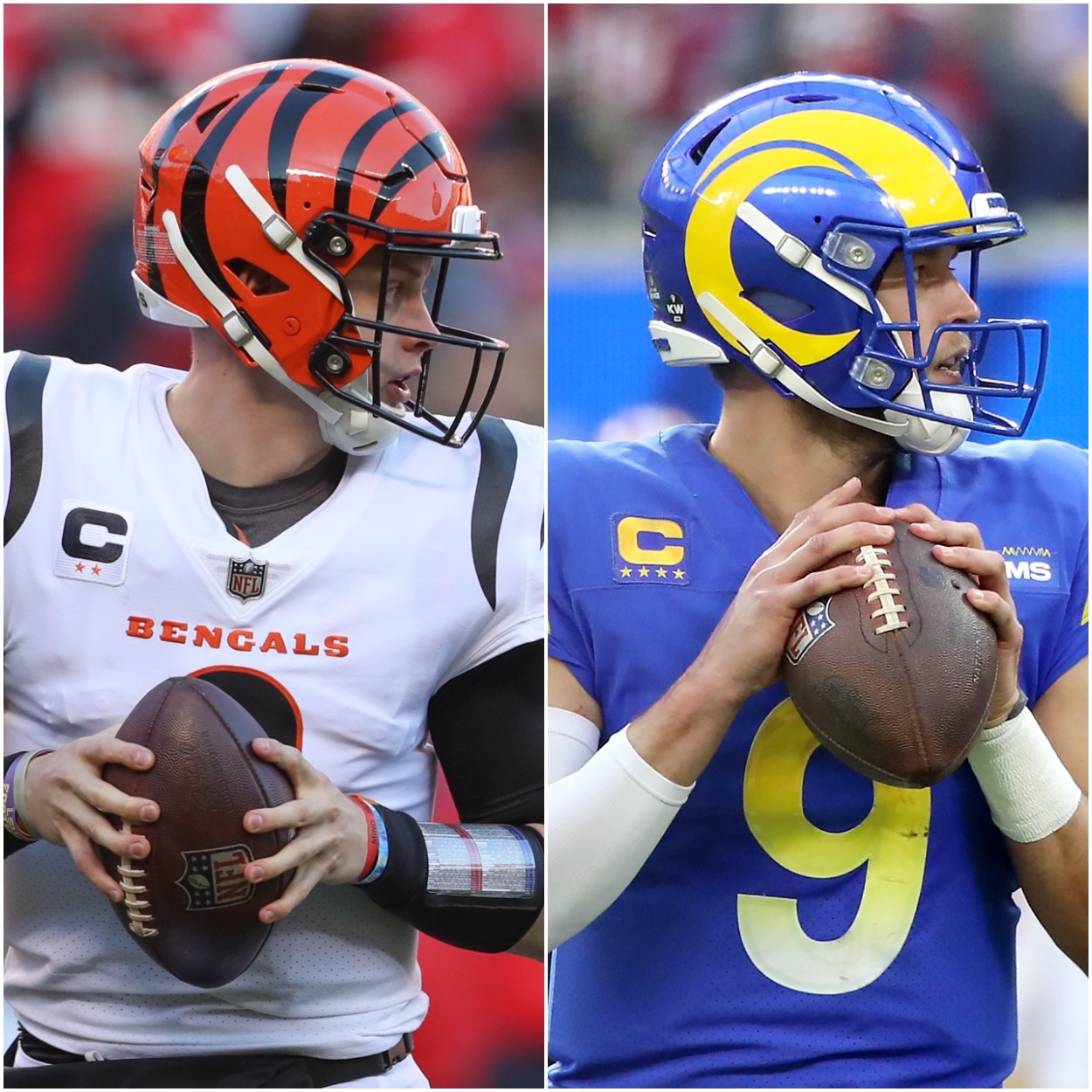 To call this category anything but a draw would be unfair.
Stafford and Burrow are incredibly talented in their own ways. As mentioned, both were drafted No. 1 overall and talent-wise; both have lived up to that billing.
Stafford has one of the best arms in NFL history. He can throw it a mile, but can also make any throw asked of him. He's sneaky-athletic and has 13 seasons of experience going for him. He's seen just about everything a quarterback can, and he's unphased by it.
Burrow is just a young whippersnapper compared to Stafford, but he has a similar vibe. Like Stafford, he can make any throw on the field, and he's certainly not afraid to air it out and go deep.
They both have incredible arms. In fact, watching Burrow play is a lot like watching Stafford when he was a younger quarterback. Burrow has the athletic edge over Stafford, but that's really it, and Stafford's experience and pocket presence makes up for that.
Edge: Draw
Supporting Cast: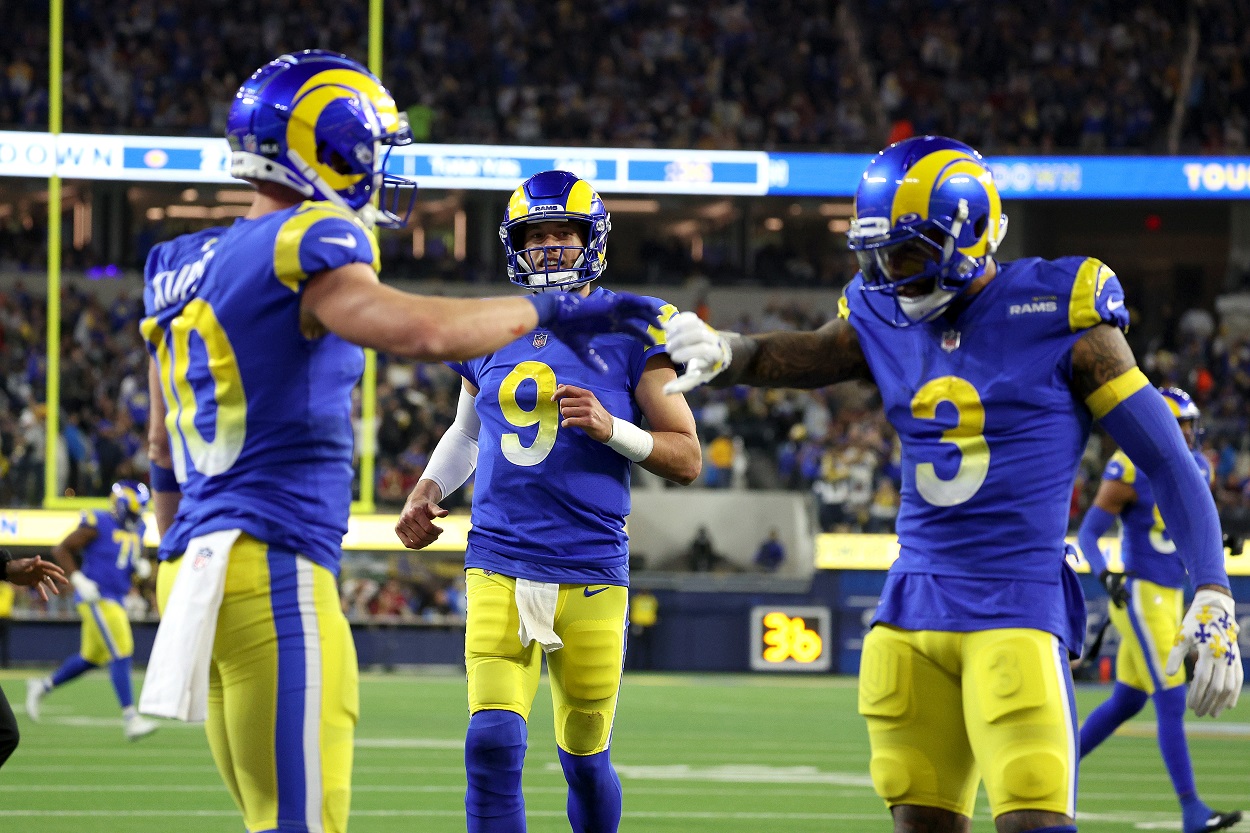 Stafford has a plethora of targets to throw to, but Cooper Kupp is undeniably the superstar of the bunch. Kupp "won" the wide receiver Triple Crown this season, leading the league in receptions (145), yards (1,947), and touchdowns (16). If Stafford's going deep, there's a good chance Kupp is on the other end of it.
Not to be outdone, Odell Beckham Jr. has played a big role for the Rams since they picked him up mid-season. He's revitalized his career in LA and has become a great second option for Stafford. Including the playoffs, he's caught six touchdowns since joining the team.
Van Jefferson (802 yards, six touchdowns) is one of the better WR3's in the game, and running back Cam Akers can get involved through the air as well.
For Burrow and the Bengals, it all starts and ends with superstar rookie Ja'Marr Chase, who caught 81 passes for 1,455 yards and 13 touchdowns in 2021. Chase is an automatic deep threat, but he's also a skilled technician on underneath routes. He and Burrow won a national championship together at LSU and have an undeniable connection.
In terms of No. 2's, Tee Higgins is as good as they get. The second-year wideout out of Clemson had his first 1,000-yard season as a pro, catching 74 passes for 1,091 yards and six touchdowns. Right behind him was veteran Tyler Boyd, with 67 catches for 828 yards and five touchdowns.
The Bengals also have a solid one-two punch in the backfield with Joe Mixon and Samaje Perine, both of who can catch passes.
The X-factor for Cincinnati is long-time tight end C.J. Uzomah, who's questionable heading into this game but was a full practice participant on Friday. If he can play and be effective, he adds a dangerous element to Cincy's offense.
Edge: If Uzomah plays and is effective, Burrow. If not, Stafford off the strength of Kupp and OBJ.
X-Factor:
Elite quarterbacks just have that "it" factor. It's hard to explain and it doesn't really show up in the stat sheets. Occasionally you can define it by "clutch" plays or come-from-behind victories, but it's more than that.
It's the look in the eye. It's the moxie under pressure. It's knowing that when things get tough, the rest of the team knows that a quarterback with that "it" factor can handle the moment and lead them to victory.
Tom Brady had it, clearly. By all accounts, Joe Montana oozed it. Peyton Manning had it because of his all-encompassing knowledge of the game. Nowadays, it's the swagger that Patrick Mahomes exudes when down three touchdowns or the ice-cold effectiveness of Aaron Rodgers when he has that look in his eye.
It can't be measured, but watch Burrow play, and you'll know he has "it." He has that cool, confident aura about him where you just know he'll get the job done. He proved it all throughout the postseason as well. The very fact that he went into Arrowhead Stadium and out-dueled Mahomes in the biggest game of his life to date was evidence enough.
For his part, Stafford has had flashes of greatness during this playoff run. Beating Brady and the Buccaneers and staving off what seemed like an inevitable comeback with a big-time throw to Kupp with seconds left on the clock was a huge moment for the long-time quarterback. Frankly, it was one of the defining throws of his career.
The problem with Stafford is that he has a ton of experience losing and not necessarily coming up big. For as great as he's been over the years, the one knock against him has been that he throws too many interceptions at too many inopportune times.
He went through a pick-six spree at the end of this season and almost lost the NFC title game against the San Francisco 49ers on a lame-duck ball that Jaquiski Tartt should have picked off. It hit his hands, but he dropped it.
This is not to say that Stafford can't have the game of his life in Super Bowl 56. He certainly deserves to do so. It's just acknowledging that for as good as he can be, he can also throw away a game in big moments.
Edge: Burrow
Overall Edge in the 2022 Super Bowl: Burrow
Stats courtesy of ESPN and Pro Football Reference. Contract information via Spotrac
RELATED: Calvin Johnson's Father Convinced Him To Play 1 More Season in The NFL