Joe Burrow's Dad Reveals What Put a Massive Chip on the Bengals QB's Shoulder Before His Breakout 2021 Season
Joe Burrow took the NFL by storm in 2021. The Cincinnati Bengals quarterback's talent is evident, and he could put a stamp on his impressive sophomore season with a victory in Super Bowl 56. The legend of Joe Brrr grows more and more every week.
Winning should be motivation enough, but Burrow's father suggests something else fueled his son's breakout campaign.
Joe Burrow's father says he was motivated to return from his injury sooner than expected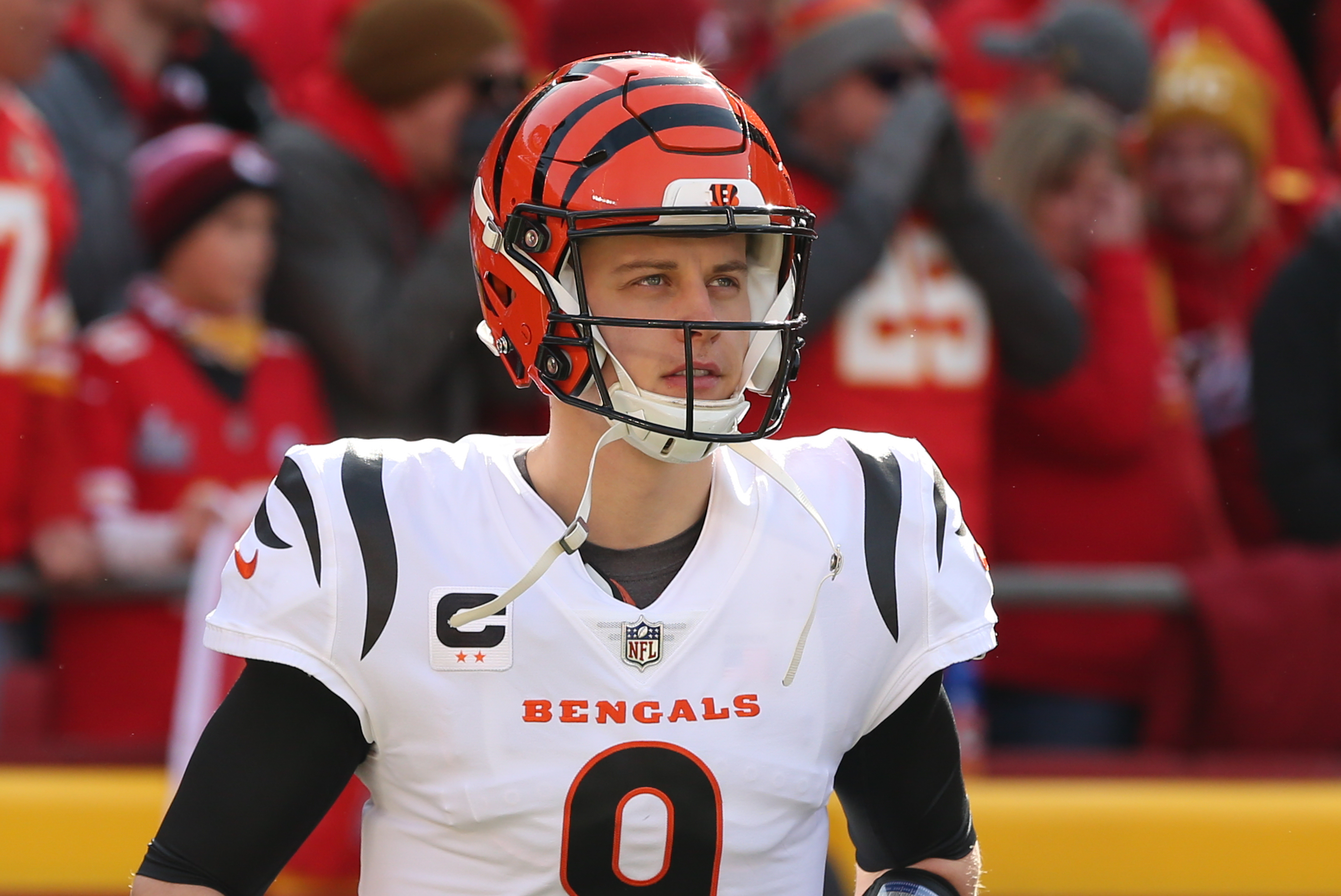 The Cincinnati Bengals were excited about the opportunity to select Joe Burrow with the No. 1 overall pick in the 2020 NFL Draft. The offense began to show promise with the LSU product under center. Unfortunately, he suffered a torn ACL and MCL in the Week 10 loss to the Washington Football Team.
It was unclear what to expect from Burrow, coming off a significant lower-body injury. However, his rehab process went well, allowing him to start the 2021 season without limitations. His father, Jimmy Burrow, says doubts about his recovery time fueled him in the offseason.
In a recent interview on ESPN's Keyshawn, Jay, and Max, the elder Burrow discussed his son's stellar comeback.
"He took it as a challenge," Burrow said of his son's injury. "A lot of the media were saying that he probably wouldn't be back for the start of the season, maybe not till the middle of the season. And maybe he would miss the whole year. He's always looked for things like that to put a chip on his shoulder. From the moment he started hearing that, it was his goal to be ready for the first game."
Jimmy Burrow credits his son's doctor, physical therapists, and the Bengals' training staff for the speedy recovery. All the hard way has paid off, as Joe Burrow has Cincinnati in the Super Bowl for the first time since the 1988 season.
The LSU product's confidence raises the play of his teammates
Joe Burrow has plenty of endearing qualities. He possesses the poise, swagger, and confidence of an NFL veteran. However, he's only 25 years old.
The Heisman Trophy winner entered the league with momentum after leading the LSU Tigers to a National Championship victory in 2019. Burrow took his bumps and bruises as a rookie, but the experience prepared him for this improbable run in year two.
Burrow threw for 4,611 yards, 34 touchdowns, and 14 touchdowns in the regular season while completing 70.4% of his passes (league-high). He didn't earn a Pro Bowl nod, but that doesn't take away from how good he's been in 2021. Even though his rookie year ended abruptly, Burrow has shown glimpses of his immensely high ceiling.
Zac Taylor's squad finished with a 4-11-1 record in 2020. Of course, the Bengals were without their franchise quarterback for the last six games. Still, it's clear that this is a different football team in 2021.
So what changed in a year?
As Jimmy Burrow suggested, his son had some added motivation for the new season. He wanted to prove people wrong, and he's done just that. Joe Burrow exudes confidence and displays poise in every situation, on or off the field. Even though he's only 25 years old, his Cincinnati teammates follow suit.
Jimmy Burrow is planning a parade in the Bengals QB's hometown
Joe Burrow's breakout season propelled the Cincinnati Bengals to an AFC North title and now to Super Bowl 56. While Cincy's resurgence is surprising to most, the people in Athens, Ohio (where Burrow played high school football) believed in him all along.
Jimmy Burrow suggests the entire town is pulling for his son and the Bengals to pull off another surprise and take home the coveted Lombardi Trophy. He says they're already planning a potential celebration.
"We'll have something here, that's for sure," said Burrow. "There's so many people in Athens and southeast Ohio that have supported Joe since high school, and now he's on the biggest stage. We'll definitely have some parades around town. We might just come straight from Cincinnati down Highway 32 and get it done."
Surely, Burrow's hometown will erupt if the Bengals win the Super Bowl. However, the Los Angeles Rams present a stiff test. If the second-year signal-caller can pull off this massive feat, he'll add another layer to the legendary start of his NFL career.
All stats courtesy of Pro Football Reference
RELATED: From Joe Brrr to Joe Shiesty, Joe Burrow's Long List of Nicknames Adds to His Legend