Joe Burrow's Stellar Play Led To LSU Wasting Millions of Dollars
Joe Burrow and the LSU Tigers had a magical year during the 2019 college football season. His incredible play as quarterback for the Tigers led to him winning the Heisman Trophy and leading LSU to a national championship. However, his play for LSU also ended up costing the school millions, as, shortly after the team won the national title, it gave head coach Ed Orgeron a massive contract.
Joe Burrow and LSU had a magical year in 2019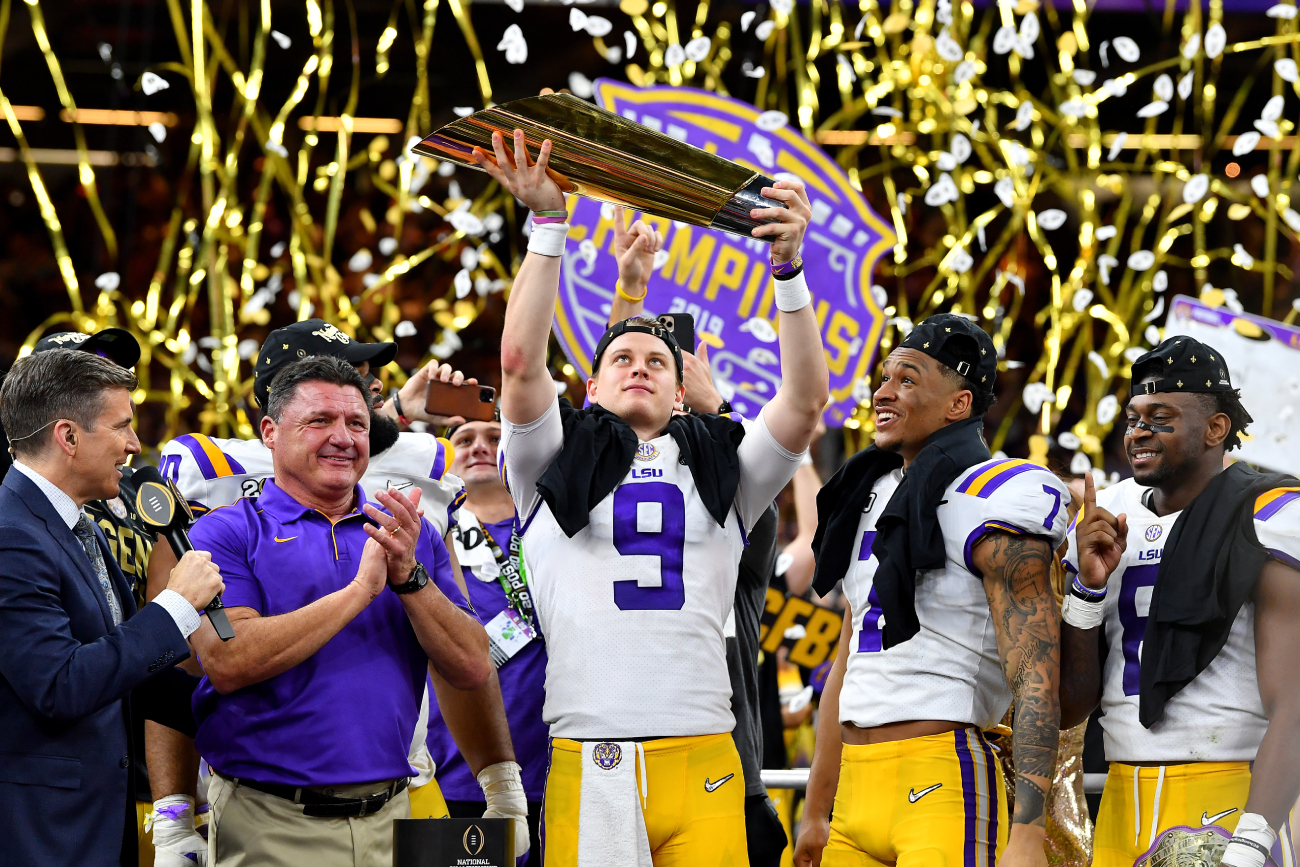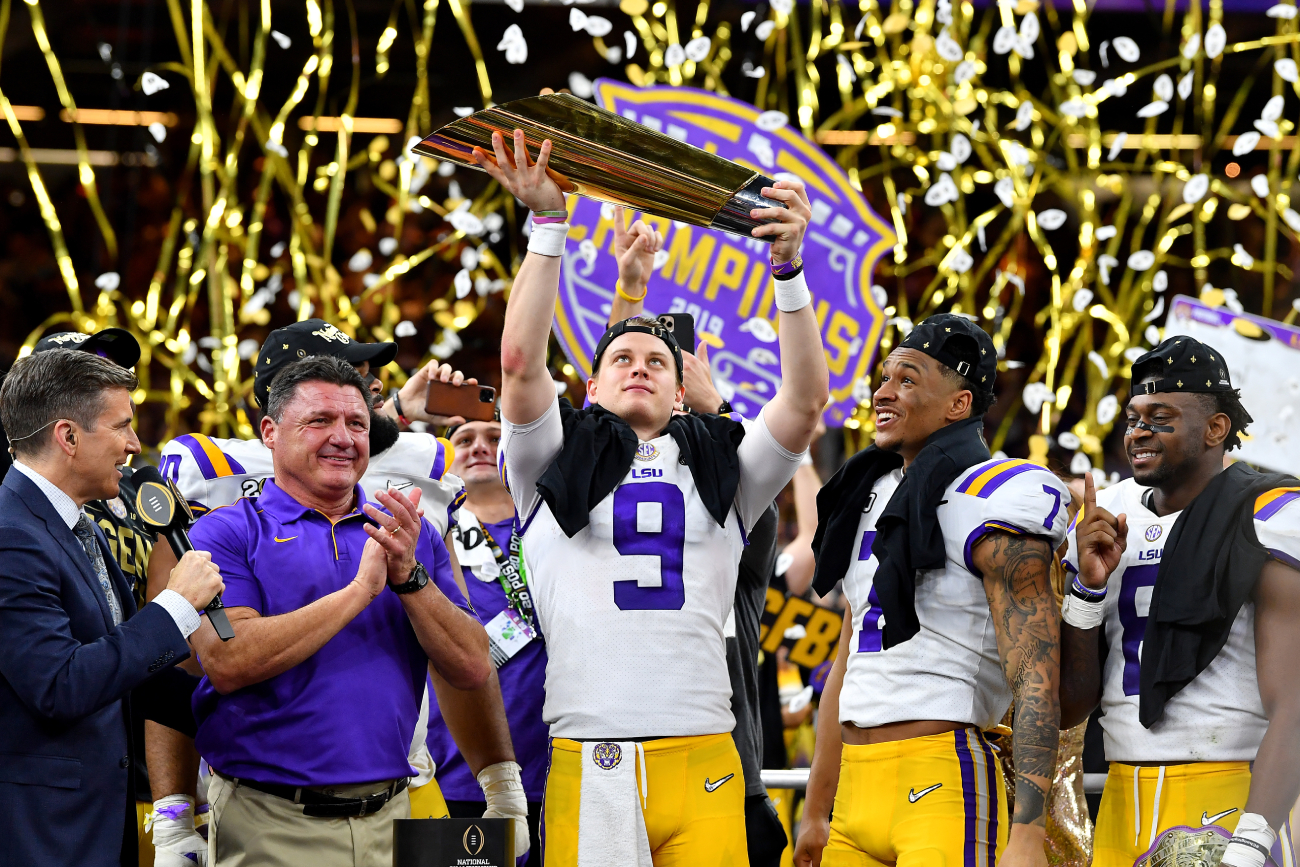 Burrow started his college career at Ohio State, as he went to high school in Ohio. However, in 2015, the Buckeyes had a crowded quarterback room with him, Cardale Jones, J.T. Barrett, and Braxton Miller. Burrow then sat behind Barrett in 2016 and 2017.
Dwayne Haskins then won the starting quarterback job at Ohio State during the 2018 season. This led to Burrow graduating from Ohio State early and transferring to LSU. In his first season at LSU, Burrow had a decent year. He threw for 2,894 yards, 16 touchdowns, and five interceptions. However, he and the Tigers had a magical year in 2019.
Burrow ultimately threw for 5,671 yards, 60 touchdowns, and six interceptions that year. Those incredible stats led to him winning the Heisman Trophy, and he led LSU to a 13-0 regular-season record. The Tigers then made the College Football Playoff, and Burrow had some incredible performances in the semifinal and national championship games. The Tigers ended up going 15-0 overall that year, winning the national title over Clemson.
Ed Orgeron received a massive contract after the 2019 season
Burrow's head coach at LSU was Ed Orgeron. After the Tigers won the national championship, Orgeron ultimately got a new massive contract.
According to The Daily Advertiser, LSU hired Orgeron as head coach in 2016, and his contract was worth $3.5 million a year for five years, which was one of the lowest salaries in the SEC. He then received a two-year extension after the 2018 season, which lasted through the 2023 season, and it had him making $4 million a year.
However, after the national championship win, Orgeron got a new contract worth $42 million over six years. His annual base salary is $6 million, but he also has a $5 million life insurance policy. So, when it is all said and done, his 2020 salary is $8.7 million, according to the Los Angeles Times.
Does Orgeron deserve all of that money, though?
LSU is potentially wasting millions on Orgeron
Sure, winning a national championship is a big deal. However, how much of the credit for that year should go to Orgeron, and how much should go to Burrow's spectacular season?
In his career, Orgeron became the head coach at Ole Miss in 2005. They went 3-8 in his first year there, 4-8 in 2006, and then 3-9 in 2007. He then was not a head coach again until he was the interim head coach at USC in 2013, and had a 6-2 record that year.
Orgeron joined LSU's staff in 2015 as the team's defensive line coach, and he later became the interim head coach for the Tigers in 2016. He went 6-2 as the head coach that year and won a bowl game. Orgeron has been the head coach since then. LSU had a 9-4 record under him in 2017 and then went 10-3 in 2018 before going 15-0 in 2019.
While Orgeron has certainly had a lot of success at LSU, he did not inherit an awful program. LSU has not had a losing season since 1999. The Tigers also haven't won fewer than eight games since 1999, as they have been one of the top programs in the country under Nick Saban and Les Miles.
Additionally, so far without Burrow in 2020, the Tigers are 1-2, making Orgeron's career record 57-38. Outside of the 2019 season, Orgeron's career record is now only 42-38. How does that compare to other coaches who also make a lot of money? 
According to the Los Angeles Times, Dan Mullen, Florida's head coach, is making a little over $6 million in 2020. His career record is 92-52. Additionally, Penn State coach James Franklin is making $6.7 million in 2020. His career record is 80-38. Both of those are much better than Orgeron's record, especially if you take out the 2019 season. 
It is hard to blame LSU for paying Orgeron all of that money after the Tigers' incredible 2019 season. However, following a 1-2 start in 2020, the school has to be wondering if they just wasted a bunch of money.
Stats courtesy of Sports Reference