Joe Harris' Lingering Ankle Problems a Body Blow the Brooklyn Nets Didn't Need
An underrated aspect of the struggles of the Brooklyn Nets is the continued absence of sharpshooter Joe Harris. The two-time NBA three-point shooting leader sprained his left ankle on Nov. 14. Projected to miss six to eight weeks after surgery in late November, the longest-tenured Net hasn't returned and reportedly isn't close to doing so.
With Harris, Brooklyn was the best three-point shooting team in the league. Their offense has struggled at times without him, though.
When will the eighth-year veteran return to the court? The answer varies by who is taking the question.
Joe Harris' agent said his client might need another surgical procedure
The Brooklyn Nets remain without their top three-point shooting threat because Joe Harris is still experiencing pain in his surgically repaired left ankle.
On Feb. 3, agent Mark Bartelstein told Adrian Wojnarowski of ESPN a second surgery might be necessary.
Harris had a bone particle removed from the ankle on Nov. 29. The long side of his expected recovery window passed in late January. The Nets have struggled at times offensively without their top marksman.
Without Harris, Brooklyn is 23rd in the NBA in three-point shooting at 33.7%. They are 16th for the season at 35.4% but led the league at 39.3% before the veteran was hurt.
The constriction of the offense is more evident in the Nets' 30.4 deep attempts per game since Harris' injury, the second-fewest in the league. They are also 29th in makes at 10.3 per game.
Brooklyn is eighth in the NBA at 111.7 points per 100 possessions. They've scored at a higher rate without Harris, posting a 113.0 rating, but that ranks ninth in the league since Nov. 15. Defensively, the Nets are 19th, surrendering 111.0 points per 100 possessions. Without Harris, they are 26th, allowing 113.8.
Joe Harris focuses on rehab, not another surgery
For his part, Joe Harris told Brian Lewis of the New York Post that rehabilitation remains the primary focus. In a tweet, Lewis reported Harris saying he'll deal with a potential second surgical procedure only when he must.
"The rehab, in general, has obviously gone a little bit longer than initially anticipated, but that's how some of this stuff goes," Harris said. "Not every injury is the same, and it's really hard to even put timelines on it, and so the biggest thing with me right now is I'm just trying to get healthy. So when my ankle is right, and I'm feeling good enough to play, that's when I'm going to be able to come back."
Harris averaged 11.3 points and 4.0 rebounds in 30.2 minutes per game before he was hurt, shooting 41.7% from two-point range and 46.6% on 6.3 attempts per game beyond the arc. His 43.9% mark for his career is third-best in NBA history behind Steve Kerr and Hubert Davis.
His breakout season was 2018–19. That year, Harris led the NBA in three-point percentage for the first time and took down Stephen Curry in a memorable final round at the 3-Point Shootout during All-Star Weekend in Charlotte.
He led the league again last season with a career-best 47.5% mark but struggled during the Nets' second-round loss to the Milwaukee Bucks in the playoffs.
The concerns ahead for the Brooklyn Nets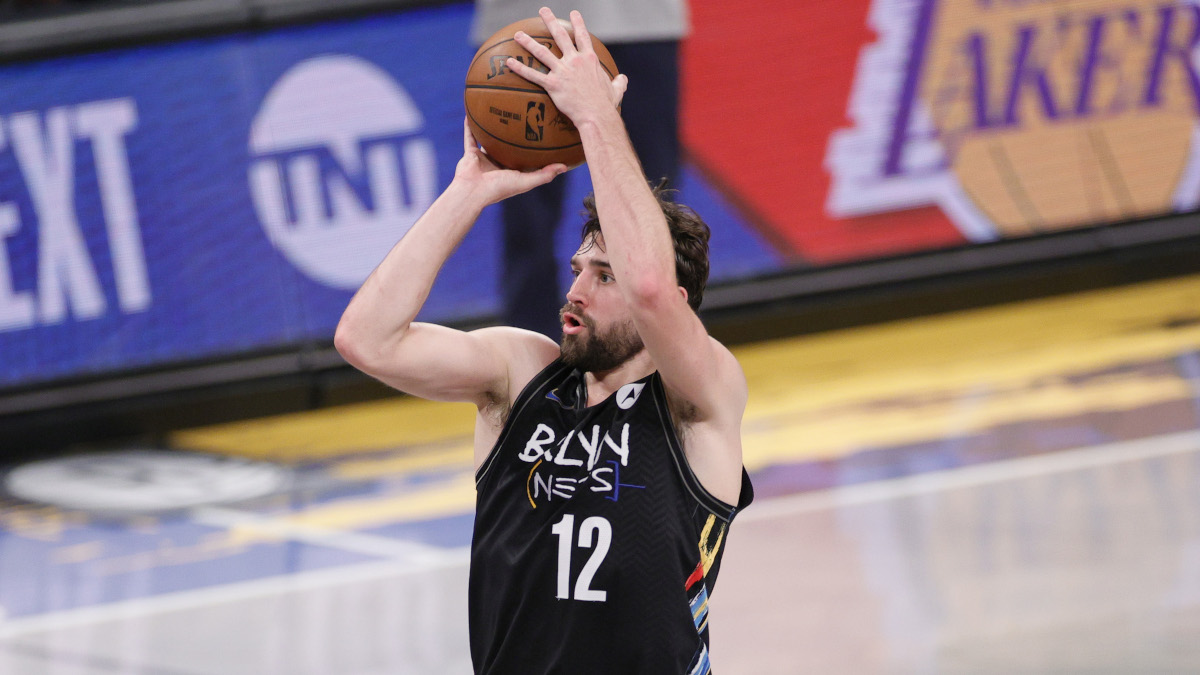 Zach Lowe of ESPN raised an essential question on The Lowe Post podcast on Feb. 3.
"The Joe Harris situation has become really worrisome," Lowe said. "I don't think it's a given that he's coming back this year, and definitely don't think it's a given he's coming back at 100 percent."
Since so much of Harris' game is predicated on running, either to open areas or around off-ball screens to get open for shots, any limitations could dramatically affect the offense of the Brooklyn Nets.
The 30-year-old was a second-round pick of the Cleveland Cavaliers in 2014 out of Virginia and played twice for three minutes during the 2015 NBA Finals loss to the Golden State Warriors. Traded to the Orlando Magic in January 2016 while sidelined with an injured shoulder, Harris was immediately waived.
He signed with Brooklyn in July 2016. After signing a four-year deal in November 2020 to remain in Brooklyn, the contract runs through 2023–24. Harris will make $18.6 million next season and is on the books for $19.9 million in 2023–24.
He's the lone holdover from the pre-Kevin Durant/Kyrie Irving era in Brooklyn and became a full-time starter in 2018–19, the same season the Nets began their current streak of three consecutive playoff berths.
Joe Harris is the franchise's all-time leader in three-point percentage at 44.2%, ahead of Hall of Famer Dražen Petrović's 43.7% mark, and passer another Hall of Famer, Jason Kidd, early this season for the most made threes. While he's not the top option or the most critical player for the Brooklyn Nets, their offense hinges on the spacing he provides. Winning without him has already proven to be a chore.
Statistics courtesy of Basketball Reference and NBA.com. Contract information courtesy of Spotrac.
RELATED: NBA Trade Rumors: James Harden's Hamstring Problems Not Related to Rumors, Says Brooklyn Nets Coach Steve Nash