Joe Harris Is an Established Veteran Leader for the Brooklyn Nets, but Pines for a Childhood Treat
Joe Harris fought off the NBA scrap heap to become an essential piece for the Brooklyn Nets. The two-time 3-point shooting leader was out of the league after a January 2016 trade before Nets general manager Sean Marks and former coach Kenny Atkinson saved his career. Now entering the second season of a four-year, $72 million contract with Brooklyn, Harris finds himself missing some of life's simpler pleasures.
He remains loyal to the Nets, crediting them for giving him a chance when no one else would. Signed in July 2016 as a street free agent, Harris is now the longest-tenured player in Brooklyn. Not bad for a player the Cleveland Cavaliers gave away to open a roster spot.
Joe Harris is one of the best 3-point shooters in NBA history
Despite setting a career-high in 3-point attempts last season, Joe Harris also set a new standard for himself by hitting 47.5% of his 6.4 deep shots per game. That led the league for the second time in three seasons. Harris shot 47.4% from the great beyond in 2018–19 before slumping (for him) to 42.4% the following season.
He's topped 40% for four consecutive seasons. At 44.1% since coming to the Brooklyn Nets, he trails only teammate Kevin Durant (45.0%) on the franchise's all-time list (minimum of 50 made 3s). His career mark of 43.8% ranks fourth in NBA history, trailing only Steve Kerr, Seth Curry, and Hubert Davis.
The Nets lost in the Eastern Conference semifinals last season, and Harris' long-range struggles were one reason. He was 16-for-49 in the seven-game loss, a 32.7% mark, after knocking down 51.5% in a first-round victory over the Boston Celtics.
The spacing Harris provides and the movement he creates are critical elements of Brooklyn's offensive plan. Opponents fail to account for Joey Buckets are their peril.
Still, the native of Chelan, Washington, misses some of the little things in life.
Harris developed a passion for his mother's signature cheesecake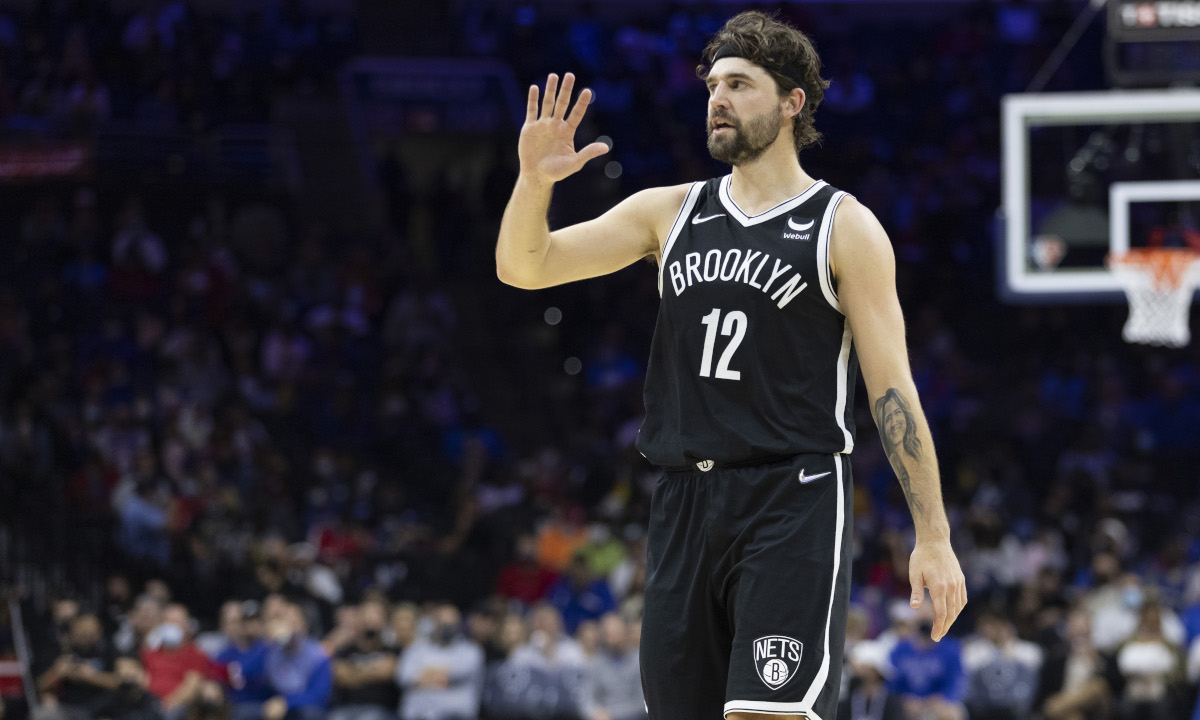 When Joe Harris was growing up, his mother catered as a side business. He developed a taste for desserts, specifically, and an appreciation for food in general. He recently shared a week's worth of culinary adventures with Chris Crowley of The New Yorker and talked about his mom's cheesecake.
"My favorite thing she makes is cheesecake. Occasionally she'll make chocolate, sometimes Snickers, add a caramel swirl, or something like that. But I like her regular, traditional cheesecake with the graham-cracker crust."

Joe Harris
During training camp, Harris took advantage of the opportunity to load up on food. He said it's a traditional part of his preseason routine to prepare for the rigors of camp and a long NBA season.
"I'm eating a lot now, just for energy, because the training level is so high," Harris said. "With practice and games, you really have to load up on the calorie intake. And I definitely like to eat."
During the week of dining he shared with The New Yorker, Harris visited spots all over Brooklyn. Carbs were a high priority.
The season ahead for Joe Harris and the Brooklyn Nets
After assembling a high-profile Big Three, the Brooklyn Nets enter the 2021–22 season as the oddsmakers' favorite to win the franchise's first NBA championship. That job got more difficult when the team opted to sideline Kyrie Irving over his vaccination status.
Harris was one of the veterans, along with Durant and James Harden, who talked to team executives during the decision-making process. As the last holdover from Brooklyn's rebuilding process from 2016–18, he offers a unique perspective in the locker room. He recently told Ajayi Browne of USA Today's Nets Wire that Irving is still a valuable organization member.
"With Ky's situation, obviously, we support him," Harris said. "Whatever decisions that are made, that's for him personally. But we support him as a team either way. … He's still part of the Brooklyn Nets. He's still a part of this family, and none of that has changed."
Harris played with Irving in Cleveland, and they reunited in 2019 when Kyrie signed with the Nets as a free agent.
If the Brooklyn Nets can keep things together in Irving's absence and capture the NBA title, maybe Joe Harris can talk his mother into one of those signature cheesecakes. It seems the least mom could do for a newly crowned champion.
Statistics courtesy of Basketball Reference. Contract information courtesy of Spotrac.
RELATED: Brooklyn Nets Fans Get a Stiff Dose of Reality Thanks to Steve Nash's Latest Comments About the Team: 'Honestly, We've Got a Long Way to Go'