Joe Judge: Pros and Cons to the New York Giants Bringing Their Divisive Head Coach Back in 2022
Article Highlights:
The New York Giants are reportedly bringing head coach Joe Judge back in 2022
A three-time Super Bowl champion with the New England Patriots, Judge is 10-21 in two seasons with the Giants
The struggling franchise needs to strongly weigh the pros and cons of bringing the 39-year-old back for a third year
The New York Giants can no longer say they're committed to excellence or a winning product. Not when the once-proud franchise is 22-57 since the start of 2017 and not when they reportedly intend to bring head coach Joe Judge back in 2022.
Although Judge cannot be blamed for all of the Giants' issues (not that WFAN callers will ever change their ways), he should rightfully be on the hot seat after a second straight dismal season. With two weeks left in the 2021 campaign, the organization needs to strongly weigh the pros and cons of parting ways with the ex-New England Patriots assistant and starting over yet again.
Pros: The Giants have developed an impressive defensive core in Judge's tenure
The New York Giants are a disaster by their standards, at least the ones that existed before Dave Gettleman took over as general manager following the 2017 season. However, as is often the case in the NFL, they've still developed a bright young core despite the constant losing.
The less said about the Giants' offense, aside from receiver Kadarius Toney (39 catches and 420 yards in 10 games this year) and offensive tackle Andrew Thomas, the better. However, the Giants have numerous defensive players, including safety Xavier McKinney, who have impressed and are still playing on their rookie contract.
McKinney, an Alabama product and second-round pick in 2020, has five interceptions this year. Rookie linebacker Azeez Ojulari has a team-high eight sacks and, depending on how many players opt out of the Pro Bowl, could easily find himself playing in Las Vegas on Feb. 6.
Young linebacker Tae Crowder, the final pick in the 2020 draft, has a Giants-high 112 tackles this season. Dexter Lawrence, a third-year defensive tackle from Clemson, has nine sacks and 13 tackles for loss since entering the league.
Elsewhere on defense, veteran defensive end Leonard Williams has 5.5 sacks and 70 total tackles. The Giants also have middle linebacker Blake Martinez, who missed most of this year with a torn ACL, under contract through the end of next season.
Every player mentioned above is under 30, which potentially bodes well for the 2022 team. Then again, Giants fans thought the same entering this season, and the 2021 defense has allowed an unimpressive 24.3 points per game.
Cons: The Giants are still among the league's worst teams, and Judge's stubbornness is a major reason why
As the head coach, Joe Judge is free to make whatever decisions he feels give his team the best chance at winning. The problem, as his 10-21 record indicates, is that the 39-year-old either doesn't know what the right decision is, or he's too stubborn to make it.
Fans and reporters have widely criticized him throughout the 2021 season for conservative play-calling, primarily on third and fourth down. According to the New York Post, Judge dismissed those claims in September.
"Trust me, I don't live in a world of fear. I don't, but I've got to make sure that every decision I make is calculated to put the team in a position for success. There's times I want to blow my chest out and say, 'All right, here we go. We're going for this one right here.' That's not always the best thing for the team."

Joe Judge
Perhaps a risky decision would have paid off in Week 15, when Judge stuck with struggling backup quarterback Mike Glennon throughout a pivotal home game against the inconsistent Dallas Cowboys in Week 15. The Cowboys' defense held Glennon to 99 passing yards and three interceptions in a 21-6 Giants loss, one which effectively ended any desperate playoff hopes Judge and his team still had at that point.
In Judge's two seasons at the helm, the Giants have ranked 31st and 30th in points scored. Part of that blame is on former offensive Jason Garrett, who Judge fired as offensive coordinator earlier this year. But part of the blame must also fall on the head coach, especially when it's time to evaluate his job status.
Should the Giants bring Judge back in 2022, or is it time to move on?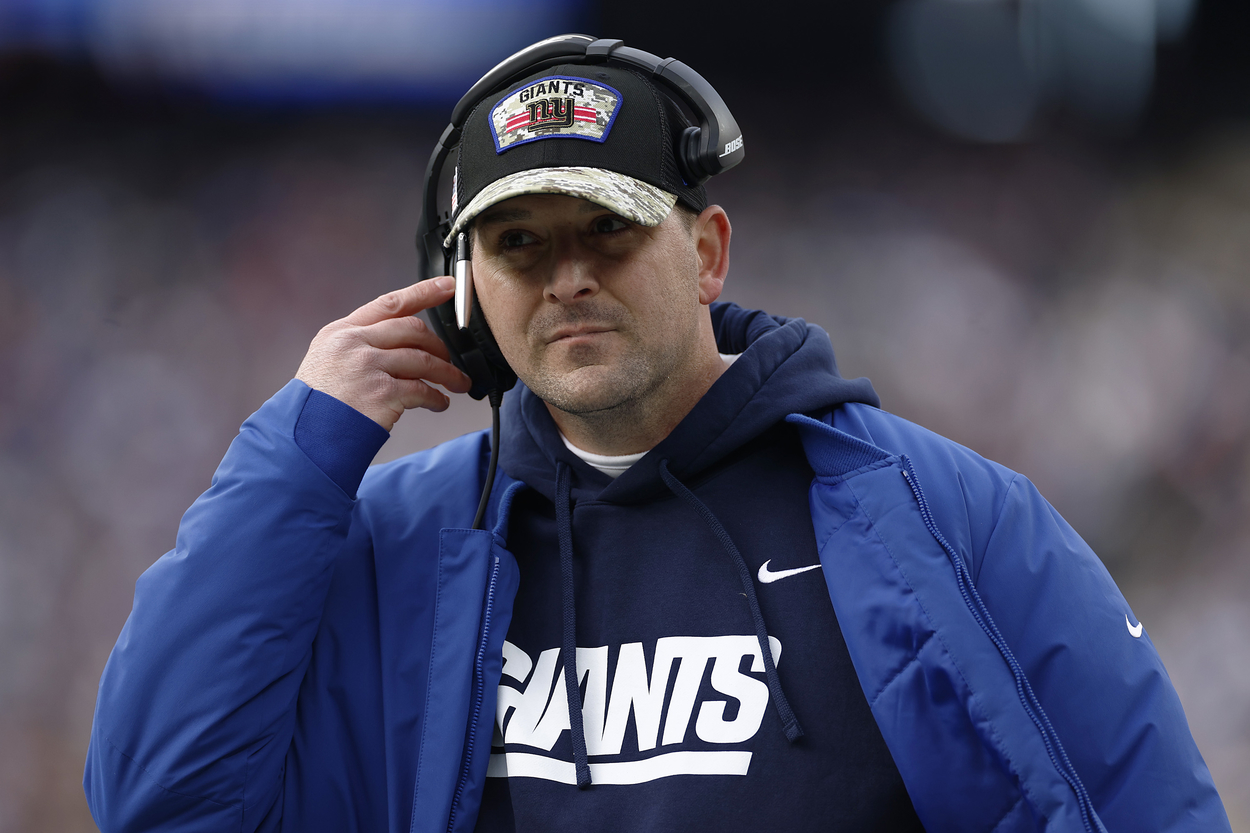 When considering firing a head coach for performance, teams must ask themselves if things will be any better a year from now with the current coach. There is no reason to believe the 2022 New York Giants will be in better shape than the 2021 Giants if Judge remains the head coach.
Yes, the Giants have an extremely talented defensive core and have spent Judge's two seasons playing amid a global pandemic. However, eight of the Giants' 21 losses in the last two years have been by eight or fewer points.
Remember, Big Blue finished one game behind the Washington Football Team in the NFC East last year. That's when one of those early-season, one-score losses really comes back and bites a team in the posterior. This situation looks much different had the Giants won the division, albeit a weak one, in 2020.
The Giants are expected to part ways with Gettleman in the coming weeks, either via firing or forced retirement. At this time next year, a similar situation may occur in East Rutherford, N.J., except this time with Judge being served his walking papers.
Like Sportscasting on Facebook. Follow us on Twitter @sportscasting19.