Joe Judge's Bizarre Comments About Bill Gates and Analytics Proves the New York Giants Need to Make a Drastic Change
This may sound harsh just three games into the 2021 NFL season, but Joe Judge isn't a good head coach.
The current HC of the New York Giants, Judge limped to a six-win season in 2020 and currently has his team at 0-3 to kickoff 2021. Their struggles include poor quarterback play, bad play-calling, a bad offensive line, poorly coached special teams units, and a wildly inconsistent defense. The Giants also have one of the tougher schedules in the league moving forward — things aren't going to get better anytime soon.
To make matters even worse, Judge (who's at least partly to blame for the Giants' recent failures) doesn't appear willing to adapt.
Joe Judge made some bizarre comments about analytics
For what it's the worst, coaching football is largely a "feel" thing. Some of the best coaching decisions in NFL history were poor decisions on paper that happened to pay off due to a combination of dumb luck and player skill.
The "Philly Special" during Super Bowl 52, for example, is a good case of a head coach acting on instinct. While the analytics may have suggested going for it on fourth down was the correct move, it's hard to imagine any stats-based model suggesting a trick play where a backup tight end throws the pass was the most logical. However, the decision paid off for Doug Pederson and the Philadelphia Eagles, and the play is now famous.
However, that doesn't mean analytics isn't a wildly effective tool in the modern NFL.
Most (if not all) good teams heavily rely on implementing analytics and stats-based models to influence gameday decisions and roster moves. Probability, athletic scores, etc., are all heavily used daily in the NFL to make decisions.
However, Judge and the Giants don't seem to be there quite yet.
Judge's comments give us key insight into why the Giants are 0-3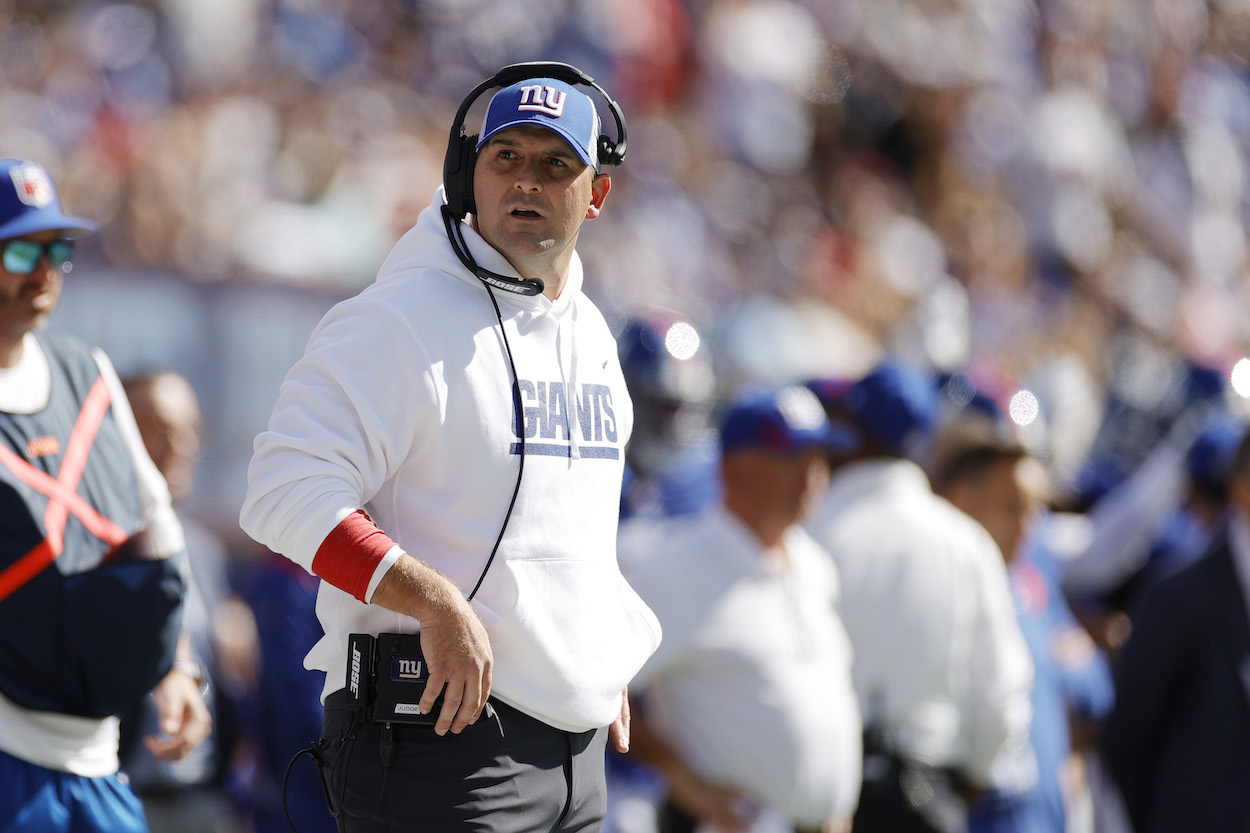 As previously stated, there are a whole lot of issues plaguing the Giants at the moment. Most of them can be traced back to the team's below-average general manager, Dave Gettleman, and the faulty roster moves he's made over the past few seasons.
However, Judge's decision-making and the Giants' overall play-calling is definitely up there as well.
Heading into Week 4, the Giants rank 18th in total offense, 17th in first downs, 17th in scoring percentage, and 18th in expected points contributed by the offense. They're below average across the board.
Whether Judge wants to believe it or not, the utilization of analytics would only help the Giants boost these numbers. The Los Angeles Rams — one of the more analytically savvy teams in football — rank first in almost all of these offensive categories.
The Giants need to consider making a drastic change
With Judge so out of touch with what works in the NFL these days, and the Giants off to a miserable start, one has to wonder how much longer this is allowed to go on.
Gettleman isn't any better when it comes to running the team's front office. Ownership needs to consider completely cleaning house if they're serious about rebuilding their organization into a contender.
All stats courtesy of Pro Football Reference.
RELATED: Michael Strahan's Positive Attitude Was Just as Important as His Ferocious Pass-Rush Moves: 'He Made Everyone Around Him Play Better'