Joe Judge's Honest Reflection on Patrick Mahomes and the Kansas City Chiefs Should Have the New York Giants Terrified
Joe Judge is not taking Patrick Mahomes and the Kansas City Chiefs lightly. In fact, the New York Giants head coach seems to have an absolute sense of fear and respect for what Andy Reid's team can accomplish on the football field. This, despite the fact that Kansas City is currently 3-4 on the season.
Frankly, this is probably not the matchup that either team expected. After going to two-straight Super Bowls, the Chiefs were easily predicted to be a contender again this season. Their 3-4 record through seven games has been shocking. Judge and the Giants are coming off a 6-10 season that may not appear impressive on paper, but it did see the Giants finish second in the NFC East. It was, at least, something for the Giants fans to hold onto. New York is 2-5 so far this season and coming off a win over the Carolina Panthers.
While the Chiefs' struggles could be a source of confidence for the Giants, the head coach showed no hesitation in giving Kansas City its due.
New York Giants head coach Joe Judge showed the ultimate respect to Patrick Mahomes and the Kansas City Chiefs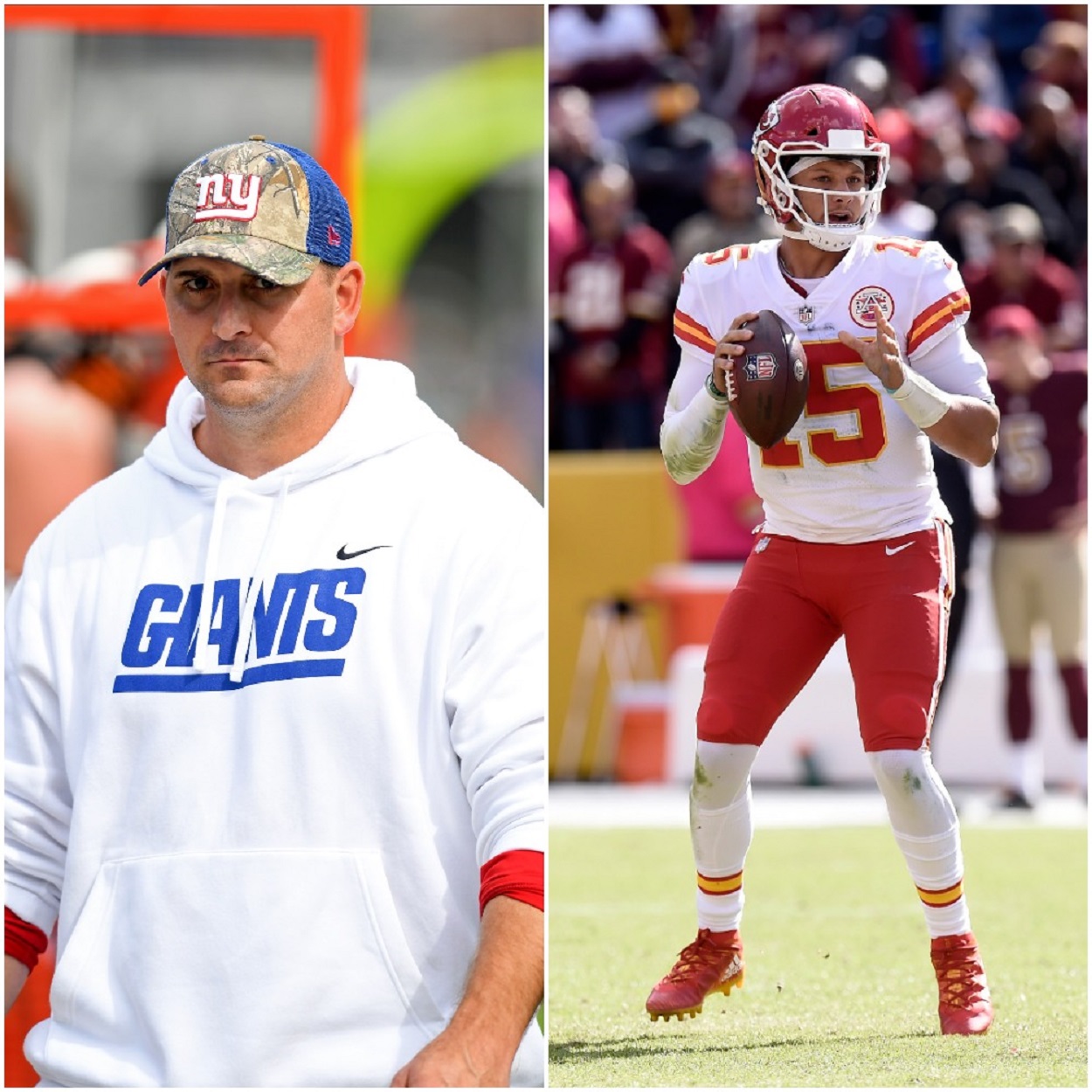 There has been speculation around the NFL that Mahomes and the Chiefs are finally being figured out. They've been the top dog for years now, but just like with anything in the NFL, eventually, the league does catch up.
At one point the wildcat offense was thought to be unstoppable, but NFL defenses figured that out real quick. That's just the way of life in the NFL, where the other team is getting paid too.
When asked about the possibility that Kansas City has become an open book to the rest of the league, Judge gave absolutely no credence to that theory.
"I mean, how'd the league catch up to them?'' Judge said, according to the New York Post. "Is everyone as fast as Tyreek Hill or [Mecole] Hardman? Can everybody cover the ball as deep as [Mahomes] can throw that thing? I think it's a foolish narrative for us to buy into if we think this team isn't as good as they are.''
The Giants and Chiefs are about to square off on Monday Night Football, so the whole NFL world will be watching. While it does provide a unique opportunity for a bad Giants team to perhaps gain a marquee win against an organization like Kansas City, Judge was clear that he does not see this game as an easy win, especially on the road.
"This is a damn good team,'' he said. "They're very explosive, they're very dangerous. These guys are going to be playing their best ball Monday night. We're going out into a tough atmosphere, it's a lot of great energy out there, so we've got to get ready this week to play our best football.''
Kansas City is still an extremely hard place to play, and this is close to a must-win for the Chiefs
The Chiefs have lost two of their last three games and four of their last six. They're 1-2 at home this season. That doesn't mean Arrowhead Stadium has all of a sudden lost its luster, though, especially on Monday Night Football. Kansas City is always a tough place to play for an opposing team, but this Monday night should end up taking the cake. The fans will have all day to tailgate, eat some famous Kansas City barbeque, and prepare for what is ultimately a huge game for their team.
Kansas City has a smart fan base, so they'll be prepared to be loud and proud. On the line for the Chiefs is the opportunity to bounce back from a demoralizing 27-3 loss to the Tennessee Titans. The Chiefs also have to do everything they can to keep up with the Las Vegas Raiders (5-2) and Los Angeles Chargers (4-2) in the AFC West.
The division looks so stacked at the top right now that Kansas City is going to have to avoid falling behind.
While it's hard to call a game in October a must-win, this is about as close as it gets for Kansas City. That added pressure on the Chiefs is going to make things a lot harder for the Giants.
Judge is right to have a healthy respect for the Chiefs. Their offense can be terrifying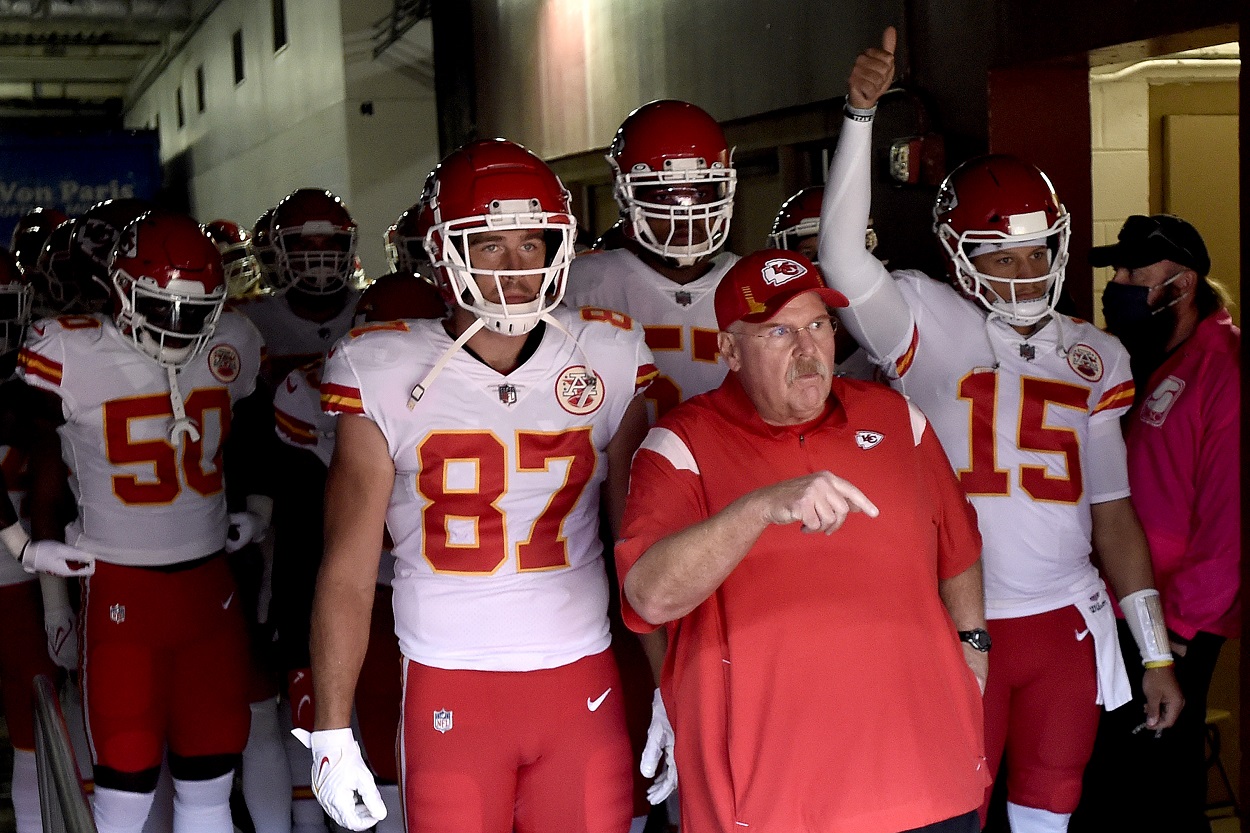 A day after Halloween, Judge will have to lead his Giants into the proverbial belly of the beast to take on take on what is still one of the most terrifying offenses in football.
He's right. There are very few players, if any, who have the speed to keep up with Tyreek Hill. Mahomes, though struggling as of late, hasn't all of a sudden forgotten how to play football. He's an MVP quarterback for a reason, and those types of players don't stay down for long.
Frankly, this is setting up to be a scary matchup for the Giants. Even while having a wonky season, the Chiefs are scoring 26.9 points per game. Judge's team scores only 19.9.
Kansas City puts up 428.9 yards a game, while the Giants average 368.7.
Reid is still one of the best play-callers in the NFL. Travis Kelce is still an elite tight end. Kansas City is still one of the scariest teams in the NFL.
A few bad games have not changed any of that, and that has to be terrifying if you're a second-year coach trying to keep your team grounded ahead of the biggest game of the year.
Stats courtesy of ESPN and Pro Football Reference.
RELATED: Former New York Giants Super Bowl Champion Amani Toomer Blasts His Old Team For Being Terrible: 'It's Really Sad'