Joe Montana Reveals He Wishes the San Francisco 49ers Drafted Another Rookie Quarterback Instead of Trey Lance
The San Francisco 49ers' quarterback controversy has been the biggest NFL storyline out of the Bay Area during the 2021 season. Neither Jimmy Garoppolo nor Trey Lance has put a stranglehold on the starting job. Hall of Famer Joe Montana believes the Niners would be better off if they drafted Mac Jones instead of Lance.
Trey Lance hasn't secured the 49ers' starting quarterback job yet
49ers head coach Kyle Shanahan doesn't like to show his entire hand. Throughout training camp and the preseason, he dragged out his announcement of the official starter for the 2021 NFL regular season.
Shanahan ultimately named Jimmy Garoppolo the Week 1 starter, relegating Trey Lance to the backup role. Jimmy G hasn't played well enough to solidify himself as the starting quarterback in San Francisco moving forward.
Garoppolo has thrown for 1,428 yards, six touchdowns, and four interceptions in six starts. He's in his fifth season with the 49ers since the New England Patriots traded him before the 2017 season.
While Jimmy G had high expectations set for him when he entered the league, he's yet to establish himself as a true franchise quarterback. The 30-year-old has proven he's not going to go out and win you games. He's more of a game-manager if anything.
As far as Lance goes, it may just be a matter of if he's ready or not. The North Dakota State product took over when Garoppolo went down against the Seattle Seahawks. He also started against the Arizona Cardinals in Week 5 with Jimmy G still out.
Lance didn't do anything special against Kyler Murray and company. He also suffered an injury and hasn't played since.
Joe Montana preferred Mac Jones over Trey Lance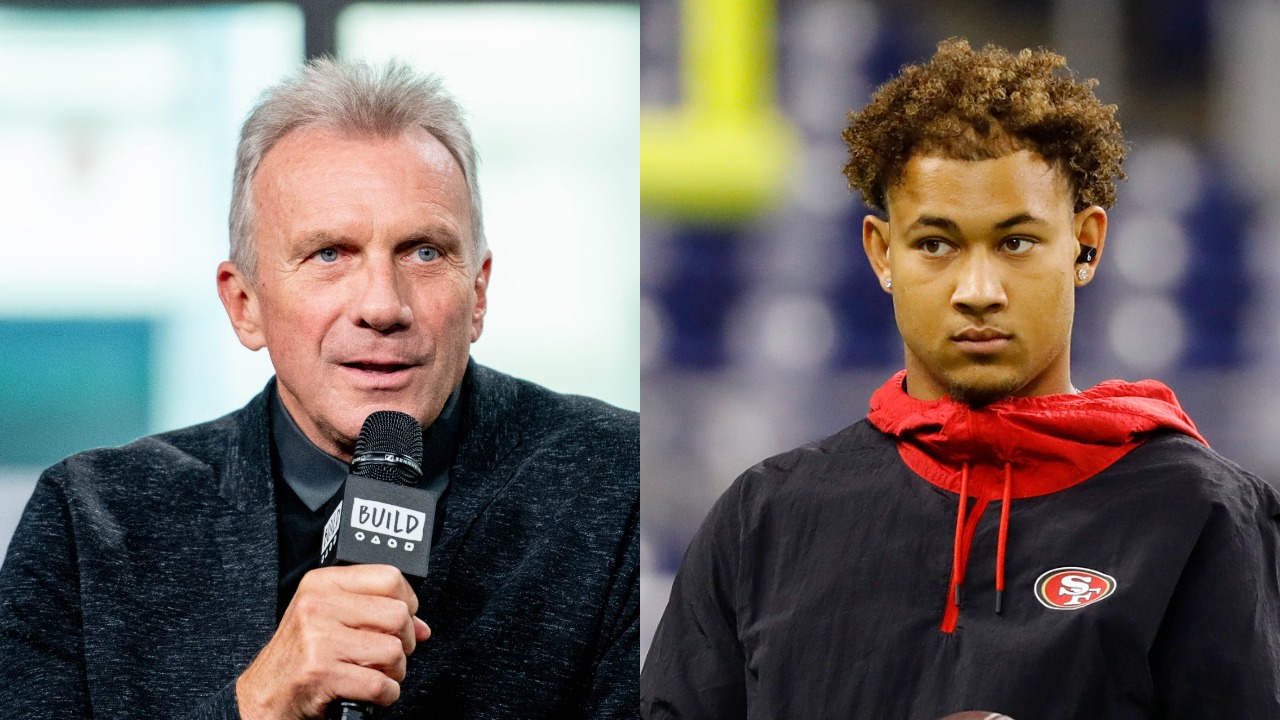 San Francisco 49ers legend Joe Montana enjoyed a Hall of Fame career playing quarterback in the NFL. He weighed in on the current situation for the Niners.
Montana appeared on ESPN's College Football Live and discussed his thoughts on Trey Lance as the franchise quarterback in San Francisco.
"If I were the 49ers, I would have taken the kid from Alabama [Mac Jones]," said Montana per Yahoo Sports. "Nothing against the guy that they took [Lance], but Jones is more pro-style offense, more used to being in tough situations." 
The Niners traded up from the No. 12 slot to draft Lance at No. 3 overall. Montana is a big fan of Jones' talent, though.
Jones enjoyed a strong senior season under Nick Saban at Alabama and was named a consensus All-American. He played in the rough and tumble SEC, which is usually the toughest conference in college football.
Lance, on the other hand, played at FCS North Dakota State. He didn't play against elite college football talent as Jones did.
Joe Montana clarified his statement, saying time will tell what Lance can become. "Nothing against Trey," he said. The 49ers' great may just be looking for a quarterback more like him in terms of style.
Jones has the reigns in New England
Contrary to what Joe Montana believes, Mac Jones could not have landed in a better situation than he is with the New England Patriots.
He's a system quarterback. He proved that in Alabama's loaded offense, and he is thriving under the tutelage of Bill Belichick and Josh McDaniels.
While Lance has spent most of his rookie season on the bench behind Jimmy Garoppolo, Jones has grabbed the reigns as the starting quarterback in New England.
The Patriots cut Cam Newton ahead of the 2021 regular season, clearing the way for Mac Jones to be the definitive starter. He's had some ups and downs, but he's performed well for the most part.
The former Crimson Tide standout has thrown for 1,996 yards, nine touchdowns, and six interceptions. Like any other rookie, he's endured growing pains. However, he's getting valuable reps, unlike Trey Lance.
Lance has played the least of the rookie quarterbacks taken in the first round of the 2021 NFL Draft. Kyle Shanahan and the 49ers have adopted a different approach. Still, it may be time to see if they drafted their quarterback of the future.
Joe Montana needs to see more of Trey Lance to change his mind.
All stats courtesy of Pro Football Reference.
RELATED: Mike Florio Prematurely Rips the 49ers for Their Controversial 2021 Draft Pick: 'The Trey Lance Experiment Has Indeed Been a Disappointment'