Joe Namath Sees a Bit of Tom Brady in Mac Jones: 'He Might Be the Best Player in the Bunch'
The 2021 NFL draft begins April 29, and Alabama Crimson Tide quarterback Mac Jones is a solid bet at No. 3 overall. The San Francisco 49ers traded to get that pick, and at least one Hall of Fame quarterback thinks he'd be a good pick. Joe Namath, however, might have a bit of a bias considering he also played for the Crimson Tide — albeit more than 50 years ago.
Namath told NFL Network's Andrew Siciliano he sees Jones having some similarities to one well-known veteran NFL quarterback. Jones has some championship chops, having thrown for five touchdowns in Alabama's crushing 52–24 victory over Ohio State in January's College Football Playoff National Championship Game. As a junior last season, the Alabama quarterback threw 41 touchdown passes against just four interceptions.
Pretty heady stuff in his first full season as a starter.
Joe Namath impressed by Mac Jones
RELATED: Why Is Mike Greenberg Hosting the 2021 NFL Draft for ESPN?
During his appearance on NFL Network, Namath argued for Jones to go to the New York Jets with the second overall pick. Nearly every mock draft on the planet has Clemson quarterback Trevor Lawrence going No. 1 to the Jacksonville Jaguars and the Jets taking BYU quarterback Zach Wilson. While acknowledging Jones' lack of athleticism, Namath invoked a strong comparison when touting his fellow Crimson Tide alum.
"The Alabama quarterback reminds me a bit of, maybe I wouldn't call it slow, but gradual footwork that developed into good footwork, of a guy that came out of college and he's won seven Super Bowls," Namath said. "… Tom Brady, he's not fleet of foot. Jones is not fleet of foot, but he might be the best player of the bunch."
While qualifying his comments by stressing no one compares to Tom Brady, there are similarities between Jones now and Michigan's Brady in 2000. Brady lasted into the sixth round before going to the New England Patriots at No. 199 overall. In 20 years with the Patriots, he won a Super Bowl ring for every quarterback taken ahead of him in that draft. He added ring No. 7 last season with the Tampa Bay Buccaneers.
Jones can only hope to approach that level of NFL success.
Where does Jones fit?
RELATED: A Driving-Related Arrest Set Top 2021 NFL Draft Prospect Mac Jones on a $32 Million Path to Stardom
Mel Kiper Jr. of ESPN ranks Jones fourth among quarterbacks in the 2021 NFL draft, behind Lawrence, Ohio State's Justin Fields, and BYU's Wilson.
Scouts love Jones' mental makeup but rate his release and arm strength as average. His size and speed are also considered merely average, and his 40-yard-dash time of 4.82 seconds won't dazzle anyone, either. Of course, quarterbacks aren't necessarily asked to sprint in straight lines all that often.
His judgment was questioned after photos came out from a party in 2013 of Jones in a controversial costume. Jones was also arrested on a DUI charge in 2017. These mistakes are often red flags for NFL general managers, particularly when evaluating quarterbacks. There is a premium on emotional maturity and stability from the guy trusted to lead the offense.
At Alabama, Jones displayed the ability to buy time in the pocket with his footwork even if he was not a serious threat to run the football. He gained only 14 yards on the ground last season in 35 attempts (a chunk of those were kneel-downs).  In three seasons, he ran for 42 yards on 54 carries and scored twice. He was sacked 13 times in 13 games.  
But his accuracy shone through. Jones completed 77.4 percent of his throws last season for 4,500 yards, and he saved his best for last. In the two games in the College Football Playoff, he was 61–for–75 (81.3 percent) for 761 yards and nine touchdowns with no interceptions. He threw for a career-high 464 yards in the national championship game win over Ohio State.
Will it be Mac Jones? 49ers playing the pick close to the vest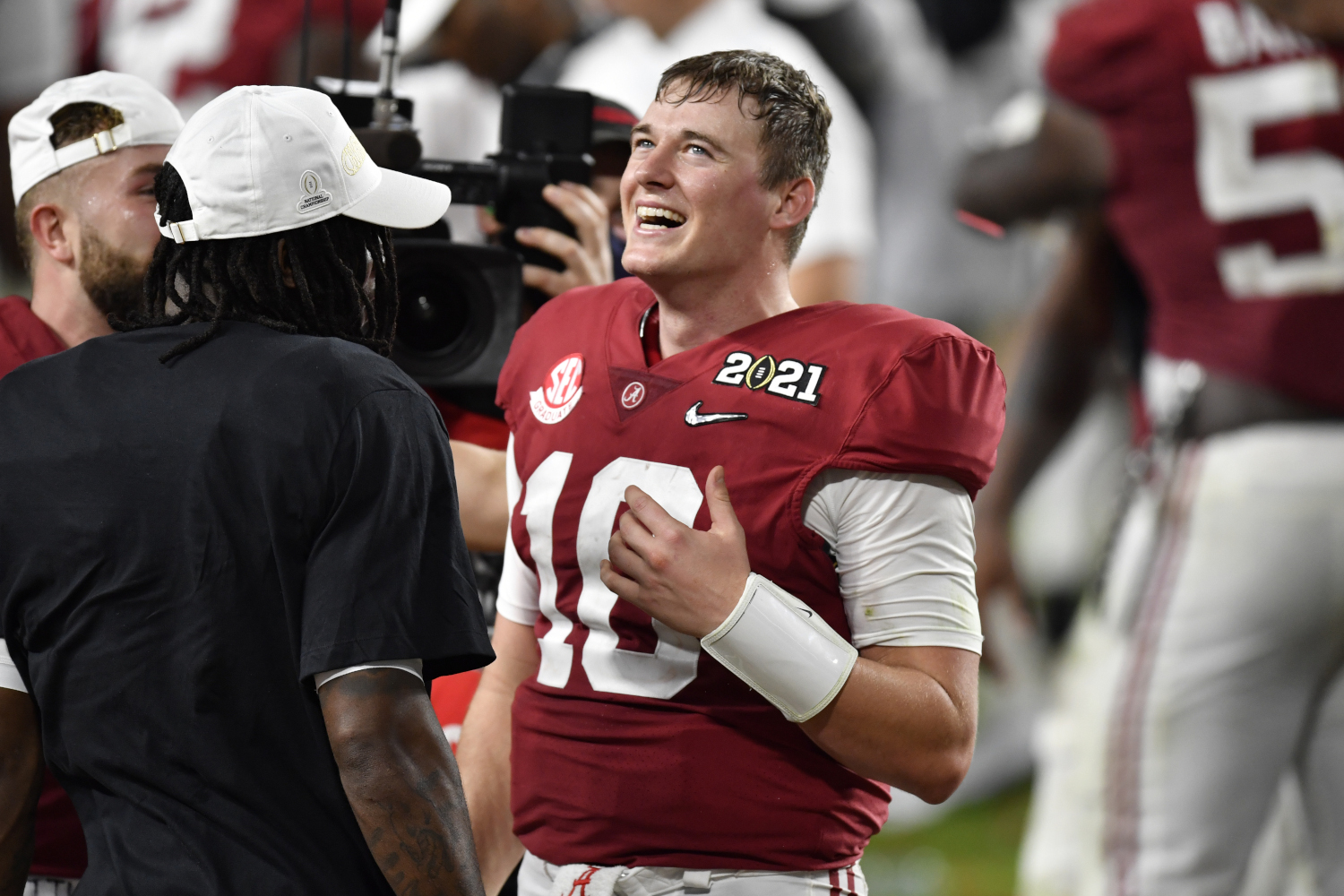 RELATED: Will Aaron Rodgers Finally Get Some Help From the Green Bay Packers in the 2021 NFL Draft?
San Francisco 49ers coach Kyle Shanahan has the final decision on which quarterback the team takes with the No. 3 overall pick. But he was non-committal leading up to the draft and said he was comfortable with three of the top five quarterbacks available, according to Nick Wagoner of ESPN.
The top five appears to be Lawrence, Wilson, Fields, and Trey Lance of North Dakota State, along with Jones. What is certain is that incumbent Jimmy Garappolo, who led San Francisco to the Super Bowl in 2019, will face a challenge. Garappolo has had trouble staying healthy, starting only three games in 2018 before a knee injury sidelined him. Last season, he made just six starts due to an ankle injury that eventually shut him down after Week 8. The 49ers slid from 13-3 in 2019 to just 6-10 in 2020.
Shanahan not only wouldn't guarantee Garappolo would be on the roster Sunday, the day after the draft ends. His answer was also morbidly vague.
"I can't guarantee that anybody in the world will be alive Sunday, so I can't guarantee you who will be on our roster on Sunday," Shanahan said. "So, that goes for all of us."
There is no guarantee Mac Jones goes to the Bay Area. But Garappolo might want to call his realtor … and a moving company.
Stats courtesy of Pro Football Reference and ESPN.