Joe Namath Refused to Play Football at Notre Dame Because the School Had No Women
Say "Joe Namath" to most NFL fans and it'll instantly conjure images of his epic guarantee and subsequent victory in Super Bowl III. The former New York Jets quarterback shocked the world by leading his AFL champion team over the Indianapolis Colts in 1969. But while Namath had a Hall of Fame career at the pro level, he was also an accomplished college quarterback in his own right. 
As a high school recruit, Namath was a hot commodity. He was even recruited by one of the top programs in the nation at the time, Notre Dame. However, he didn't end up playing there for a shocking reason.
Joe Namath made waves at every level of football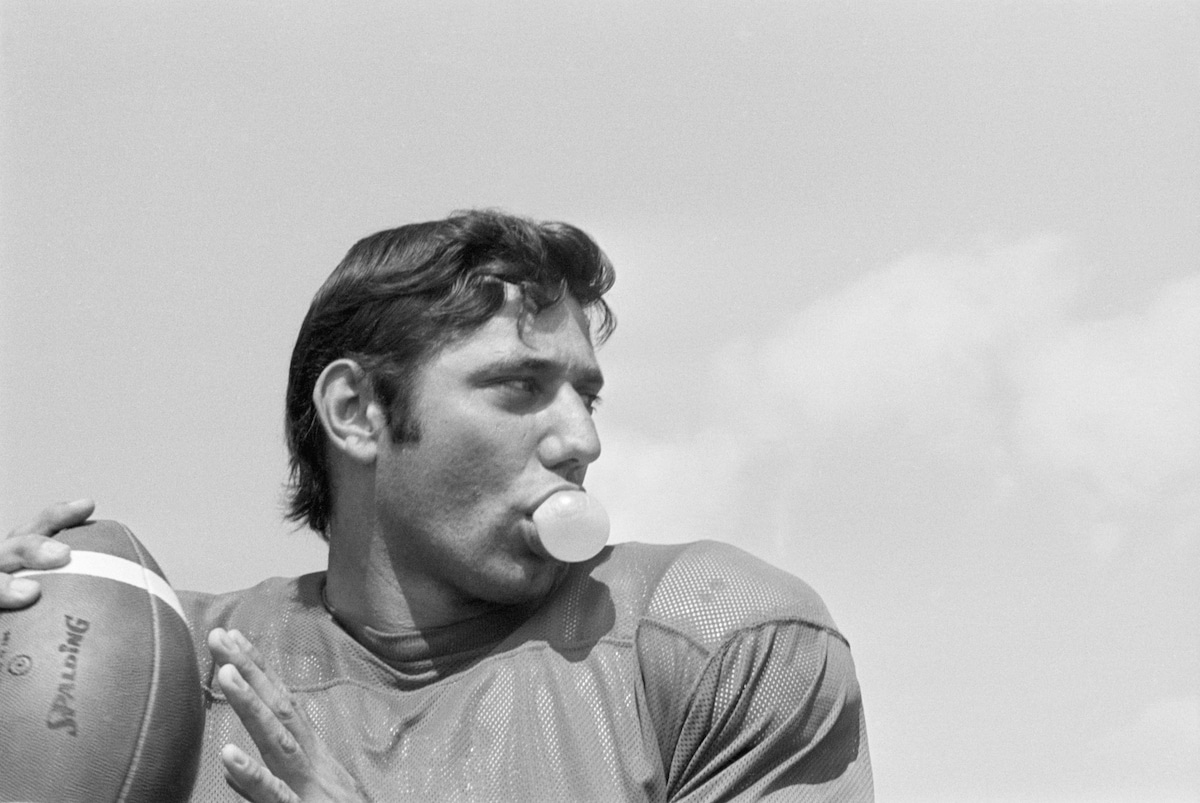 History cites Super Bowl III as Namath's greatest accomplishment as a football player, but he was acclaimed at the high school and college levels as well. According to Deadspin, which cites Namath's 1969 Playboy interview, the QB was a top prospect out of high school. Playing under the tutelage of his older brother, he excelled in football, baseball, and basketball.
The Pennsylvania native received numerous offers from universities to play quarterback for them. According to the quarterback himself, Namath visited multiple schools including Miami, Maryland, Indiana, Iowa, and Notre Dame.
Why Joe Namath rejected Notre Dame
Notre Dame is still a great destination for college football players. Their broadcasting deal gives them exclusive rights to their own national network coverage (NBC). If they perform well enough, the Fighting Irish are the only independent team with an inside track to a College Football Playoff appearance.
As big as the school is now, it was even bigger in the '60s. Notre Dame was simply one of the top destinations for the best football players in the U.S. This didn't matter to Namath. While the Fighting Irish recruited him, he opted not to play for them. His reasoning was simple: The school had no women. Here's what Namath had to say: 
"Two reasons: I talked with their coach, who at the time was Joe Kuharich, and I wasn't very impressed by him. More important was the fact that there were no girls at Notre Dame. Man, they told me they had a women's college right across the lake."
Namath cultivated quite a reputation as an eligible bachelor. His reasoning for not playing at Notre Dame aligns with this. He was nothing if not consistent. 
Where did Namath end up playing college football? 
While he didn't end up playing for the Fighting Irish, he played at another prominent college football program: the Alabama Crimson Tide. Maryland was Namath's top choice, but he didn't have the grades to enter. Namath's brother Frank had played for two of Alabama's coaches when they coached for Kentucky. 
One thing that did take some getting used to for Namath was life in the South. He experienced quite a culture shock coming from tiny Beaver Falls, Pennsylvania to play in the middle of Alabama. But Namath thrived under the steady eye of the legendary coach Bear Bryant.
Bryant didn't always approve of Namath's lifestyle and habits (the coach didn't love Namath's goatee and once suspended him for drinking), but he respected Namath's ability. In his senior season, Namath was an All-American for Bama. 
Who knows how his career may have gone differently had he chosen to play for Notre Dame. 
RELATED: When and How Did Jets Legend Joe Namath Earn His 'Broadway Joe' Nickname?