Joe Rogan Discussed Why Tony Ferguson Can Give Khabib Nurmagomedov Problems
For the fifth time, Khabib Nurmagomedov has been scheduled to fight Tony Ferguson. This has been many fans' most wanted fight, and on April 18, 2020, it may finally happen. One of the main reasons why this fight is so exciting is because Ferguson may give Nurmagomedov a lot of problems, and Joe Rogan agrees with this. Here's why.
Tony Ferguson is very unpredictable
As Rogan said in his podcast with Max Holloway, Ferguson can be a problem for Nurmagomedov for a lot of reasons. For one, he's unpredictable in more ways than one. 
In the gym, Ferguson is known for his strange and unorthodox routines. Sometimes he'll do them for a laugh, but other times he takes his strange routines seriously. For example, Ferguson has posted training videos where he's hitting steel bars with his elbows and knees to build up strength. 
In his fights, as Holloway told Rogan, Ferguson does strange moves, too. He uses his knees and elbows to hurt his opponents when they least expect it, and he's actually won a few fights due to this. In fact, when Ferguson fought former champion Rafael dos Anjos, he even started salsa dancing in the middle of the fight.
Unfortunately, Ferguson is also unpredictable when it comes to his personal life. Early in 2019, Ferguson's wife filed a restraining order against him after he started doing strange stuff around the house. They've reconciled and she's dropped the case. But this unfortunate episode shows that Ferguson's mind is as unpredictable as his opponents think.
Will Tony Ferguson choke Khabib Nurmagomedov out?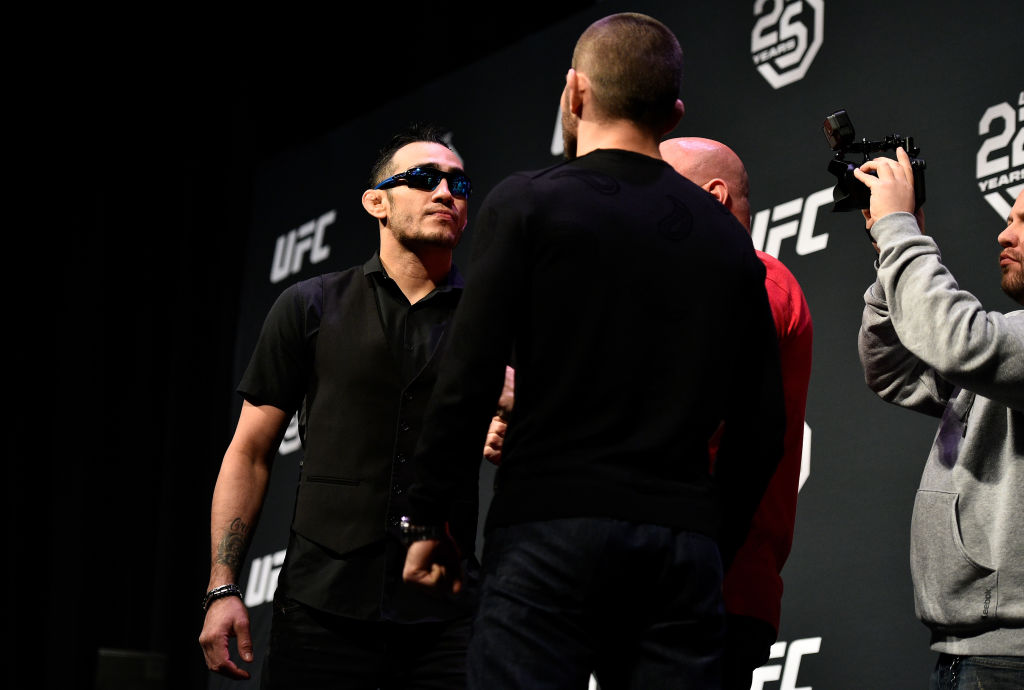 As Rogan explains in the podcast, Ferguson is also a brilliant Brazilian Jiu-Jitsu (BJJ) specialist. BJJ works best on the ground, and that's exactly where Nurmagomedov wants to fight Ferguson. But if Nurmagomedov puts Ferguson on the ground, then he can start using his BJJ skills to choke Nurmagomedov out. 
Ferguson did this against Kevin Lee for the interim lightweight title in 2017. Lee is a great wrestler, just like Nurmagomedov is, and in the third round, he took Ferguson down. However, Ferguson was able to use his tricky BJJ skills to choke Lee out. 
Many fans, including Rogan, think this is one way Ferguson can beat Nurmagomedov. And, if Nurmagomedov doesn't want to take Ferguson down, then Ferguson can use his striking skills to knock him out. Although Ferguson is notorious for his BJJ skills, he's also a great striker. He's knocked many people out before with his hands, elbows, and knees.
Why this is one of the best fights in UFC history
Asides from the idea of Nurmagomedov, undefeated at 28-0, finally losing, this fight is exciting in many ways. Ferguson has not lost a fight since 2012, and he's currently 25-3. Right now, he's on a 12-fight win streak, and he's beaten some serious competition. The fighter's most recent win was against Donald Cerrone, the man Conor McGregor will fight soon.
Like Ferguson, Nurmagomedov is on a 12-fight win streak in the UFC, and he's also faced tough competition. Like Ferguson, Nurmagomedov has his own personal fighting style. Everyone knows both fighters' game plans.
It's a matter of who can use their style to ultimately get the upper-hand and win. Unless the fight gets canceled again, the biggest winners will be the fans who've wanted to see this fight happen for years.
Follow more updates from Sportscasting on our Facebook page.