Joe Rogan Has Support from Dana White and Conor McGregor in His Dispute With Stephen A. Smith
When Conor McGregor ran through Donald Cerrone for a 40-second knockout win, the UFC world was shocked by how fast and impressive McGregor's victory was. But, while most people treated Cerrone with respect after the fight, ESPN's Stephen A. Smith was not one of those people. Joe Rogan, who's a big fan of both McGregor and Cerrone, wholeheartedly disagreed with Smith, which started some drama between the two commentators and, eventually, UFC president Dana White.

Conor McGregor's fight against Donald Cerrone
Many people predicted that McGregor would win, but very few people predicted what actually happened. In just 40 seconds, McGregor busted up Cerrone's face with a series of heavy strikes using his shoulders. Then, Cerrone responded by throwing a kick at McGregor, which McGregor blocked. McGregor copied Cerrone's kick, but Cerrone couldn't block it.
The kick hurt Cerrone, and McGregor smelled blood. He pounced on Cerrone, swarming him with punches. After that, the referee had seen enough, and he called the fight off, declaring McGregor the winner.

Stephen A. Smith's comments and his dispute with Joe Rogan
While Stephen A. Smith isn't as knowledgeable as Joe Rogan is about the UFC, he had the opportunity to comment about what happened. And, as MMA Junkie reported, he was simply disgusted and disappointed with the fight. Smith, like most folks, expected McGregor to win, but he was surprised that it only lasted 40 seconds.
However, what really disgusted Smith was the fact that after McGregor hit Cerrone with his shoulders, Smith thought that Cerrone "gave up." That wasn't the last of what Smith had to say about the fight. Rather than praise McGregor's exceptional performance, Smith chose instead to criticize Cerrone. Smith even said that Cerrone was not "prepared to fight."

Rogan, who wasn't far away from Smith when he made those comments that night, was shocked. Rogan responded on his podcast by saying, "There's no positive in downplaying the career of Donald Cerrone and what he can do as a fighter," according to MMAjunkie.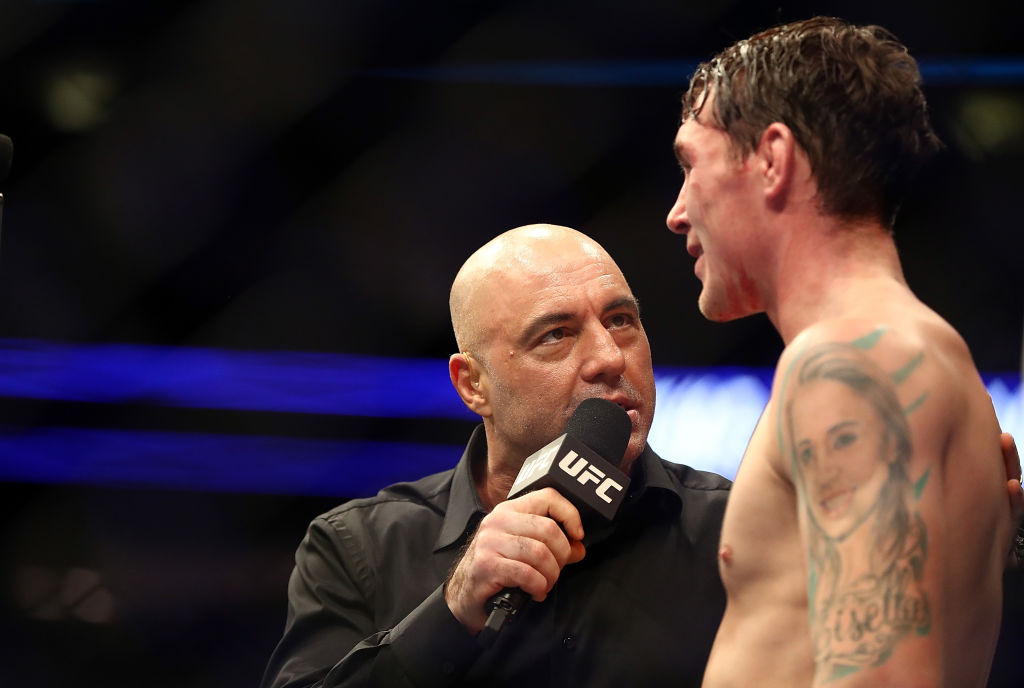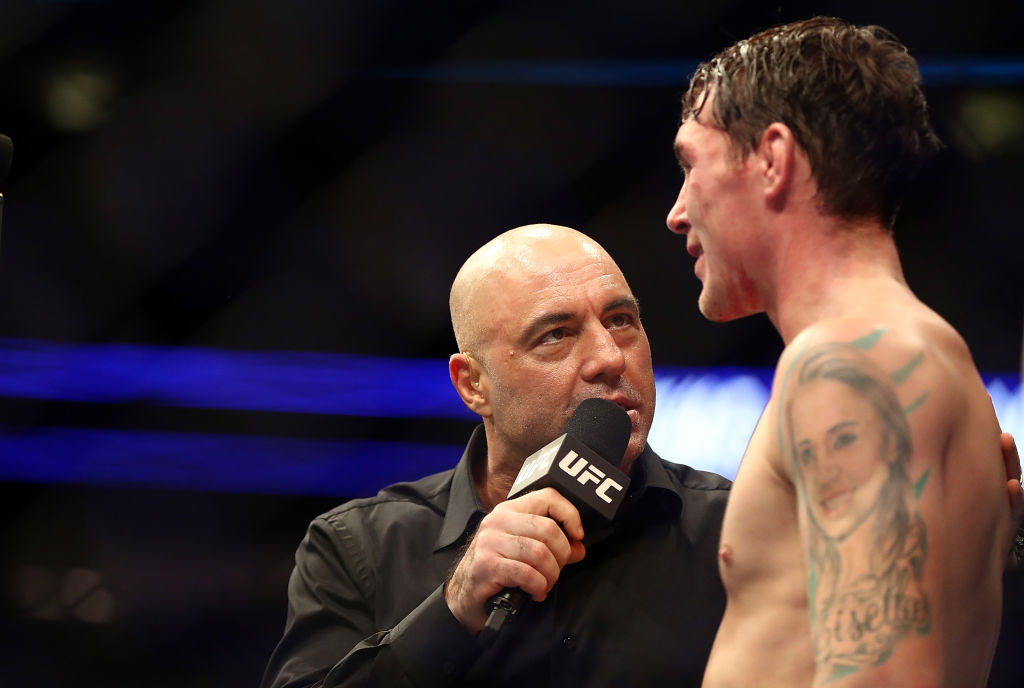 On top of that, Rogan talked about how it's a bad idea to listen to people talk about a sport that they don't know, in reference to Smith's lack of knowledge about the UFC.

"This sport demands a different perspective. It's not the same thing as a ball going into a hoop," Joe Rogan also said, according to MMA Junkie. "It's not the same thing as crossing a line with a football. It's different. It's very intense and very personal, and it's also very (expletive) dangerous and to play it off like it's just a game, I don't agree with it."

In response, Smith said, "Any time you want to talk to me about this fight, or you want to talk to me about my credentials to discuss something in the world of sports, name the time and place, Joe Rogan, and I'll show up."

Dana White and Conor McGregor respond
Dana White, who is friends with Joe Rogan, unsurprisingly agrees with him. White responded to Smith by saying, "I'm not into it. Rogan is not into it. It's just not our style," according to MMAjunkie. "We're fans. We don't do it."

However, while White disagreed with Smith, he was still respectful of Smith's opinion. White thinks that commentators like Smith and Rogan are going to disagree from time to time, but they're both still entitled to their opinions. That's just how it is in the world, and White realizes that.
Conor McGregor also chimed in on social media, and he echoed White's and Rogan's opinion. In fact, McGregor ended his post by saying that Smith should apologize to Cerrone. While Smith stopped short of a full apology, he did, in his reply to McGregor, at least acknowledge that Cerrone was as tough as they come.