Joe Rogan Says It's the 'Perfect Time' for Conor McGregor vs Donald Cerrone
Conor McGregor has a fight lined up, and it's going to be against Donald Cerrone. This fight will be McGregor's first fight after a year-long layoff, and Joe Rogan thinks that it's the perfect time for this fight to happen. Here's why he thinks that.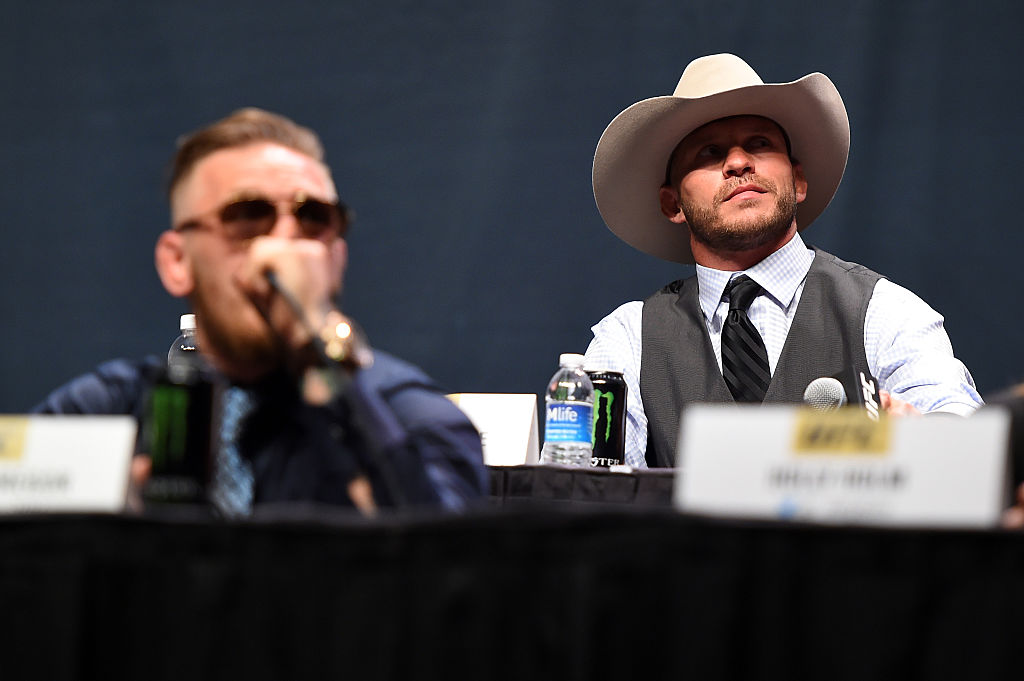 Conor McGregor's rebound
2019 has not been a good year for McGregor fans. After he was dominated by Khabib Nurmagomedov in their title fight, McGregor started making a fool of himself elsewhere. He's always been a loud-mouthed person, but he took it to new heights in 2019 when he started assaulting random people in bars and nightclubs.
However, later in the year, McGregor starting making penance for his actions. The only thing his fans want him to do is fight, and surely enough, he started looking for a fight.
First, McGregor wanted a rematch with Nurmagomedov, but that was never going to happen. Then, McGregor started eyeing for the winner of the BMF belt. Although a fight between McGregor and Jorge Masvidal would be good, this fight also never happened. 
Then McGregor set his eyes on a fight between him and Frankie Edgar, but again, it never materialized. Finally, a fight between McGregor and Cerrone, scheduled for January 18, 2020, was made official. Most McGregor fans just want to see him fight again, so this fight finally fulfills that desire. But, as Rogan said, it's also a bit more than that. 
Proving himself to be a BMF
McGregor is not a welterweight. At the beginning of his career, he fought at 145 lb. Welterweight, which is the 170 lb division, is a full 25 lb heavier than what McGregor made his name fighting at. But McGregor doesn't care. He fought Nate Diaz twice, both in the welterweight division. And McGregor is going to fight at 170 lb once again just to prove that he's a BMF.
This is a statement in three ways. First, again, it's a fight, and that's what his fans want. Second, it's a fight against a larger man in a heavier division than he's used to. Whether or not McGregor wins, he's showing his fans and the world that he doesn't care about size, he'll fight anyone. And lastly, a win at 170 lb is a direct message to Masvidal. McGregor's heard Masvidal's trash talk, and he wants to fight him.
That's ultimately why, according to Rogan and his guest, Brendan Schaub, that this is the right time and place for McGregor to fight Cerrone.
Who is Donald Cerrone?
Donald Cerrone is a legendary fighter too, despite the fact that he's never won a title. Like McGregor, Cerrone doesn't seem to care about size. Cerrone has fought in both the lightweight and the welterweight division, and he also doesn't care who he fights or when.
He's fought both Diaz and Masvidal, and although he's lost to both men, he doesn't care and he keeps fighting anyone the UFC gives him. 
For Cerrone, it's mostly about the money. He's made it clear that he likes to fight as often as possible so that he can pay his bills. Although Cerrone will likely never win a title, this fight against McGregor should earn him the biggest paycheck of his life. Win or lose, Cerrone will get what he wants from this fight.
But that doesn't mean he's a slouch. Although Cerrone has lost twice in a row, he's still a formidable fighter. He's knocked out or submitted a lot of people, and he's still a larger man than McGregor is. Many people think that this will be an easy fight for McGregor, but there's a chance that Cerrone can pull off an upset.
But, just like McGregor, Rogan and Schaub think that this is just the right time and place for Cerrone. If he wins, then he can retire with millions and the knowledge that he beat McGregor.
If he loses, then he can close out his UFC career with millions in the bank. Either way, this is the perfect fight for both men at this stage of their careers.