Joel Embiid Shows Commendable Leadership by Professing Faith in Ben Simmons, but His Efforts are Futile
Doc Rivers and Daryl Morey are not the only members of the Philadelphia 76ers organization who believe they can convince Ben Simmons to stay in Philly amid his adamant trade demands. Surprisingly, Sixers star Joel Embiid also feels the same.
Much has been made of the dynamic between Embiid and Simmons and whether they can coexist on the floor. Similarly, Embiid previously alluded to Simmons possibly not being "built" for criticism in a Twitter rant earlier this month. Yet the star big man is among those trying to hold a tenuous situation together.
Embiid's show of leadership is commendable. It's also a futile enterprise.
Joel Embiid thinks the Sixers can engage Ben Simmons if they get him around his teammates
Doc Rivers gave a long-winded interview on First Take Wednesday in which he reiterated the team's desire and expectation to have Ben Simmons suit up this season. He's not alone in thinking Philly can make it happen.
Kyle Neubeck of the Philly Voice reported Embiid believes the Sixers can hash things out with Simmons. According to Neubeck, Embiid "privately insisted" the Sixers can convince Simmons to return to the team if Philly makes an effort to get him around teammates.
It's interesting that Embiid would keep the same energy with the front office as he does in the public sphere. He could just as easily choose to let the situation play out or show frustration at Simmons' trade demands.
Instead, Embiid is fulfilling his duties as a leader on a Sixers team in desperate need of stability. That's a positive individual development and could pay dividends for the collective down the road. But as far as Ben Simmons is concerned, Embiid is probably wasting his energy.
The Sixers put themselves in this position
Realistically, the Sixers have no basis for assuming that Ben Simmons will show up for camp or ever play for the team again after trying to trade him all offseason.
Philadelphia has done nothing to silence the narrative that Simmons is good as gone this offseason. Daryl Morey has shopped him to numerous teams around the league. Sure, the asking prices have been absurdly high, which would seem to reflect the team's position on his talent.
But that only means so much. The fact remains that Morey and Co. could just as easily have said something along the lines of "We're merely listening." They didn't do that.
Simmons does not wish to play for the Sixers ever again. Why should he blink now when Philly hasn't shown much faith in his abilities? He'll also make half of his salary on Oct. 1, before he ever starts incurring penalties for missing games. Most people in his shoes would, realistically, probably take the exact same approach.
The Simmons-Sixers partnership has been on unstable ground for a while. It certainly doesn't feel salvageable now. Embiid would do well to direct his attention elsewhere.
Embiid should focus on himself at this stage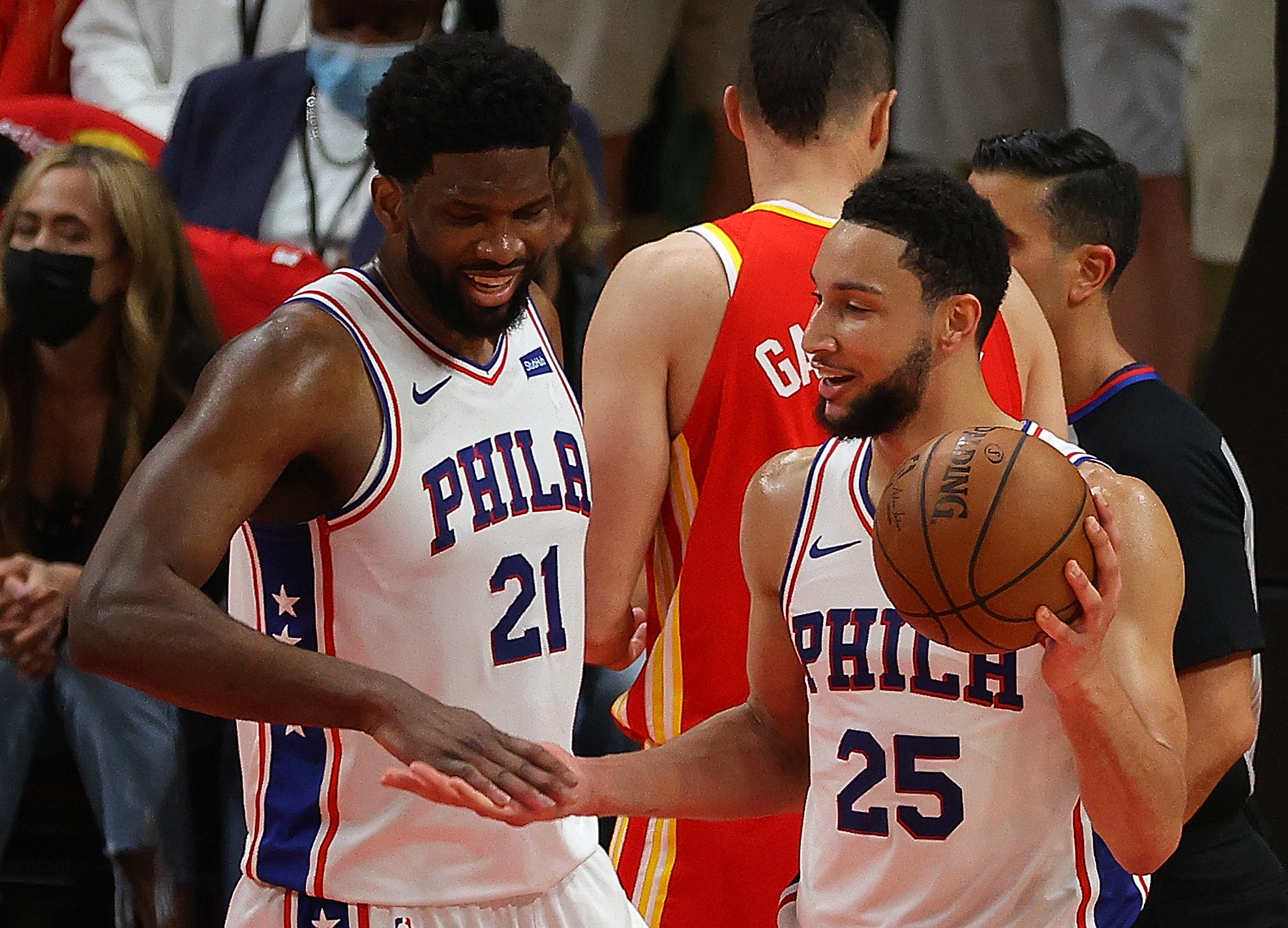 This past offseason, Joel Embiid worked tirelessly to silence his critics, going through a rigorous conditioning program to stay fresher at the end of games. He also improved his offensive repertoire.
The result was an MVP-caliber season. Embiid averaged 28.5 points, 10.6 rebounds, and 2.8 assists. He was more efficient than ever, posting a career-high 51.3% mark from the field and a 37.7% clip from beyond the arc. Not even a partially torn meniscus could stop the 27-year-old from dominating in the playoffs.
Embiid might already be the best center in the game, though reigning MVP Nikola Jokic likely has something to say about that. Regardless, he seems intent on getting better every year.
The Sixers made it clear Embiid is the face of the franchise when they signed him to a lucrative extension this offseason. He should lend all his attention to getting stronger and making continued strides on the floor.
Philly will undoubtedly have to figure out how to handle the Ben Simmons situation. But Embiid shouldn't invest so much energy trying to convince Simmons they can make it work with the group they have. Perhaps if Embiid and Simmons were best friends, the situation would be different. That simply isn't the case. Simmons has barely even made contact with any member of the Sixers organization aside from his initial trade request.
The only thing Embiid can do at this point is focus on his own game and let the chips fall where they may.
Stats courtesy of Basketball Reference.
RELATED: 76ers Reportedly Plan on Calling Ben Simmons' Childish Bluff to Create a Nightmare Scenario for Both Sides