Joel Embiid Details Terrifying Nature of His Battle With COVID-19: 'I Really Thought I Wasn't Going to Make It'
The Philadelphia 76ers already began the 2021-22 NBA season without one superstar in Ben Simmons, and soon had to adjust to life without Joel Embiid after the star big man contracted COVID-19. The way Embiid tells it, he feels fortunate just to be back on the floor.
Embiid detailed his scary bout with COVID after Saturday's game against the Minnesota Timberwolves. He admitted the virus left him quite rattled.
Joel Embiid hardly appeared to miss a beat in his return to the 76ers
Joel Embiid missed close to three weeks of action after contracting COVID. Sixers fans could probably find it in their hearts to give the 27-year-old an adjustment period to get back up to speed.
Apparently, Embiid does not need any time at all.
The Sixers center dominated the Timberwolves on Saturday. Embiid scored 42 points on 12-of-23 shooting from the field and got to the free-throw line for 21 attempts. He also grabbed 14 rebounds while dishing out three assists and recording a pair of blocks, finishing the contest +11 in terms of plus-minus despite the 1-point loss.
Philly barely tread water in recent weeks because of Embiid's absence. Tyrese Maxey showed his quality at the point guard spot and gave Sixers fans a taste of what life without Ben Simmons might resemble. But a depleted roster could not hold the fort.
The Sixers lost five in a row when Embiid went out. Saturday's contest made it eight losses in their last 10 games. However, JoJo's return to the floor should ultimately give Philly an enormous lift.
Judging by Embiid's play, it could be easy to suggest the virus had little impact on his body. In reality, that's the furthest thing from the truth.
COVID made Embiid fearful
Joel Embiid displayed his usual confidence and aggression on the floor Saturday. Just days prior, he had no idea whether he'd make it out of bed, let alone a basketball court.
Embiid said after Saturday's game (h/t Noah Levick of NBC Sports Philadelphia) that he struggled so much with COVID that he wondered what each new day would bring.
"That jawn hit me hard. I really thought I wasn't going to make it. It was that bad. So I'm just thankful to be sitting here. I struggled with it, but I'm just glad that I got over it and I'm here doing what I love with some good people."

–Joel Embiid on his battle with COVID-19
The anchor of The Process said there were moments when he "couldn't breathe" and suffered from painful headaches. He did not even get back on a basketball court until this past week, making it all the more remarkable that he played 45 minutes on Saturday.
Embiid provides another testimonial that even the most gifted and conditioned athletes are sometimes left reeling from COVID. Having gotten past the scary episode, he'll now hope to get the 76ers back on track.
The 76ers need momentum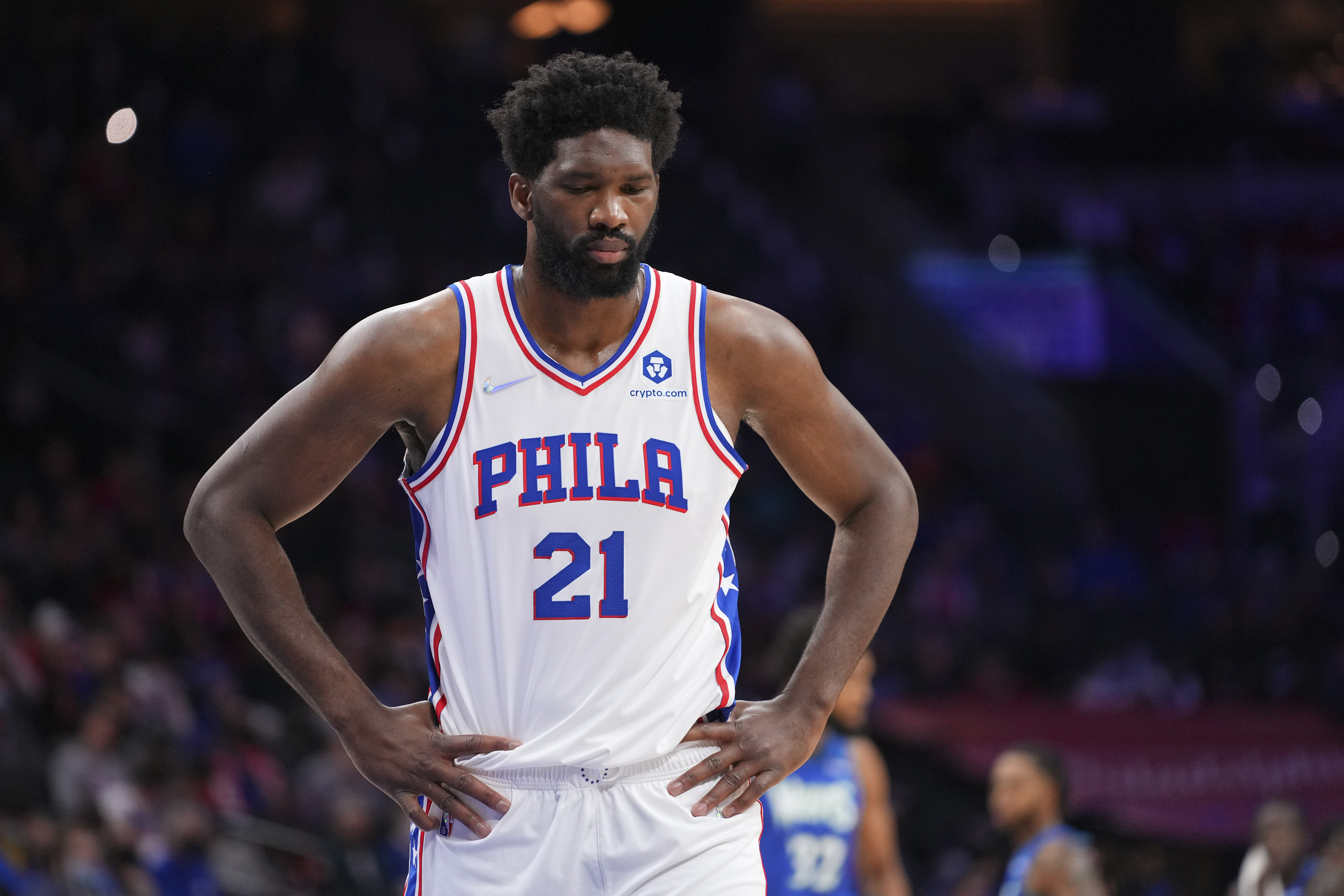 The Sixers finished last season as the best team in the Eastern Conference. They have a long, long way to go if they hope to get close to the top of the East.
Philly sits at 10-10 through its first 20 games and is 11th in the East. It ranks just 23rd in defensive rating after ranking second in that category last season. But this is where Embiid looms large.
The three-time All-NBA big man gives the 76ers an imposing interior presence on the defensive end to go with his incredible scoring prowess. The Sixers bleed points when he's off the floor, surrendering 114.5 points per 100 possessions. That mark falls all the way to 104.9 with Embiid stalking the paint.
Many eyes continue to be on Simmons' trade prospects as fans wait for the drama to unfold. Meanwhile, Embiid is likely feeling gratuitous and motivated after enduring COVID. He will be the central figure in Philly's efforts to turn the ship around.
Stats courtesy of Basketball Reference.