More Joel Embiid Heroics Cannot Overcome the 'Glaring Holes' the Philadelphia 76ers Possess
Joel Embiid saved the Philadelphia 76ers with one of his best games of the season on Monday against the Boston Celtics. But his heroics are not enough to negate the clear holes on this Sixers roster amid Ben Simmons' continued absence.
As the front office continues to assess the trade market for Simmons, 76ers head coach Doc Rivers said Monday it will be a struggle for Philly until the polarizing star guard either returns or the team finds some resolution. Indeed, not even a player as elite as Embiid is capable of dragging this Sixers squad along.
Unfortunately, given team president Daryl Morey's past comments, fans in Philly might need to settle for a team with more evident cracks than the Liberty Bell.
Doc Rivers said the 76ers have "glaring holes" without Ben Simmons on the floor
The Philadelphia 76ers are a team without an identity. Doc Rivers said as much on Monday.
After finishing as the best team in the Eastern Conference last season, the Sixers are 16-15 and sixth in the East. It's been a real struggle in the last month-plus, as Philly is just 8-13 in its last 21 games. An MVP-caliber season from Joel Embiid, who has also missed 11 games, has not helped the 76ers find a rhythm.
Rivers said (h/t Keith Pompey of the Philadelphia Inquirer) his team is struggling without an impact guy like Simmons in the rotation. He also hinted at the 76ers remaining in limbo until the three-time All-Star's future gets some clarification.
"We don't know what we are yet. Ben hasn't played in a game. You can see the glaring holes that he leaves us. And you know, he may or may not play. If he does, great. If he doesn't, then whoever we get can help us.

–Doc Rivers before Monday's game against the Boston Celtics
That … doesn't sound like much confidence coming from a head coach. Rivers sounded even more deadpan in saying the Sixers are just trying to win games.
Philly did get a win against the Celtics on Monday, thanks mainly to Embiid. However, the "glaring" holes Rivers spoke about remained evident.
A Herculean effort from Joel Embiid is not enough to distract from Philly's weaknesses
Joel Embiid did everything he could to help the 76ers snap their three-game skid on Monday against the Celtics.
Embiid poured in a game-high 41 points to go along with 10 rebounds, five assists, and four blocks. It's the third time in his career that he's recorded at least 40 points, 10 rebounds, five assists, and four blocks in the same game, placing him just one behind Kareem Abdul-Jabbar's record.
The 27-year-old did more than produce. He gave the Sixers big buckets in the most pivotal moments. Embiid drilled a jumper from the left wing to give Philly a 103-100 lead with under a minute left. On the very next possession, he dribbled baseline to avoid a double-team before launching a stepback jumper over Enes Freedom and Marcus Smart. It tickled the twine and put the exclamation mark on an incredible performance.
But for all of Embiid's heroics, the Sixers' flaws remained clear.
Philly has struggled to share the ball and create easy baskets all season. The Sixers rank 25th in assists per game and finished Monday's contest with just 20 assists. Similarly, the Sixers rank last in rebounding and got dominated on the boards against Boston, giving up 11 offensive rebounds.
As a guy who can give Philly a boost with his playmaking and size, Ben Simmons' absence looms especially large for the 76ers in these two categories. The Sixers got terrific performances from Embiid, Seth Curry, and Tobias Harris (who has struggled to live up to his contract) yet barely eked out a win because they're still lacking in other areas.
Are the 76ers really going to punt on a year of Embiid's prime?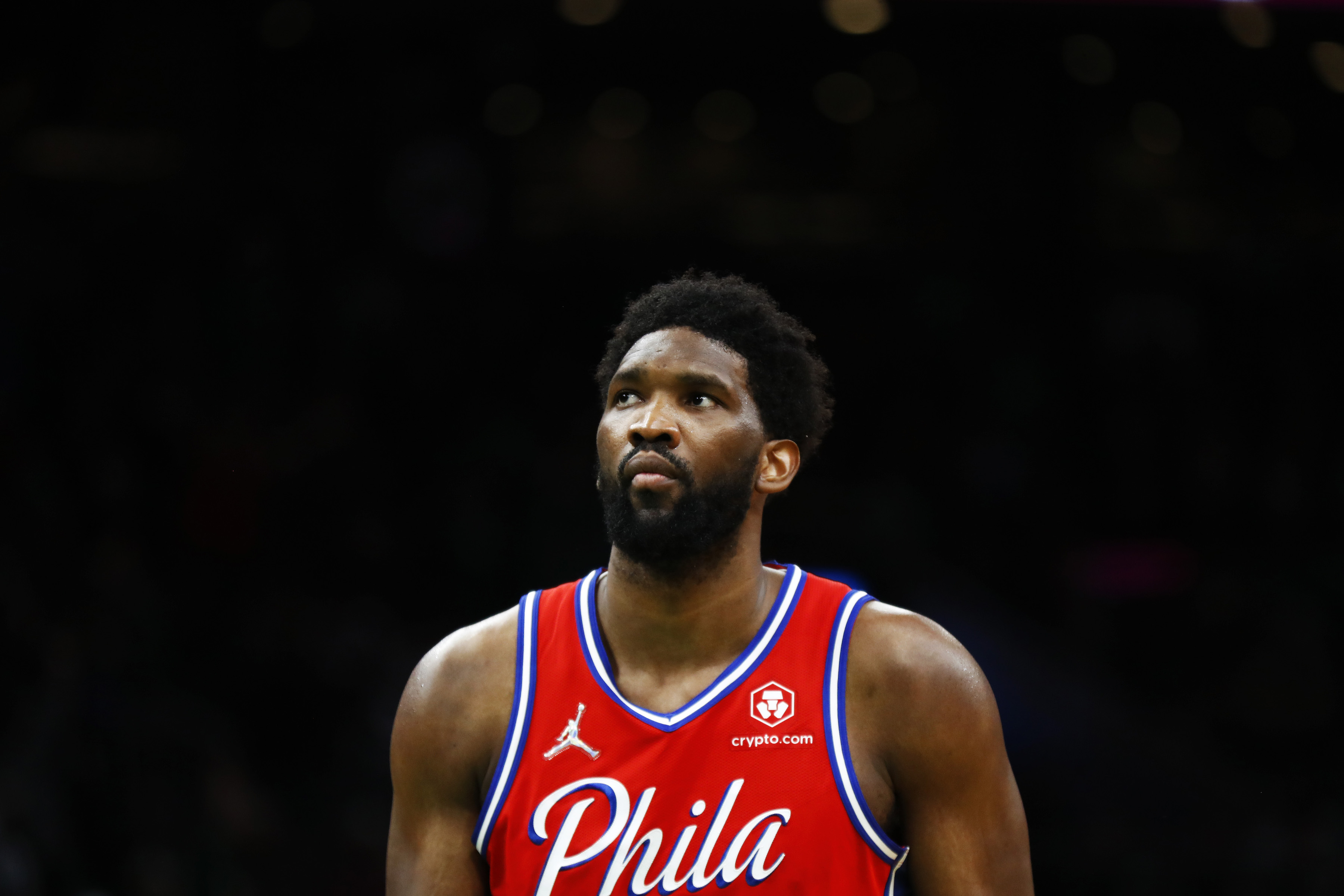 Daryl Morey said toward the start of the 2021-22 season that the 76ers would not settle regarding a Ben Simmons trade. He indicated the team is hungry to win now with Embiid in his prime.
Wait, doesn't that mean Philly should approach the situation with more urgency?
The Sixers cannot afford to waste any single season during Embiid's prime years, particularly given his history of durability issues. If Philadelphia wants to play the long game with Simmons, then it risks being stuck in a cycle of mediocrity, no matter how well Embiid performs.
Many 76ers fans likely still feel reticent about Simmons and a potential return to the rotation. But it's become abundantly clear that Philly needs far more than just Embiid to really contend, and Simmons can fill those "glaring holes" Rivers spoke so openly on.
Stats courtesy of Basketball Reference.