Joel Embiid Might Be the Most Hated Man in the NBA
In the '90s, the NBA wasn't a particularly friendly place. Rivalries were everywhere. The biggest star of the era — of all time — was known for nasty trash talk and even getting into fistfights with his own teammates.
That hasn't been the NBA for most of the new millennium. Players regularly switch teams, make connections, and maintain relationships with other players around the league. It's a decent status quo that helps great players like Steph Curry cultivate family-friendly brands outside their work on the court.
And then there's Philadelphia 76ers seven-foot drama-machine Joel Embiid.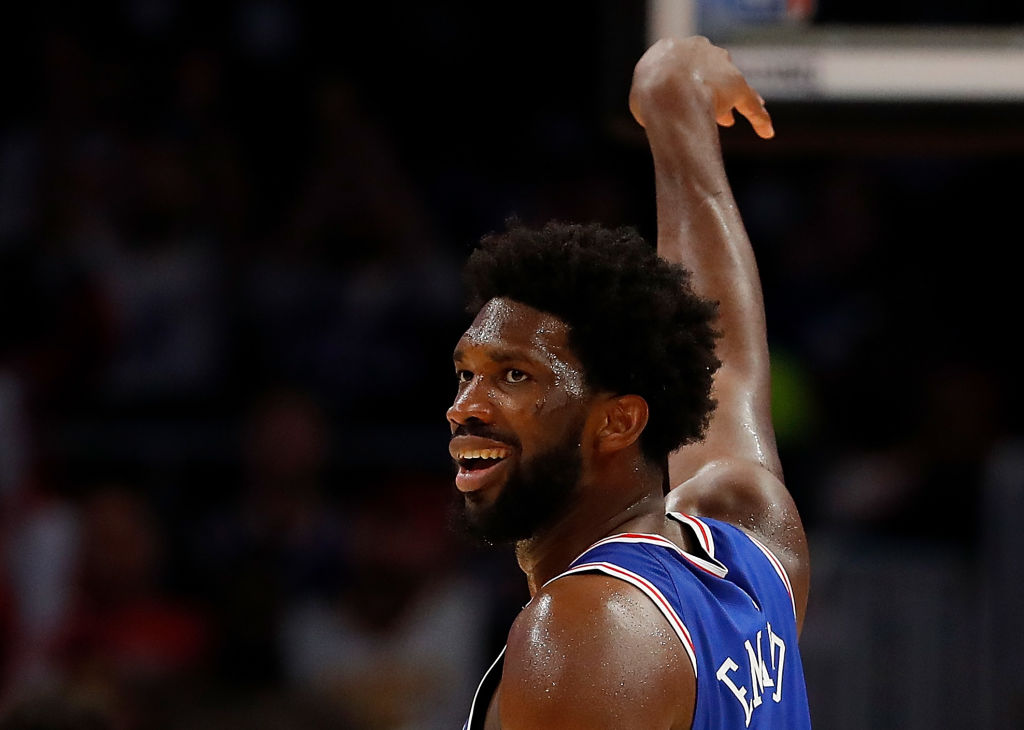 Why Joel Embiid's many feuds could spell the end of the "Best Friends League"
Somewhere between the back half of Allen Iverson's run and early years of LeBron James, the NBA got a lot friendlier. If you ask anyone who happened to come of age in the '90s, they usually think the so-called "Best Friends League" is detrimental to the game.
Obviously, not all fans agree. Friendly rivalries often have just as much punch to them, without the corrosive tension that sometimes distracts from playing the game itself. But one thing's for sure: it makes for less explosive TV.
Joel Embiid is the heel those older millennials asked for. He plays the game hard. He throws his emotions into it. Instead of using his social media as a PR feed, he's clearly the one trash-talking the competition. Let's take a look at the most primo slices of beef Embiid currently cultivates.
Karl Anthony-Towns was Joel Embiid's lasted victim
Joel Embiid and Minnesota Timberwolves center Karl-Anthony Towns have a few years of trash talk between them. Embiid made a show of clapping when KAT picked up a technical back in 2017. Then he escalated further by posting social media burns over Towns' athleticism.
Throw in the separate feuding between Towns and Embiid's pal Jimmy Butler, and you've got a beef stew going. It came to a head when Embiid and Towns suddenly went for a full-on brawl in October. Social media back-and-forth followed, alongside the expected fines and suspensions.
Andre Drummond
Detroit Pistons center Andre Drummond has beef with Joel Embiid. The results are so one-sided, that it's almost more like he's Embiid's victim, though.
Embiid started trolling Drummond in post-game interviews seemingly out of nowhere. Drummond didn't take the bait, and said he'd respond on the court.
Embiid continued the mind games in person as well. He drew a foul off Drummond, harassed him verbally, and got him ejected from the game on a technical. Embiid seems to relish in getting under Drummond's skin. It's hard to imagine Drummond enjoys their meetings in the same way.
Hassan Whiteside
Joel Embiid doesn't always start beefs with the upper hand. Back when current Portland Trailblazer Hassan Whiteside was with the Miami Heat, he shut down Embiid almost entirely. He took to social media to strike first. Embiid turned on the trash talk machine.
Whiteside went dirty. He randomly hit Embiid in the back on a transition. Then, on a dunk, Whiteside tried to wrap his legs around Embiid on the finish.
Embiid shot back where it counts. When the Sixers and Heat met up in the playoffs, Whiteside couldn't keep up. He averaged 5.2 points per game with Embiid zeroing in on him constantly.
Lonzo Ball… and his dad Lavar, too, because why not?
2017 was a banner year for Joel Embiid beefs. Case in point: when he tried to rain on Lonzo Ball's parade for no particularly good reason. He implored then-rookie Ben Simmons to dunk on the younger Ball simply to show him his place in the NBA.
Lonzo called out the Sixers on LA talk radio. In a now-deleted Instagram video, Embiid outright said, "man, f*** Lonzo Ball." If not for the associated NBA fines, that video would probably still be up.
Embiid got a little spicy in a more subtle way, posting a shot of him dunking on a hapless Lonzo. He also tagged his dad, LaVar Ball, in the location data. Sneaky.
Russell Westbrook
While this list of Joel Embiid beefs is by no means complete, it could never be complete without his most high-profile and committed clash. When Russell Westbrook was still the superstar tasked with giving Oklahoma City Thunder fans hope, Embiid made it a goal to take him down a notch.
Back in 2016 a goofball Sixers fan emphatically flipped off Westbrook. The Thunder took that game 103-97. Embiid seemed to carry the moment with him. Their next meeting, he knocked down 34 points, and got the crowd riled up when a Thunder player got ejected.
Westbrook wasn't a fan of this move. He immediately got vocal in the press over Embiid's maturity. Embiid responded by zeroing in on Westbrook. Over and over. Years of stare downs. Trash talk. Even the NBA All-Star Game, the place where those brutal '90's players set beef aside to celebrate the game, wasn't safe.
Maybe the NBA is still in the Best Friends League era. For any fans yearning for a different brand of psychologically and physically terrorizing basketball, look no further than Joel Embiid.