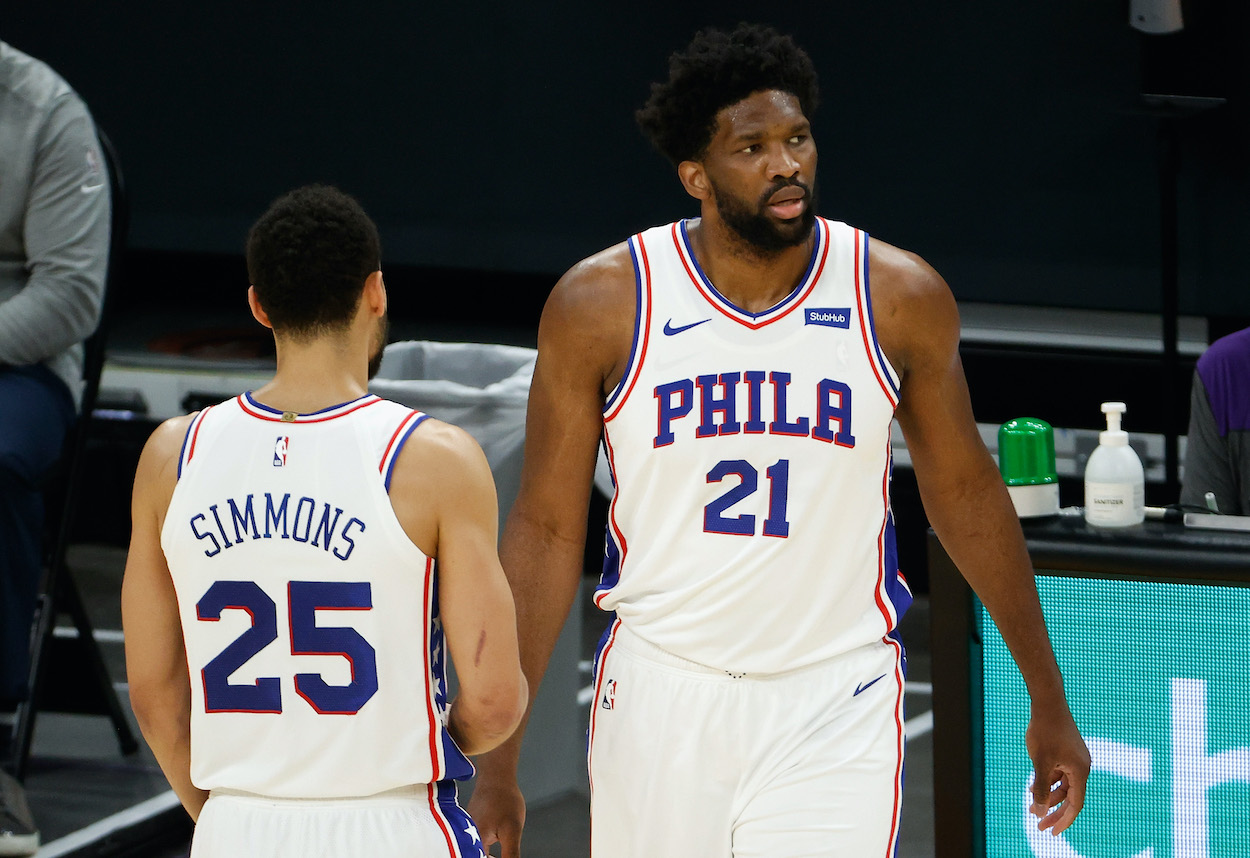 Joel Embiid Obliterates Ben Simmons for His Embarrassing Attempt to Start a War With the 76ers He Can't Win: 'I Don't Care About That Man… I'm Not Here to Babysit'
Joel Embiid is completely fed up with Ben Simmons' childish antics.
The never-ending Ben Simmons saga has taken another dramatic turn. On Tuesday, the disgruntled point guard was kicked out of practice and suspended for Philadelphia's season opener against the New Orleans Pelicans for refusing to compete in drills with the rest of the team.
And after practice concluded, Joel Embiid finally broke down and obliterated Simmons for his immature behavior since returning to the 76ers last week.
Yeah, this disastrous situation is somehow only getting worse.
76ers suspend Ben Simmons for "conduct detrimental to the team"
Simmons was scheduled to speak to the media on Tuesday for the first time since rejoining the Sixers last week, but he never even made it to the end of practice to do so.
In the middle of practice, head coach Doc Rivers reportedly asked Simmons to join a defensive drill, but the point guard refused. Rivers asked again, and Simmons refused again. So, Rivers told him to go home if he's not going to participate with the rest of the team, and that's exactly what Simmons did.
Shortly after, the 76ers announced they suspended Simmons for the team's season opener against the Pelicans on Wednesday.
"I thought he was a distraction today," Rivers told reporters after practice Tuesday. "I didn't think he wanted to do what everyone else was doing.
"I'm going to give Ben every chance to be part of the team … as a coach I have to protect the team first."
Embiid wasn't as friendly with his post-practice comments.
Joel Embiid obliterates Ben Simmons for his childish behavior
Embiid has tried to give Simmons the benefit of the doubt this offseason. The All-Star center has only spoken positively of his missing teammate for the past few months, but after Tuesday's debacle, he finally snapped.
At this point, I don't care about that man, honestly. He does whatever he wants. That's not my job… I'm only focused on trying to make the team better, win some games, play hard every night and try to lead the guys that we have here.

At the end of the day, our job is not to babysit somebody. We get paid to produce on the court, go out, play hard, win some games. That's what we get paid for. We don't get paid to come out here and try to babysit somebody. That's not our job, and I'm sure my teammates feel that way.

Joel Embiid
Well, there you have it. Embiid is finally fed up with Simmons' egotistical attitude and the childish manner in which he's handled this situation.
And it's hard to blame him.
A war Simmons can't win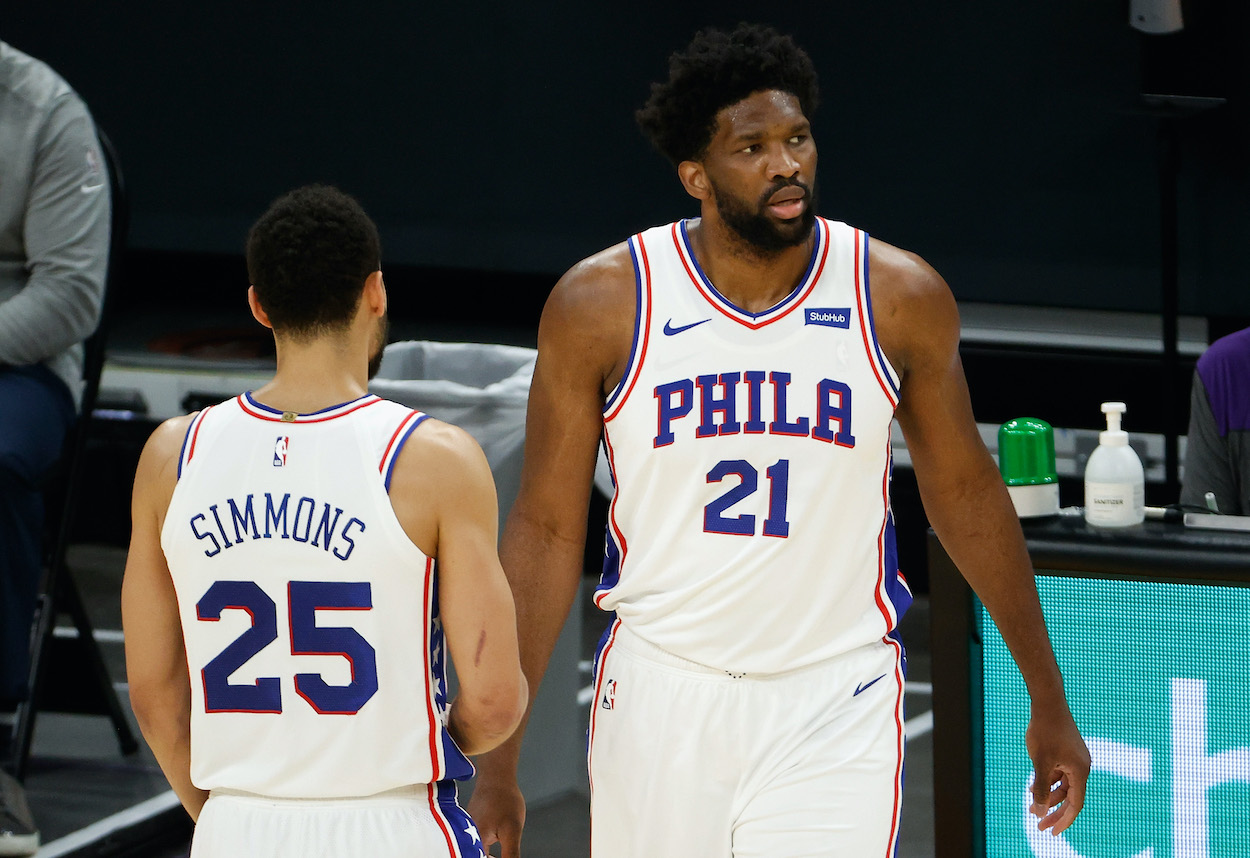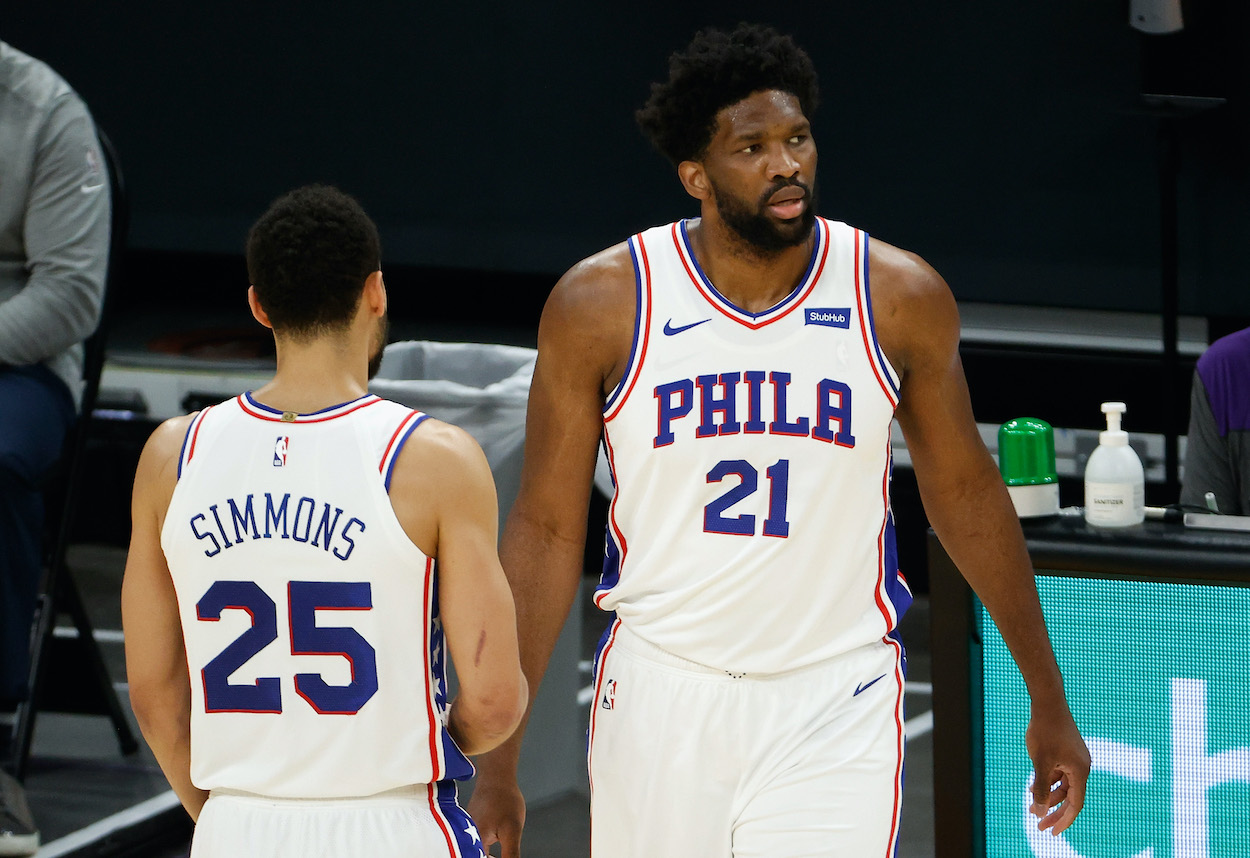 It's abundantly clear what Simmons is trying to attain by sulking around at practice and refusing to participate in drills. He only returned to the 76ers in the first place to stop the hefty fines from rolling in. Simmons never had any intention of playing another game with the franchise.
But what he somehow hasn't yet grasped is that the Sixers aren't going to surrender to his desperate attempts at gaining leverage. This is now a war, and it's a war Simmons cannot win.
After Simmons' temper tantrum on Tuesday, the 76ers proved they have a leg up in this battle by suspending him for Wednesday's game and fining him $1.4 million for the four preseason games he missed. Simmons still hasn't earned any money yet this season. And guess what. He's not going to see another dime of the nearly $150 million remaining on his five-year contract unless he gets his act together and decides to be a part of the team he signed up to play for.
But if he wants to continue to act like a child, he'll get treated like one.
Congratulations, Ben. You got your wish.
Like Sportscasting on Facebook. Follow us on Twitter @sportscasting19.