Joel Embiid on Opponents Using Small-Ball Lineups Against 76ers: Bring It On
Joel Embiid doesn't lack confidence. For a professional athlete, that's a good trait despite how it might irritate opponents or fans who like to harken back to the good old days that never really happened. Embiid took his offensive game to a new level this season under new Philadelphia 76ers coach Doc Rivers. He is also the anchor for a defense that has the second-best rating in the NBA.
Embiid has been relatively healthy (for him) this season, and the 76ers lead the Eastern Conference standings with the schedule rapidly winding down. Teams will try and counter Philadelphia's size with shooting, but the All-NBA center warns opponents they do so at their own risk.
Joel Embiid reaching new offensive heights
Entering this season, Joel Embiid was already a terrific offensive force. Over his first four seasons, he had averaged 23.9 points a game while shooting 48% overall, 31.9% from 3-point range, and 79.3% at the foul line. In 2020–21, however, "The Process" is much improved. Embiid is getting a career-high 29.1 points a night, he's shooting better than 50% (51.1 to be exact) for the first time in his career, and he is taking and making more free throws.
On a career-high 11.1 free-throw attempts per game, Embiid is hitting 85.5% (also a career-best). His 3-point attempts are 3.1 per game this season, down from 4.1 in 2018–19 and 3.4 last season. Embiid cans them at a 36.3% clip now. His percentages over the previous two seasons with higher volume were 30.0% and 33.1%, respectively.
According to FiveThirtyEight's RAPTOR rankings, Embiid is 18th in the NBA on offense (plus-3.9), sixth on defense (plus-4.6), and No. 2 overall (plus-8.5). The overall rating ranks only behind Denver Nuggets standout Nikola Jokić (plus-9.8). However, Embiid is the only player in the Association in the top 20 both offensively and defensively.
At age 27, Embiid is a model of the modern-era big man in the NBA, save for his fragility.
Embiid is a beast at either end
Joel Embiid handles matchups big and small. Offensively, he's too quick for most players around his size (listed at 7-feet) and too strong to be contained by teams running small-ball sets. Defensively, the standard thinking is that you can attack Embiid and the 76ers by going small. That is a notion Embiid disputes.
"I'm pretty good guarding the perimeter," Embiid told Derek Bodner of The Athletic. "I'm better than 90% of the bigs, and I'm better than any bigs when I really try. So, I don't have any problems, but if you're gonna do that (go small), that means you're gonna give up a lot on the offensive side."
The Sixers' net rating is plus-12.0 with Embiid, the highest on the team among regular rotation players, according to NBA.com. When he is off, Philadelphia has a 0.0 net rating. Not surprisingly, that is the worst among regular rotation members.
Does Joel Embiid have an MVP case to make?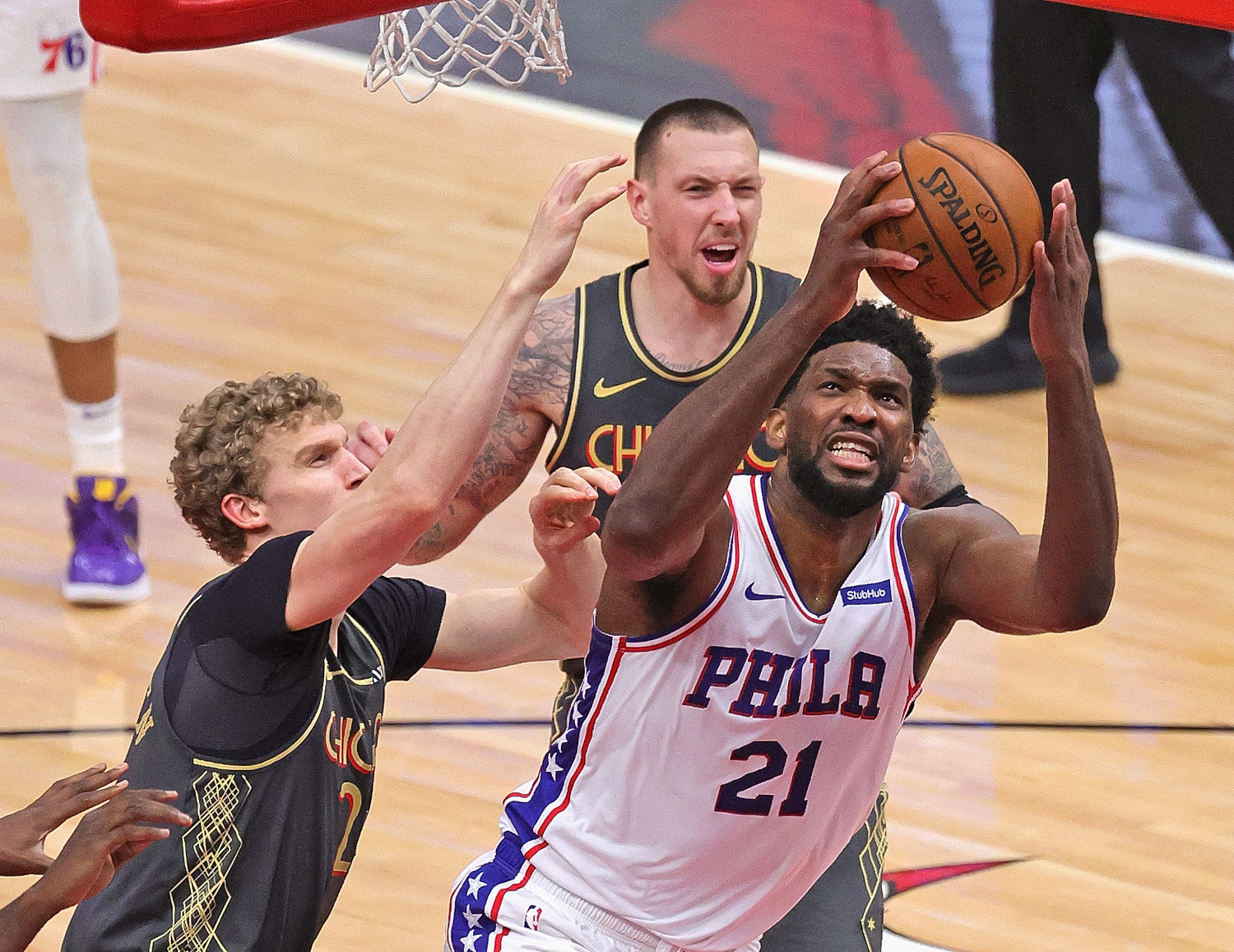 Most pundits have had Joel Embiid among their top contenders for the NBA MVP award all season, but the honor will probably go to Jokić. Embiid has another unicorn-type talent playing with him in Ben Simmons, a 6-foot-11 ball distributor/slasher who can also capably guard every position on the floor. (We are fully aware Simmons can't and won't shoot 3-pointers, just for the record.)
Embiid could also make a case for Defensive Player of the Year. Embiid won't go against that argument, as he told The Lowe Post, an ESPN podcast hosted by Zach Lowe, last month.
"I want to be Defensive Player of the Year," Embiid said. "I should be Defensive Player of the Year."
Embiid's most significant drawback in winning any season-long award is his availability. Embiid's lowest mark for games missed is 18 in a season. So far, that total is 19 this season. You have to go back to Bill Walton in 1977–78 to find an MVP who missed more than 10 games. (James Harden in 2017–18 and Giannis Antetokounmpo last season each missed 10 games).
But Joel Embiid has his Philadelphia 76ers primed for a deep run in the playoffs after disappointing results each of the last three seasons (two second-round exits and an embarrassing first-round sweep in the 2020 bubble). And as he warns if you want to go small to expose him on the perimeter: Yeah, good luck with that.
Unless stated otherwise, statistical information courtesy of Basketball Reference.