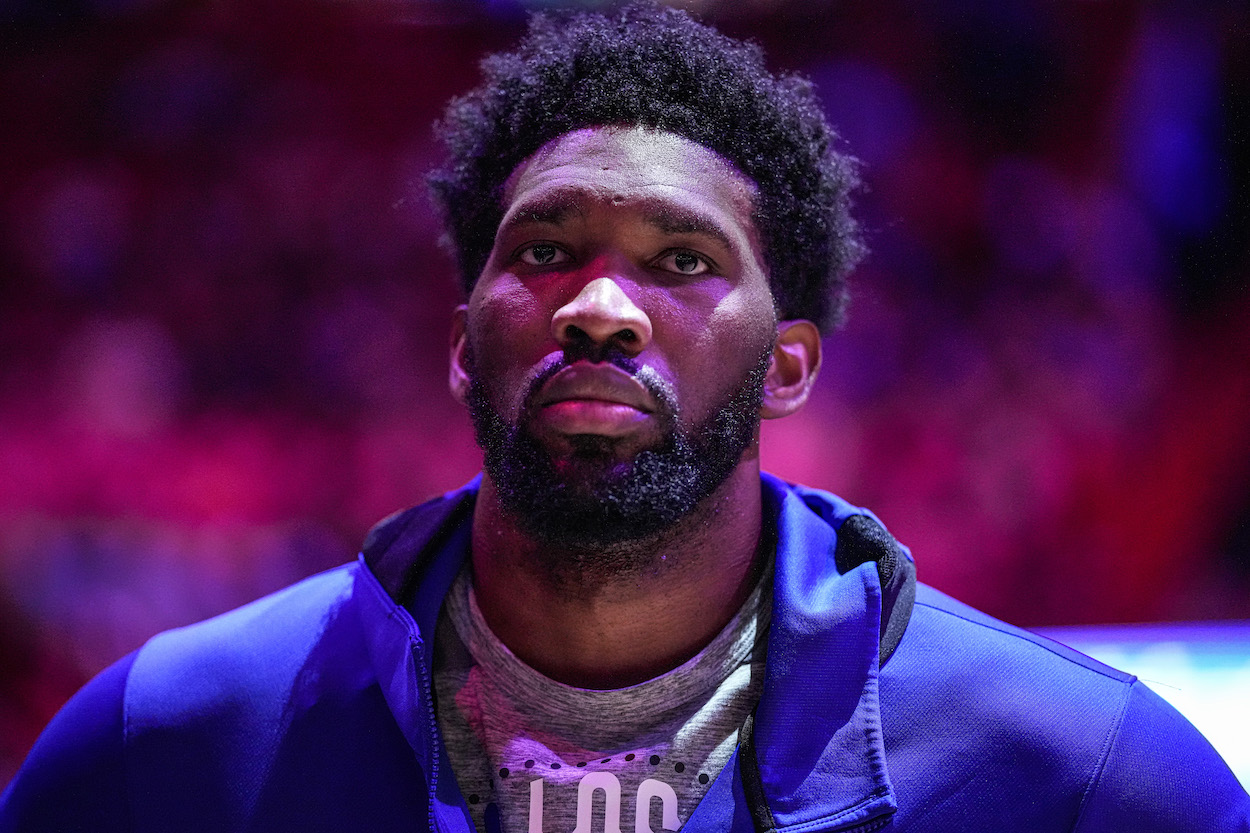 Joel Embiid Surprisingly Doesn't Want His Son, Arthur, to Play Basketball
Joel Embiid would rather his one-year-old son grow up to play soccer instead of basketball.
Joel Embiid found a new passion for the game of basketball when he became a father in 2020. His obsession with winning championships and eventually becoming a Hall of Famer now stems from his desire to make his 17-month-old son, Arthur, proud of him.
Embiid wants his son to grow up and be better than he ever was, but just not on the basketball court. In a recent interview, the Philadelphia 76ers big man candidly admitted he doesn't want Arthur to follow in his footsteps and pick up the sport.
But soccer? Soccer will be encouraged in the Embiid household.
Joel Embiid is inspired by his son, Arthur
Arthur Elijah De Paula Embiid hasn't even turned two yet, but he's already his father's biggest inspiration.
Joel Embiid named his son after his younger brother, Arthur, who was hit by a truck and killed on his way home from school in Cameroon in 2014. Embiid had just been drafted by the Sixers four months earlier, and he contemplated quitting the game of basketball after his brother's tragic death.
When the five-time All-Star became a father in September of 2020, he honored his late brother by naming his first son Arthur.
"I want him to grow up and see his father be at the top of his game, the best in the game," Embiid told NBC Sports Philadelphia's Marc Zumoff last February. "I want him to see his father was a Hall of Famer and (won) titles, because I want him to be better than me. Just like my father growing up, I saw the success that he had. I wanted to be better than him. I've got to set the bar really high. I hope he's able to be better than me."
But he doesn't mean better on the basketball court.
Embiid doesn't want his son to play basketball
With the 2022 MVP favorite as his father, it's fair to say Arthur would be a natural the second he picked up a ball. But Embiid would rather his son never pick up a ball at all. He'd prefer him to kick it.
"Honestly, I don't want him to play basketball," Embiid said in a February appearance on The Mike Missanelli Show on 97.5 The Fanatic. "I'm not gonna force it on him. The only thing I'll force on him is probably real football — soccer. But besides that, if he wants to play basketball at some point, that's on him. But I won't be forcing him to do anything but soccer."
Embiid has always been a huge soccer fan, and he started playing the sport in Cameroon well before he ever gave basketball a try. Don't be surprised if we see mini Embiid pop up as a rising superstar on the pitch in about 10 years.
"I'm gonna remind him where I came from"
Embiid knows how much work it takes to get to his current level, and he doesn't want to force his son into that life if he isn't passionate about it.
"I look at the way I started. I mean, I only started playing basketball about 10 years ago," he said. "If you have it, you have it. Obviously, you gotta work hard. …I'm always gonna remind him of where I came from and how I got to where I am at the moment, because it wasn't easy. …To be able to be in this situation, and then also as a basketball player, to be playing at this level and be considered the best or one of the best in the world, that takes a lot of work and sacrifices. So, I'm always gonna be reminding him of what it takes if he wants to, but that's not something I really wanna push on him."
Ultimately, it will be up to Arthur when the time comes, but his future seems to be on the pitch instead of the court.
Like Sportscasting on Facebook. Follow us on Twitter @sportscasting19.