Joel Embiid's Twitter Rant May Be Even More Absurd Than We Thought After Looking At His Past Receipts
Philadelphia 76ers center Joel Embiid vigorously supported polarizing teammate Ben Simmons in a wild Twitter rant that painted fans and the media as antagonists. It was a spirited thread with some validity and plenty of spice. However, the tweets become a bit nonsensical when taking past statements into account, especially Embiid pointing the finger at Simmons following the Sixers' Game 7 loss in the Eastern Conference semifinals.
Joel Embiid's Twitter rant ripped a recent media report and included an apparent endorsement of Ben Simmons
Jeff Zillgitt of USA TODAY reported earlier this week sources indicated the Joel Embiid-Ben Simmons relationship was at something of an impasse. Embiid questioned the validity of that report.
The 27-year-old went off on Twitter early Wednesday morning. He wrote "Stop using my name to push people's agendas," adding "I love playing with Ben." That tweet was just the opening salvo in what may as well have been a cavalry march against the media.
Embiid continued, suggesting members of the media frequently create or distort narratives for their own benefit. He then took a shot at the fans for demanding he should be traded in the past.
For evidence, the four-time All-Star retweeted a Philadelphia sports talk radio clip from 2020 in which the host rips into his physique and implores the Sixers to trade him.
The whole rant appeared to be an allusion to trade chatter surrounding Simmons and his treatment from Sixers fans. Yet, some of the language and phrasing in the thread made it seem as though Embiid was also taking subtle shots at Simmons, who reportedly informed the Sixers he has no interest in returning to Philly.
Indeed, Embiid's "defense" of his point guard is meaningless when looking at past receipts.
Embiid threw Simmons under the bus following Philly's playoff collapse
Basketball fans shouldn't strictly pin the Sixers' playoff collapse on one man, but Simmons took center stage late in Game 7 of Philly's conference semifinal against the Atlanta Hawks.
Philadelphia trailed 88-86 when Simmons engaged Hawks forward Danilo Gallinari in the post. He had a wide-open lane as he spun off Gallo, who got caught reaching for a steal. Rather than dunk the ball, however, Simmons dropped it off to Matisse Thybulle, who was fouled at the rim.
The decision to pass on an open dunk was shocking enough. To do it in the final minutes of an elimination game was even more stunning. It became a seminal moment when Thybulle split the free throws, and the Hawks scored five unanswered points to take a commanding lead.
The Sixers fought back, but Simmons missed a late free-throw of his own, and Thybulle's foul on a Kevin Huerter three-pointer essentially sealed Philly's fate. Doc Rivers' team was out of the playoffs.
Embiid was quick to cast blame after the game. He said he felt the "turning point" was when Simmons passed on the dunk. It wasn't as if the All-NBA big man hadn't struggled in key moments during the series. He missed a short-range attempt that could have given the Sixers the lead late in Game 4 and missed two crucial free throws in Game 5.
Then again, Embiid carried Philly for much of the series, whereas Simmons had been under the magnifying glass for his lack of absence. Thus, the star big man was just fine blame-placing after the Game 7 loss and openly stated he was unsure whether the Sixers could win with the same core.
That's not much of a vote of confidence. At all.
The final tweet seemed to fire a shot at Simmons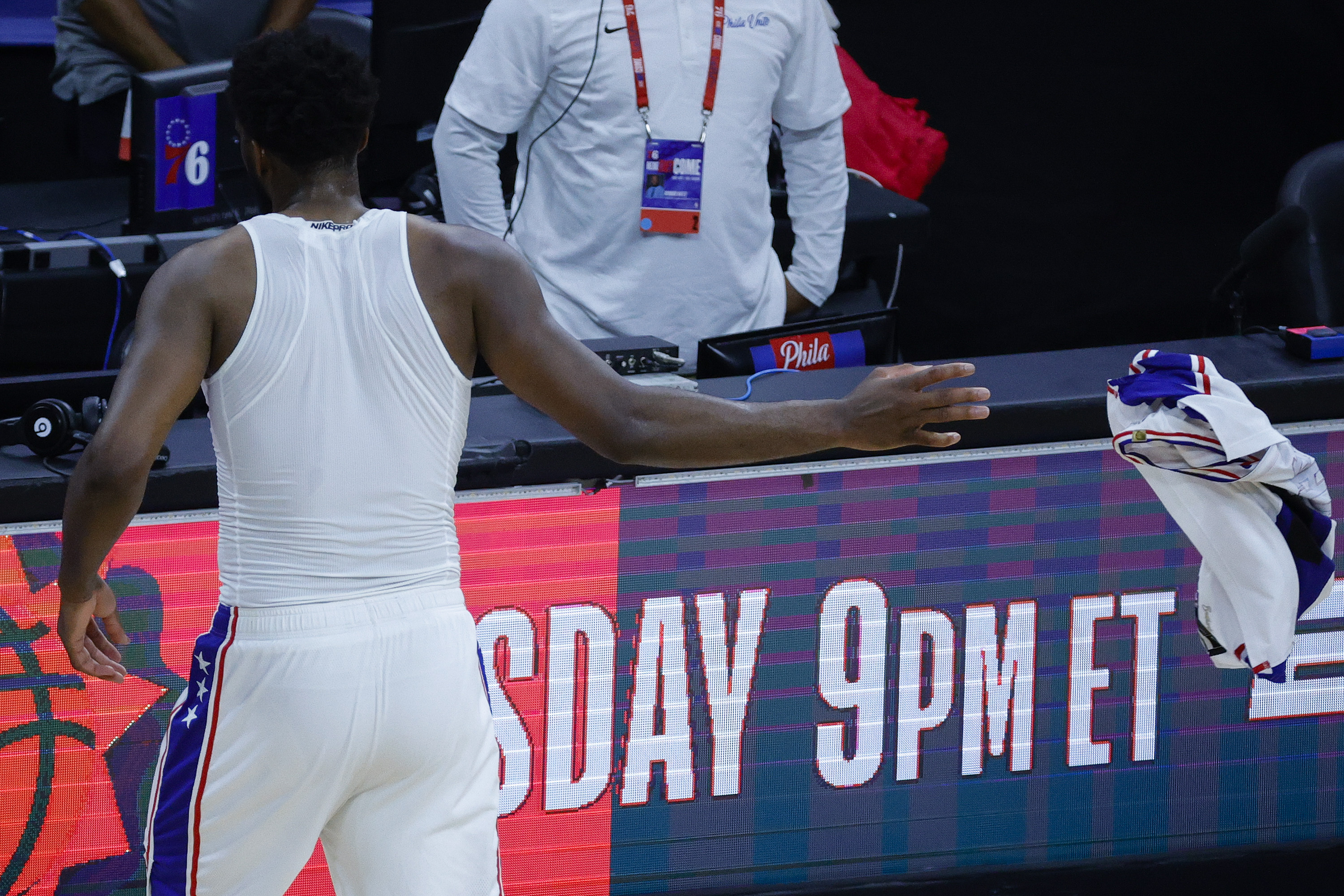 OK, back to Embiid's Twitter rant. The outspoken center had successfully ripped into media and fans, but he concluded with some remarks that seemed especially pointed.
Embiid clarified that he thrives off criticism and that it only makes him work harder. However, the former Kansas product also said, "not everyone is built like that."
Frankly, Embiid might as well have flat-out stated that Simmons doesn't respond well to criticism. That has been a developing narrative surrounding the former No. 1 overall pick in recent seasons. However, making an outright assertion about Simmons' handling of criticism would directly counteract Embiid's assurance that he enjoys playing with the Klutch athlete.
If this sounds like a walking contradiction, that's because it is. The reality is that while Embiid might have thought the Twitter thread would clear the air about his relationship with Simmons, his past words and actions haven't done much to dull the noise of a rift between them.
A last-ditch attempt at clearing the air is fruitless when Joel Embiid himself has played his own role in ushering Simmons out the door. Maybe that is indeed what needs to happen for the Sixers to get over the hump. But the All-Star big man's self-righteousness is absurd in this case.
Stats courtesy of Basketball Reference.