Joel Embiid Used Michael Jordan Highlights to Take His Game to the Next Level, and It's Paying Off
If Joel Embiid manages to lead the Philadelphia 76ers to an NBA championship, they'll owe Michael Jordan and some other NBA legends a serious "thank you."
While James Harden may have stolen some of the hype, Joel Embiid is the main man in Philadelphia. The center's sheer size and raw talent may make it easy to think of him as the finished article, but that wasn't always the case. During the start of his 76ers career, injuries and inconsistency dominated the narrative.
Although Embiid's improvement can be attributed to various factors, like staying healthy and adjusting to life in the Association, we do know one thing that helped take his game to the next level. After a disappointing 2020 postseason, the big man sat down to watch film of Michael Jordan, Kobe Bryant, and other modern greats. While it's easy to write that off as a cliched endeavor, those efforts seem to be paying dividends.
Joel Embiid turned to film of Michael Jordan and other legends after the 2020 NBA Playoffs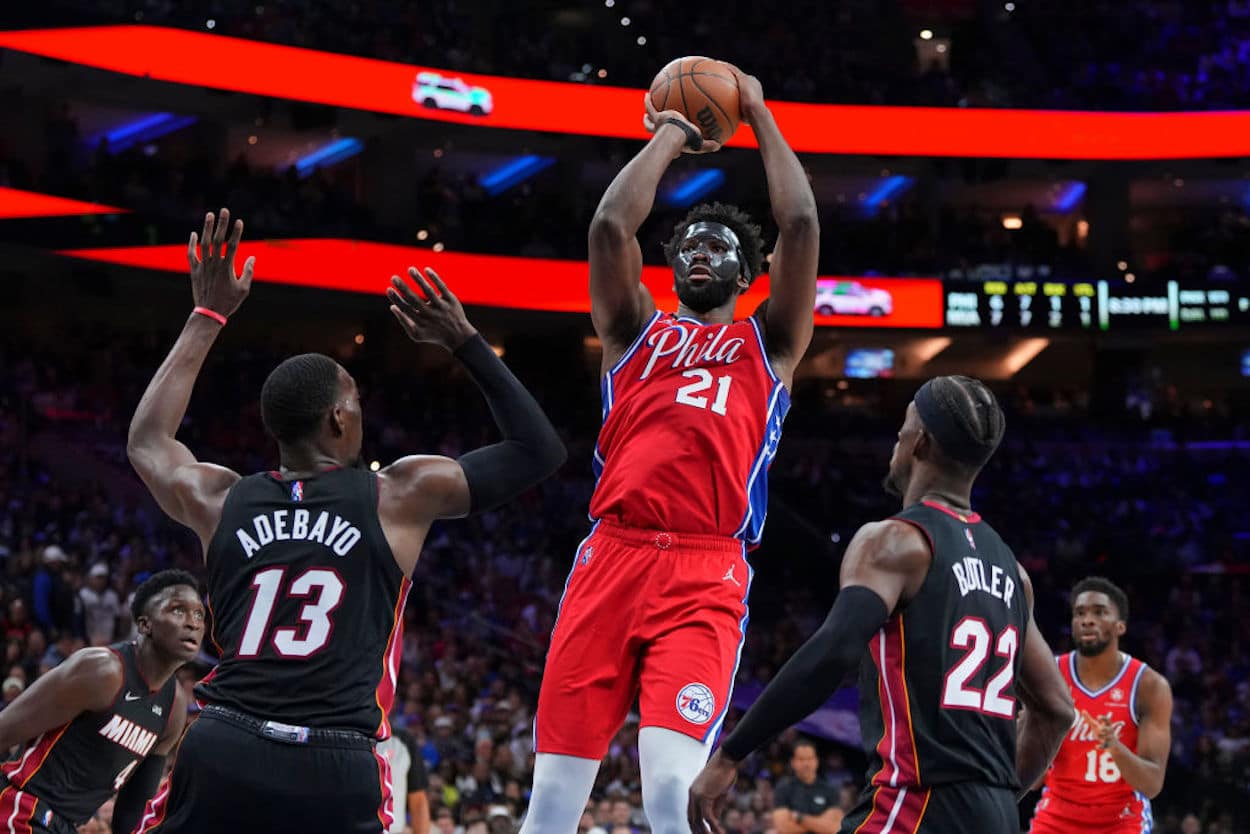 Although the past few years have felt like an eternity, let's jump back to the 2020 NBA Playoffs. The postseason took place in an Orlando bubble, and things didn't go too well for the Philadelphia 76ers. They were swept in the first round by the Boston Celtics and headed home with little fanfare.
While Joel Embiid played well — he averaged 30.0 points and 12.3 rebounds across four contests — he wasn't happy with his game. In his mind, something had to change.
"Embiid determined he was too one-dimensional," Chris Mannix recounted in a March 2022 Sports Illustrated story. "I was just a post-up player," the big man said. "That made me easier to guard."
In an effort to change that reality, the center started watching tape to see how some living legends had gotten things done in the postseason.
Embiid began studying perimeter players. Hanlen says he cut tape of every made field goal by Michael Jordan. Then Kobe Bryant. Then Dirk Nowitzki. Then Kevin Durant. What Hanlen couldn't find on Synergy or YouTube he got from team archives. "We handpicked pieces of their games that we thought he could emulate," says Hanlen. They researched Finals MVPs, noting how many attempted at least 20 shots per game during playoff runs. Jordan, Hanlen points out, never attempted fewer than 22. "These guys put their teams on their backs," says Hanlen.

Chris Mannix, Sports Illustrated
While it's always tough to draw a straight line between these sorts of anecdotes and on-court performance — maybe Embiid would have continued to develop regardless of what he watched — it does seem like his efforts have been well worth it.
Joel Embiid has stepped up, and he's further confirming his value during the 2022 NBA Playoffs
It goes without saying that 'watch Michael Jordan and emulate that' isn't much of a plan for improvement. Joel Embiid, however, has followed through on his 2020 plan.
Looking at the counting numbers, Embiid has only improved since that early playoff exit. His 2022 campaign was his best to date, as he averaged 30.6 points and 11.7 rebounds per contest. The center played MVP-caliber basketball and, as evidenced by his StatMuse shot charts, has lived up to his goal of becoming less one-dimensional. He still does his best work in the paint and on the right block, but Joel can score from just about anywhere. Even his three-point accuracy (37.1%) is respectable, albeit with the caveat of a relatively small sample size.
Since Hanlen also mentioned shot volume, it's worth noting that Embiid has also improved there. After attempting 15.7 shots per outing during the 2019-20 campaign, that number climbed to 17.6 the following season. This year, the big man has taken another step forward, averaging 19.6 attempts per game. While that total has fallen off a bit during the 2022 postseason, there can be a number of mitigating factors, including Embiid's thumb injury and the presence of James Harden.
And while it's not specifically mentioned as part of his film study, it has become especially apparent this year that the former third overall pick is prepared to step up and be the guy. He held down the fort during the Ben Simmons saga, has adjusted to life with Harden, and, during the playoffs, has pushed through the pain to help the 76ers keep their season alive. That certainly seems like a play out of Michael Jordan or Kobe Bryant's highlights.
While the star center only missed two games with a recent concussion, that was enough to underscore how important Embiid is. He does more than simply score; he keeps defenses honest and forces them to assess if double-teams are worth the trouble. You'd still prefer he take jumpers, but you can't completely back off and simply let Embiid fire away from the elbow. He'll hit enough of those to force a defender higher up the floor, in turn creating a domino effect.
Will that be enough to get the Philadelphia 76ers to a championship? Only time will tell. Joel Embiid, however, is more than doing his part. If he wanted to grow from a one-dimensional big man into a legitimate star, he's already accomplished that goal.
Stats courtesy of Basketball-Reference