Joey Gallo Finally Hit His First Yankees Home Run, and It Was an Absolute Moonshot
One of the biggest acquisitions at this year's MLB trade deadline, Joey Gallo was brought to the New York Yankees to vault the team back into the postseason conversation. New York had not performed up to the par leading into the trade deadline, which prompted general manager Brian Cashman to buy hard.
Alongside Gallo, the Yankees acquired three-time All-Star and four-time Gold Glove winner Anthony Rizzo from the Chicago Cubs. Rizzo was one of four key players traded away by the Cubs, as they have embraced a full-on rebuilding process.
Gallo got off to a slow start upon arriving in the Bronx, going hitless through his first two games and failing to homer in his first six. Gallo isn't known for his high batting average; the Yankees acquired him to hit the long ball. Needless to say, a good majority of Yankees fans were starting to get concerned with the lack of production from their new outfielder.
However, Gallo finally broke the goose egg on August 5 against the Seattle Mariners, and he did it in gigantic fashion.
Joey Gallo's first home run for the New York Yankees was massive
With two outs and two men on in the bottom of the seventh inning, Gallo absolutely tore into a 1-0 slider, golfing it deep down the right field line.
After what felt like an eternity, the ball finally found its way into the stands. Yankee Stadium is known for its short porch in right field, but still, Gallo hammered this one.
Not only was this Gallo's first home run as a member of the Yankees (which is memorable in its own right), but it proved to be the game-winning hit for New York. The Yankees are in the midst of a playoff push — every win is important, even more so when facing off against an AL opponent like Seattle.
The three-run blast was one for the MLB record books
Emotional significance aside for the moment, Gallo's three-run blast also caught people's attention due to just how high Gallo hit it. The Yankees outfielder was roughly three-quarters down the first base line before the ball connected with a crowd member.
According to Statcast, Gallo's home run left the bat with a launch angle of 48 degrees. Not only is that a career high for Gallo on a home run, but it also ties a Yankees franchise record dating back to 2016.
Not a bad way to hit your first home run in a Yankees uniform.
Gallo's mammoth home run could spark a much needed hot streak as the Yankees look to surge into the postseason picture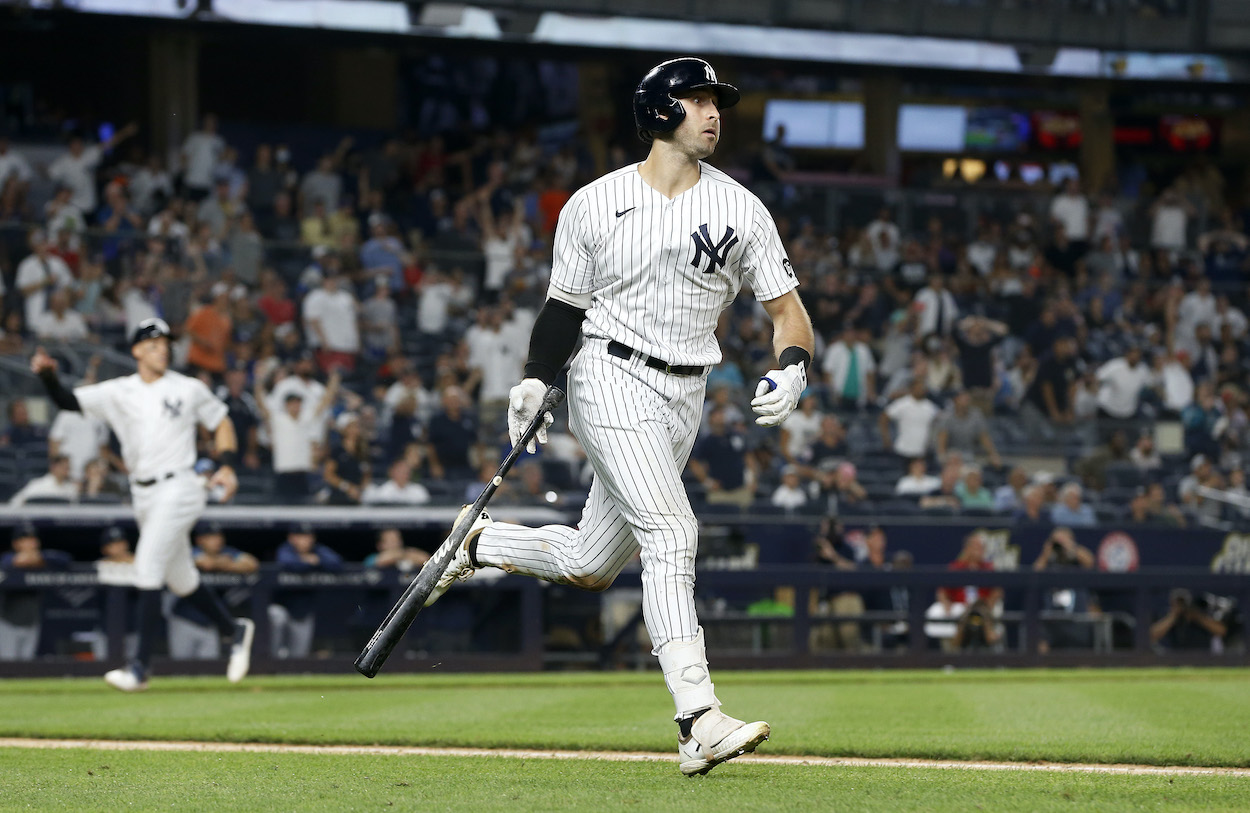 The Yankees are still on the outside looking in when it comes to the AL postseason picture, but they're quickly starting to close the gap. They're 8-2 in their last 10 games and are a full 10 games over .500 following the Thursday night win over the Mariners.
A lot of this recent success can be attributed to Rizzo (as he's been red-hot since landing with New York), but a consistent Gallo would only make the Yankees that much more dangerous.
Gallo has proven year after year that he can be one of the more lethal hitters in the sport when firing on all cylinders, and there's nothing like a game-winning, record-setting home run to get a player back into rhythm. Gallo also hit two doubles before his big home run, only further proving that the former Texas Ranger could have found his swing again.
All stats courtesy of Baseball Reference.