MLB
MLB: The 1 Joey Gallo Stat That's Almost too Ridiculous to Believe
Baseball fans would typically expect a player who has 100 home runs to have probably a few hundred singles to go along with them. That is not the case with Joey Gallo. The Texas Rangers outfielder hit his 100th home run on May 8. Many other baseball players have 100 home runs on their resumes, but Gallo set a Major League Baseball record by being the first player to reach 100 homers before hitting 100 singles. Those who watch Gallo closely, however, understand why he did is the first player to reach such an unusual record.

Gallo's approach at the plate
Gallo is an all-or-nothing hitter. That means that he isn't necessarily worrying about the proper space to hit the ball in the outfield so much as he's trying to find the perfect space in the bleachers to hit it. He is a power hitter through and through, and an effective one at that. With his 100 home runs in 377 games, he became the third-fastest player to reach the mark, beating out former home run king Mark McGwire.

He also racks up prodigious strikeout numbers. Gallo tallied 196 whiffs in 2017, and he followed up with 206 the next season.

Why that strategy?
The all-or-nothing approach is a risky one. If a player does not have command of his bat or the ability to go yard during any at-bat, he is likely to either strike out or fly out more often than he reaches any bases. A player like Gallo, however, can justify it thanks to his consistent ability to send the ball over the fence in dramatic fashion.

With a .510 slugging percentage and a .326 on-base-percentage through 36 games in 2019, however, his power justifies his strategy, even if it still may not be the perfect one. At just 25 years old, he is only in his third year as a full-time MLB player, so his bat still has time to get stronger. His quickness in achieving this record is a testament to his talent.

Joey Gallo left others in the dust while achieving his record
Gallo didn't just beat the record for fewest singles when he crushed his 100th home run, he absolutely destroyed it. The second place hitter on the list, Russell Branyan, had 172 singles at the time of his 100th homer. The next three players on the list, Ken Phelps, Ryan Howard, and Chris Carter, were all close behind with 174, 176, and 179 respectively.

These players represent a wide array of players, from middle-of-the-bench guys to superstars, but the sheer amount by which Gallo has shattered their records indicates that by the time he reaches 172 singles, he may be looking at far more home runs than those players could ever dream of, and that leads to the next question.

What comes next?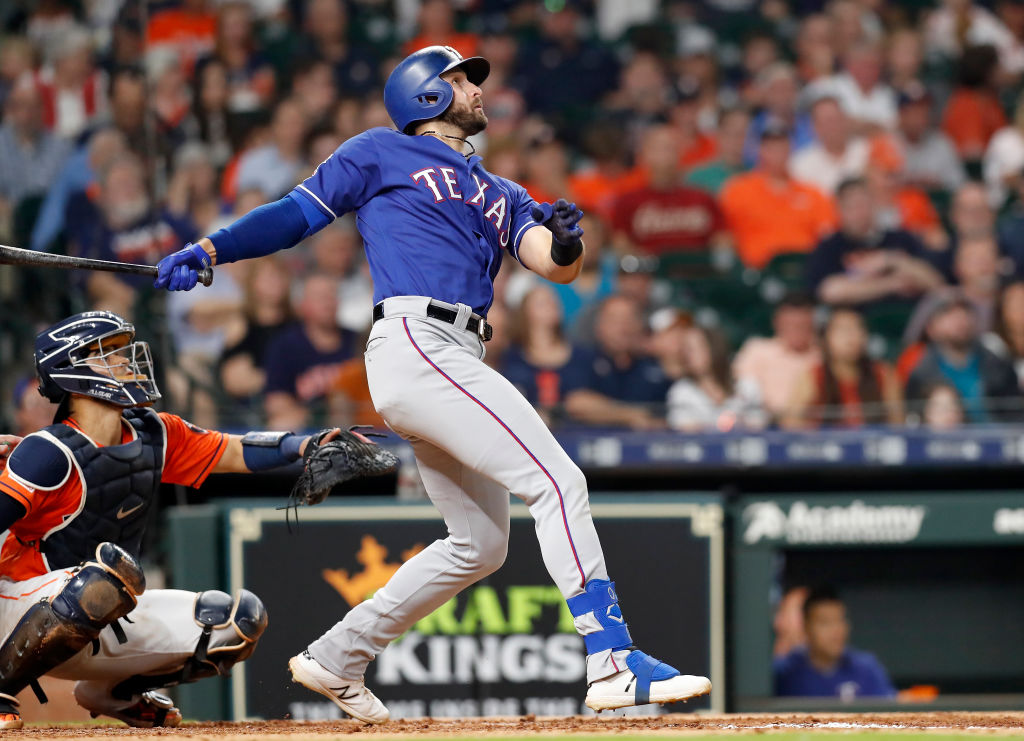 Whether Gallo becomes the next slugging superstar, or another young player who never found a way to reach the next level is still up in the air. On the one hand, he has his youth and his ridiculous ability to hit the ball deep, but lots can happen for these young hitters, and he has to be ready to keep this up for many years to come.

With superstar names like Ryan Howard and Mark McGwire coming up next to his, it is easy to see why many expect great things from Gallo as he enters what should be the prime of his career. With proper health and training, his bat could remain for a very long time. Still, if there is a power drop off, Gallo may need to hone his ability to hit the ball within the confines if he can no longer finding the bleachers.
Joey Gallo has a one-of-a-kind record to his name, and his accomplishment is truly special, unique, and perplexing. What comes next in his career will be what defines him long-term, but for the time being, baseball fans should enjoy watching the rise of what could potentially be one of this generation's superstars. Even if he does not finish his career as strongly as he started, however, Gallo 's record should stand for years to come.