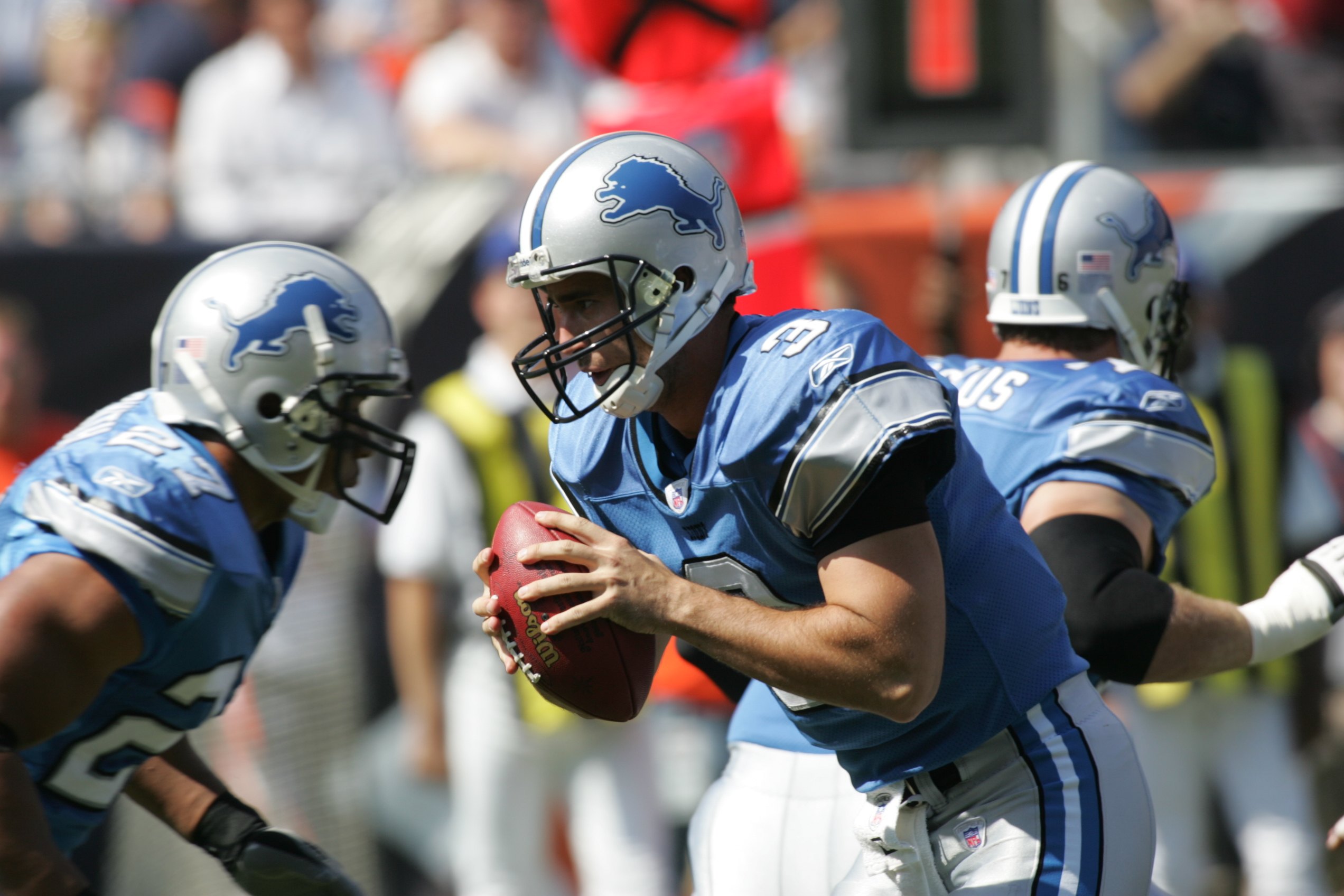 Joey Harrington Was Depressed With the Detroit Lions and Billy Joel Later Cheered Him Up
Former first-round pick, quarterback Joey Harrington, was depressed with the Detroit Lions and Billy Joel later helped cheer him up.
Being a Detroit Lions fan, player, or coach has to be difficult. The losing culture doesn't ever seem to go away. Former Lions first-round pick, quarterback Joey Harrington, said he was depressed when he played for the team. Luckily for Harrington, he had a chance to redeem himself against his former team as a member of the Miami Dolphins. He then got a nice pat on the back from singer Billy Joel.
Joey Harrington's football career
Joey Harrington played four years of college football at Oregon. He threw one pass as a freshman and then played in eight games as a sophomore. Harrington really made a name for himself in his junior and senior seasons, combining for 49 touchdown passes.
He had his best year as a senior when he threw 27 touchdown passes and had just six interceptions in 12 games. He was selected by the Detroit Lions with the third overall pick in the 2002 NFL draft. Harrington played six years in the NFL, the first four with the Lions.
In Detroit, tons of pressure was put on Harrington to turn around a franchise that was 2-14 the year he was drafted. Harrington struggled mightily in Detroit, leading the league in interceptions (22) in his second year. He never won more than six games in any season and finished his four years with the Lions with a record of 18-37. He finished his career by playing one year with the Miami Dolphins and another with the Atlanta Falcons.
Harrington never was comfortable in Detroit
After Joey Harrington was drafted by the Detroit Lions, Mike McMahon started the first two games of the 2002 season. After two losses, Harrington was asked to take over. "I had a gut feeling that it would have been best for me to sit for a year and learn," Harrington recently told the Detroit Free Press. "I was not an extraordinary athlete who made unbelievable naturally skilled plays, but I was successful in college because I was better prepared than my opponents."
Harrington said after a couple of years of struggling, he felt his teammates were growing frustrated with him. "I knew Steve Mariucci (head coach) wasn't necessarily thrilled with having me, and I don't think (offensive coordinator Marty) Mornhinweg was either," Harrington said. "I wasn't their style of quarterback. Mike McMahon was more mobile and athletic than me and fit better in their Bill Walsh-style West Coast offense. There was a lot of trying to put a square in a round hole and they weren't willing to adjust to my strengths. When I wasn't playing well, two to three years into my career, I think teammates started getting pissed.
"It was like 'They're paying you a heckuva a lot of money to be playing better than you are,' and that was the truth. There was also this culture of losing that I did not want to subscribe to and it created a bit of a rift. Looking back, I could have handled it in a different way. My continued insistence that we can get better if we keep working didn't sit well with people." 
Harrington said he was depressed in Detroit
Joey Harrington was getting blamed for everything in Detroit. As the quarterback, that sometimes comes with the territory, but he was called out by a teammate who said he was the reason head coach Steve Mariucci was fired. "Rod (Marinelli) was the first coach to sit down and have an honest conversation with me," Harrington told the Detroit Free Press. "I said, 'That's great, but you do need to know that I will play for you and Matt Millen because I respect both of you, but except for a couple of teammates, the rest of them can all go to hell.' The confidence I had that was brimming when I left Oregon was completely gone when I left Detroit. It created a whole lot of issues for me that went beyond performance because I was dealing with depression and anxiety."
Harrington was traded to the Miami Dolphins after four years with the Lions. He is an accomplished piano player and when he returned to face Detroit on Thanksgiving Day as a member of the Dolphins, the Lions were showing a series of Harrington lowlights. They had him getting sacked with Billy Joel's 'Piano Man' being played in the background. Harrington, however, had the last laugh when he threw three touchdown passes as the Dolphins beat the Lions 27-10.
"When I got back to Miami, Billy Joel sent me a note suggesting that maybe the Dolphins would want to play 'Piano Man' when I was introduced," Harrington said. "He also wrote, "P.S. Maybe the Lions should play my song, 'We Didn't Start the Fire.'"