Joey Logano and Kevin Harvick are Nominated for 2021 Most Disappointing Performances in NASCAR Cup Series
There may not be an official NASCAR Champion's Week award for most disappointing driver performances throughout a season, but there should be. 
For fun, let's pretend the honor exists, and it will be presented on Dec. 2 during the Champion's Week Cup Series awards ceremony in Nashville, Tennessee. 
That would leave two primary candidates: Joey Logano vs. Kevin Harvick. 
Joey Logano had the Daytona 500 checkered flag sighted, until disaster struck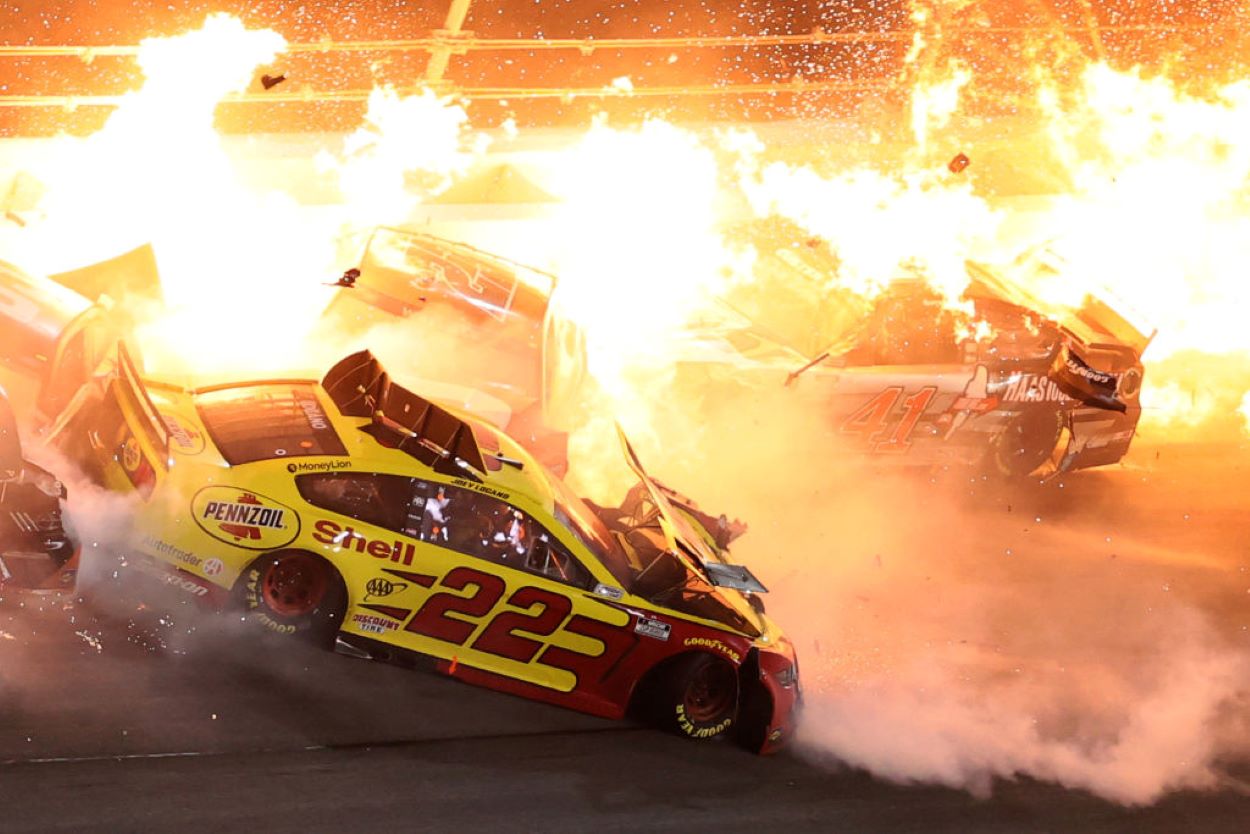 Logano started strong, then faded – fast. 
Entering the final lap of the Daytona 500, Logano led the field, and it appeared he would deliver a powerful season-opening statement. He was ready to contend for his second points title. 
But Logano failed to avoid getting caught up in a fiery eight-car crash caused by Team Penske teammate Brad Keselowski. The incident pushed Logano back from Victory Lane to 12th place and caused friction in the garage area. Logano rallied over the next few weeks with second-place finishes on the Daytona road course and the spring race at Phoenix Raceway. 
When dirt racing at Bristol Motor Speedway returned to the Cup Series, Logano recorded his one win of the season. 
A third of the way through the season, Logano sat in third place in the driver standings. Then came Talladega Superspeedway and what some called the crash of the year. Logano's No. 22 Ford flipped up and on Bubba Wallace's machine. 
From that point on, Logano, who finished with 10 top-five finishes and 19 top 10s, failed to maintain his early-season momentum, leading just 129 laps over the final 26 races. 
With Team Penske's resources, Logano placed eighth in the final driver standings, 2,704 points behind series champ Kyle Larson. 
Harvick went from nine wins to zero during 2021 NASCAR Cup Series season
Harvick's fall in 2021 was much more sudden. 
The previous season, Harvick claimed nine checkered flags, the most of any driver since Carl Edwards captured nine in 2008.  
Last season, Harvick, who recorded 21 wins from 2018-20, was shut out of any of the Cup Series' 36 Victory Lanes. Like Harvick, Edwards was also blanked the next season. 
Although 10 top-fives and 24 top 10s buoyed his campaigns, Harvick's failure to be the first to meet a checkered flag cooled his championship aspirations. It was his first winless season since 2009.   
Compared to 2020, when he entered the postseason with 57 points, Harvick went into last season's postseason with just two playoff points. 
The surprising fact of Harvick's two seasons? He finished fifth in the regular-season driver standings in 2020 and '21. 
Logano and Harvick weren't bad in 2021, just disappointing 
A number of Cup Series drivers suffered from a bad season. Quin Houff started all 36 points races and placed last in the driver standings with 176 points. The 00 Chevrolet endured a series-high 10 DNFs. 
Rookie Anthony Alfredo earned one Top-10 finish in 36 starts. He's now "exploring other options." 
Logano and Harvick didn't expedience bad seasons; they endured disappointing seasons. 
But which season was more disappointing, Logano or Harvick? 
In the spirit of the Cup Series' awards show on Dec. 2, and the winner is … Harvick.