Joey Logano's 3 Most Memorable Moments During NASCAR's Clash at the Coliseum
NASCAR Cup Series driver Joey Logano stole everyone's thunder during the Clash at the Coliseum on Feb. 6.
Moments after earning the checkered flag at the inaugural event, he announced his wife was prepared to give birth to their third child the next day.
Well, hey, Joey, congrats on winning the first stock car race at Los Angeles Memorial Coliseum?
It's kind of tough to top his news, but here are three of his most memorable Clash moments:
Joey Logano slipped, voiced his concerns following Clash practice runs
After NASCAR's practice runs on Feb. 5, Logano did not toe the company line. He did not hold back his criticism of the newly constructed track.
"It's chaos out there," he told Fox Sports during a television interview. "It feels like ice skating on old blades."
He didn't stop there, describing cars as "sliding all over the place."
With a big Logano smile, he concluded by saying, "It feels awful."
Of 36 qualifiers, he was 28th on the board at one time during practice laps. But something happened overnight.
The next day, he captured one of the four 25-lap qualifying races to gain entrance into the Clash's main event and lead the final 35 laps to enter Victory Lane.
Logano bests Kyle Busch in a battle for first place at the Clash of the Coliseum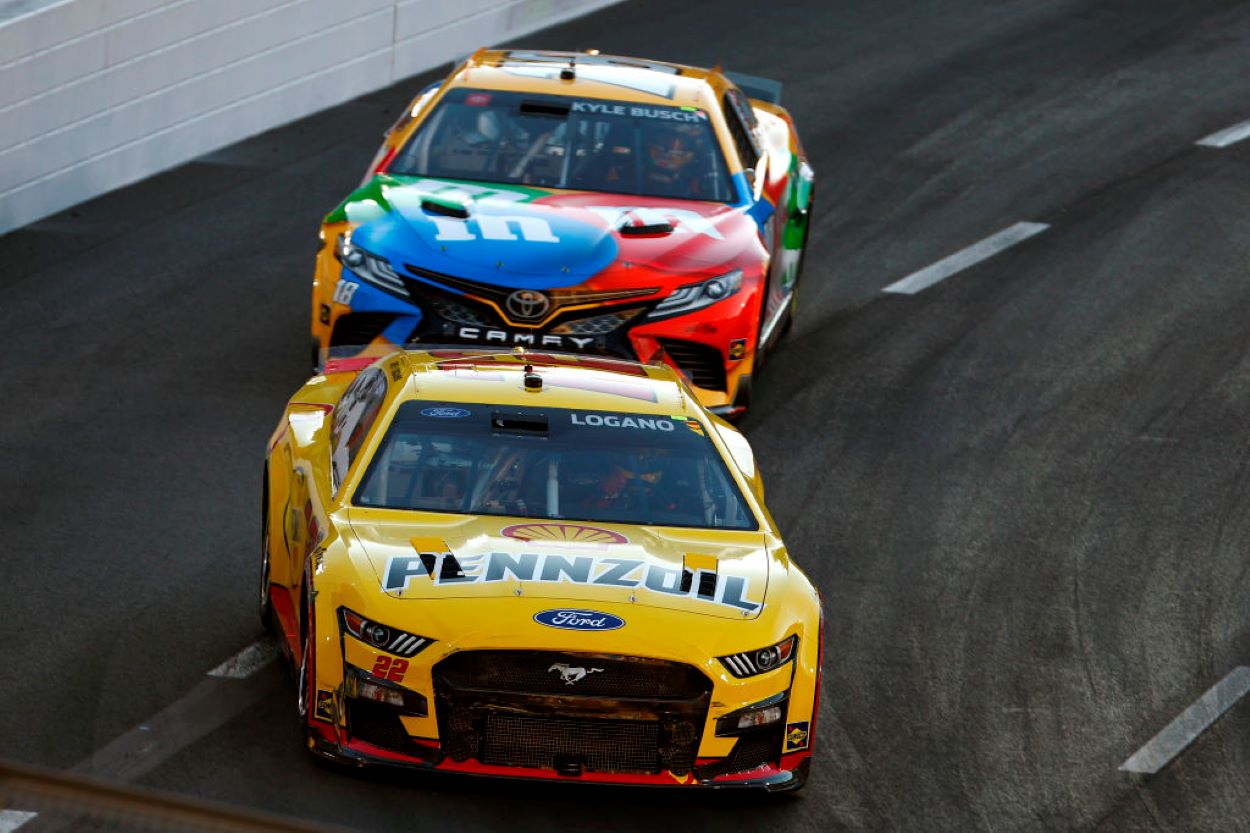 Logano wanted the lead. Along with his competitive companions, Logano and the rest of his Clash counterparts learned the best way to execute a pass on the quarter-mile track was the good ol' fashioned bump-and-run.
On a restart, Logano made his move on leader Kyle Busch.
Trailing Busch by 0.077 seconds, Logano approached the slower traffic of Martin Truex Jr., Harrison Burton, and Michael McDowell. Busch was forced to slow down, and Logano strategically used the lapped car of Bubba Wallace as a pick to gain better position.
But Busch appeared to be presented with a big break when Ryan Blaney's car needed attention in the pits, bringing out a caution flag. On the restart, Busch wouldn't have to worry about lapped traffic.
But Logano made a controversial decision to restart the race on the outside of the front row.
Fox Sports analysts Clint Bowyer and Tony Stewart questioned the move, but he made it work. Busch and Logano drove side-by-side, bumping each other, trying to find an edge. Logano took the lead near the start-finish line just after Kyle Larson uncharacteristically took out Justin Haley.
Logano wanted the lead. He got it.
Logano's post-Clash burnout
The call came from the broadcast booth: "Burn it down, Logano."
Did he ever.
For nearly one-eighth of a mile, Logano smoked up the track with a long-lasting victory burnout.
Nicknamed "Smoke," Stewart analyzed Logano's effort.
"That's pretty good," Stewart said. "He started on the backstretch, and when he went through Turns 3 and 4, he looked like he was in a dirt race, and that's super impressive."
Like Sportscasting on Facebook. Follow us on Twitter @sportscasting19.
RELATED: Before DQ, Ty Dillon Creates Chaos During NASCAR's Clash at the Coliseum Qualifier: 'I'm Not Here to Play Around'