Joey Logano's Surprising Take on Racing Ethics: NASCAR Drivers Must 'Play Within That Gray Area'
NASCAR drivers must make split decisions that make the difference between life and death. However, for every common-sense rule lies a gray area where the only thing guiding a driver between right and wrong is the driver himself. Joey Logano knows this. He's spoken about the complications of doing what's good for winning and doing what's right.
Joey Logano's NASCAR career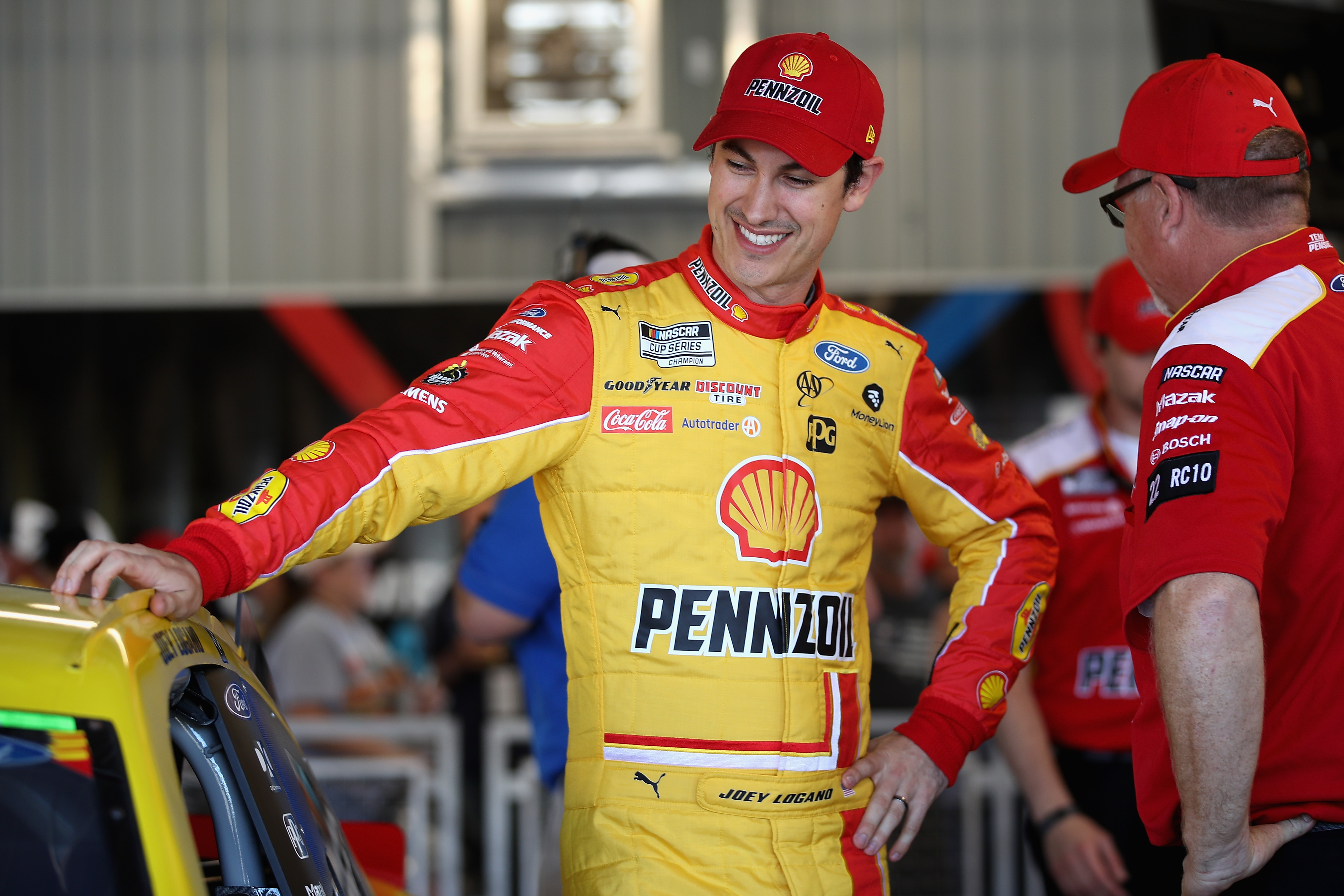 Logano is just 30 years old, but he has over a decade of experience in the NASCAR Cup series. Debuting at just 18 years old, Logano reached the peak of motorsports early on. He won his first Cup Series race at 19. By 25, he had 14 wins under his belt. That's more than most drivers can boast. Now, Logano has made a handsome living with his driving talents. 
Now getting older, Logano reflects on what gave him such a meteoric rise early on and how that affects him as a racer. Always the candid sort, he's spoken about his code of conduct on many occasions, getting more candid than the average NASCAR driver typically will in the process. 
Logano's code of conduct 
Despite an affinity for feisty antics, Logano does have a personal code of conduct he tries to follow. While some racers race every lap like it's the last one, Logano said that his personal code of conduct is to play the field and only go hard if the racer next to him is also doing it. He told SB Nation:
"At the beginning of the race, you don't want to go too hard. But if you're around that guy who races you hard all the time, what happens is it's a never-ending deal. If he races you hard all the time, then you race him hard all the time; well, then he feels like you race him hard all the time so he's going to race you hard all the time. You never, ever break the cycle! So it's really hard to get through that."
Logano does everything in his power to be the best competitor that he can be. However, sometimes there's a gray area in the rule book where Logano has to decide whether he wants to risk something. This is especially true when it comes to the makeup of the car. 
Logano's gray area
While NASCAR operates on a strict set of rules, it's impossible to adequately police every aspect of a driver's race. From pre-race conduct to building the car, sometimes the only thing policing a team is the driver. Logano discussed this with Jeff Gluck when he asked the driver what he'd do if a team member wanted to add illegal parts to his car:
"I'd want to know about it … If you're pushing the line, that's one thing, but if you're straight-up black and white out of the lines, I want to know about it for one, and two, I probably wouldn't be OK with it… We have to [push it]. All of us as competitors have to push that line and interpret the rules the right way and play within that gray area that everyone talks about. But when it's black and white and you're outside of it, I want to know and I don't want to do it."
Like every sport, NASCAR utilizes multiple layers of rules. First, there are rules written in stone. The conduct policies and car guidelines that every racer must adhere to. Another layer, however, involves the unwritten rules.
This is key to Logano's success in driving. However, as he noted, sometimes the gray area prevails regardless of what else is thrown a driver's way. In that case, it is up to people like Logano to guide it to the right decision.