Joey Votto's 1 Recent Swing May Have Just Had Hall of Fame Implications
Throughout his legendary MLB career, Joey Votto has had a plethora of big hits for the Cincinnati Reds. However, one of his most recent swings was significant for himself as a player and an individual.
In a 14-5 home win over the Chicago Cubs, Votto recorded the 2,000th hit of his career, and at a glance, that may just seem like a nice milestone. But the hit could actually have major National Baseball Hall of Fame implications for him. In fact, the Reds' first baseman may have just punched his ticket to Cooperstown.
Cincinnati Reds star Joey Votto recorded the 2,000th hit of his career
Joey Votto has had somewhat of a career resurgence this year with the Reds. He's hitting .284, his best average since 2018, to go with 26 home runs and 76 RBIs, which are both his most since 2017. But Votto has also reached multiple career milestones this season.
In April, Votto recorded his 300th career home run before later collecting his 1,000th RBI in June.
Now, he's a member of the 2,000-hit club, as he hit a single off Cubs pitcher Michael Rucker in the seventh inning on Aug. 16.
"Well it's always special when — despite what it may seem, I didn't try to get the 2,000th hit at home here. I was trying to get hits in Philadelphia and I just came up short. But, I'm glad that it worked out this way," Votto said, per The Athletic. "My teammates have been very supportive and I feel lucky because of that. The fans have been very supportive of that also. I have felt the love from them, truly. Thank you to the fan base, the Reds fan base. Cincinnati has been good to me for a long time."
Votto is now the sixth player in Reds history to collect over 2,000 hits with the team and only the second to do it while also hitting more than 300 home runs with the organization. The only other player to have over 2,000 hits and 300 home runs with the Reds is Hall of Fame catcher Johnny Bench.
And now Bench will likely welcome Votto to the hall one day, too.
The hit may have punched his ticket to the National Baseball Hall of Fame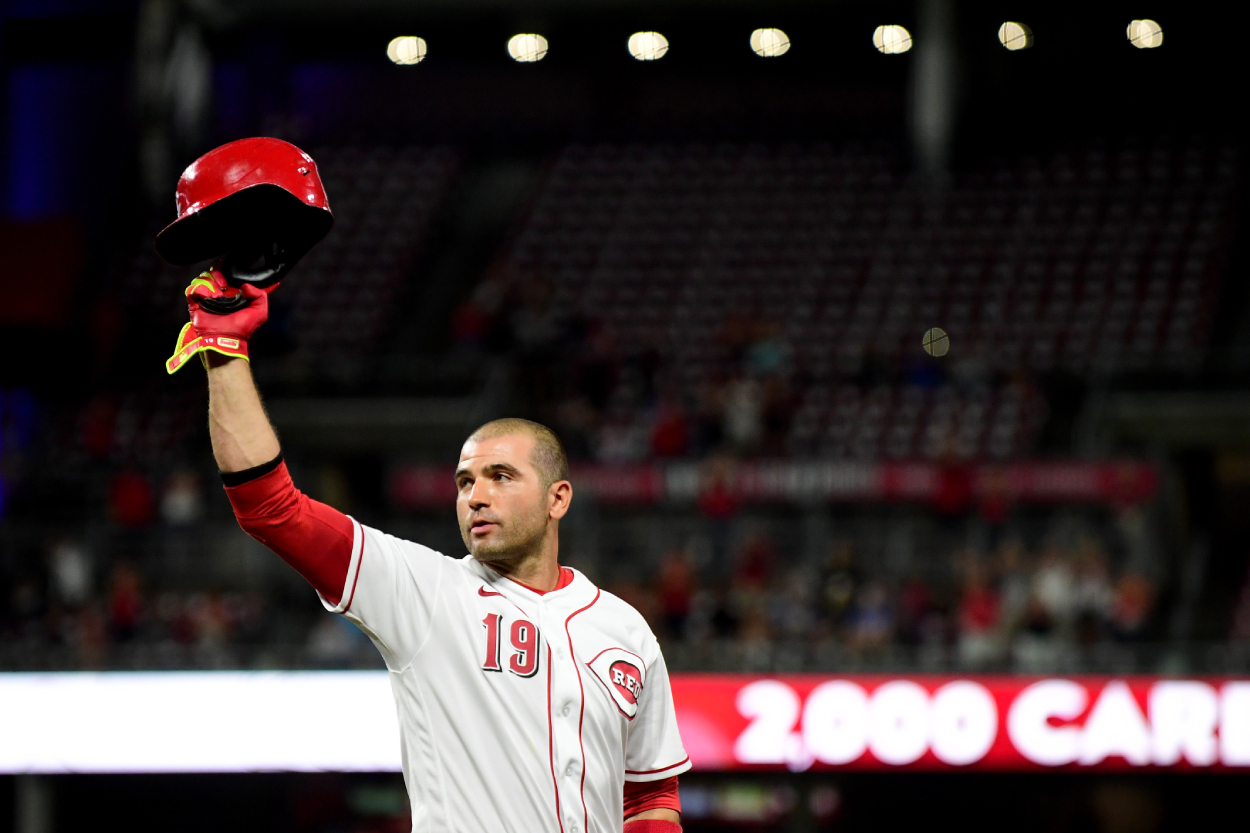 The 2,000th hit almost guarantees Votto's spot in the Hall of Fame, as C. Trent Rosecrans of The Athletic noted, it's "no longer" a question of "if he'll reach" it "but how many tries it will take him."
According to Baseball-Reference, the average hitter in the Hall of Fame has 2,326 career hits. Given that Votto is under contract with the Reds for at least the next three seasons after this one, he should certainly reach that mark.
Votto doesn't absolutely need to reach 2,326, though. Bench only had 2,048 career hits, while Harmon Killebrew had 2,086, Gary Carter had 2,092, and Mike Piazza had 2,127. So, Votto's 2,000-plus hits now should be enough to reserve him a spot, especially when considering the rest of his resume.
Joey Votto's resume with the Cincinnati Reds
Joey Votto has done much more than just collect those 2,000-plus hits with the Reds. He is also a six-time All-Star, a Gold Glove winner, and was the 2010 NL MVP when he hit .324, 37 home runs, 113 RBIs, and scored 106 runs.
Votto has also led the NL in on-base percentage seven times in his career and in walks five times. In fact, his career on-base percentage of .417 is 25th in MLB history. The 2002 second-round pick has also been good in the field as he is sixth all-time in assists at first base with 1,658.
With him spending his entire career in Cincinnati, Votto had already found a way into the Reds Hall of Fame. But his recent hit will likely take him to Cooperstown one day as well.
Stats courtesy of Baseball Reference