Joey Votto Continues to Follow in Tom Brady and LeBron James' Footsteps by Defying a Mutual Opponent
Throughout the history of sports, all legendary athletes have eventually learned a harsh lesson: Father Time is undefeated. We have seen some of our favorite players go from being invincible to becoming shells of themselves due to older age, and there's been nothing they can do about it. However, as the years have come and gone, some of the all-time greats have found ways to defy Father Time just a little while longer, most notably Tom Brady and LeBron James.
Now, you can add Cincinnati Reds star Joey Votto to that list, as he's been following in their footsteps and has been doing it by taking a totally different approach than he has his entire career.
Tom Brady and LeBron James have defied Father Time
Tom Brady and LeBron James have been two of the biggest superstars in their sports for essentially two decades, and neither of them have shown signs of slowing down.
Brady just won his seventh Super Bowl at 43 years old, and he had one of the best seasons of his career while doing it. He threw for 4,633 yards, his most since 2015, and 40 touchdowns, the second-most of his career. He also only had 12 interceptions.
In comparison, Peyton Manning was 39 years old in his final season and threw for 2,249 yards, nine touchdowns, and 17 interceptions in 10 games, while Brett Favre played his final season at 41 and threw for 2,509 yards, 11 touchdowns, and 19 interceptions in 13 games.
James, on the other hand, has had similar success in the NBA, as he won his fourth championship at 35 years old in 2020 and recorded 25.3 points, a career-high 10.2 assists, and 7.8 rebounds per game that season. In 2020-21, at 36, James averaged 25.0 points, 7.7 rebounds, and 7.8 assists.
How do his numbers compare to other NBA legends at that age? Kobe Bryant played in his final season at 37 and averaged 17.6 points, 3.7 rebounds, and 2.8 assists, while Michael Jordan was retired for a second time at 36 before playing in two more seasons with the Washington Wizards at 38 and 39. He averaged 21.2 points, 5.9 rebounds, and 4.4 assists combined in those two years.
All in all, what Brady and James have been able to accomplish has been remarkable. But a baseball player is now following in their footsteps.
Reds star Joey Votto is now following in their footsteps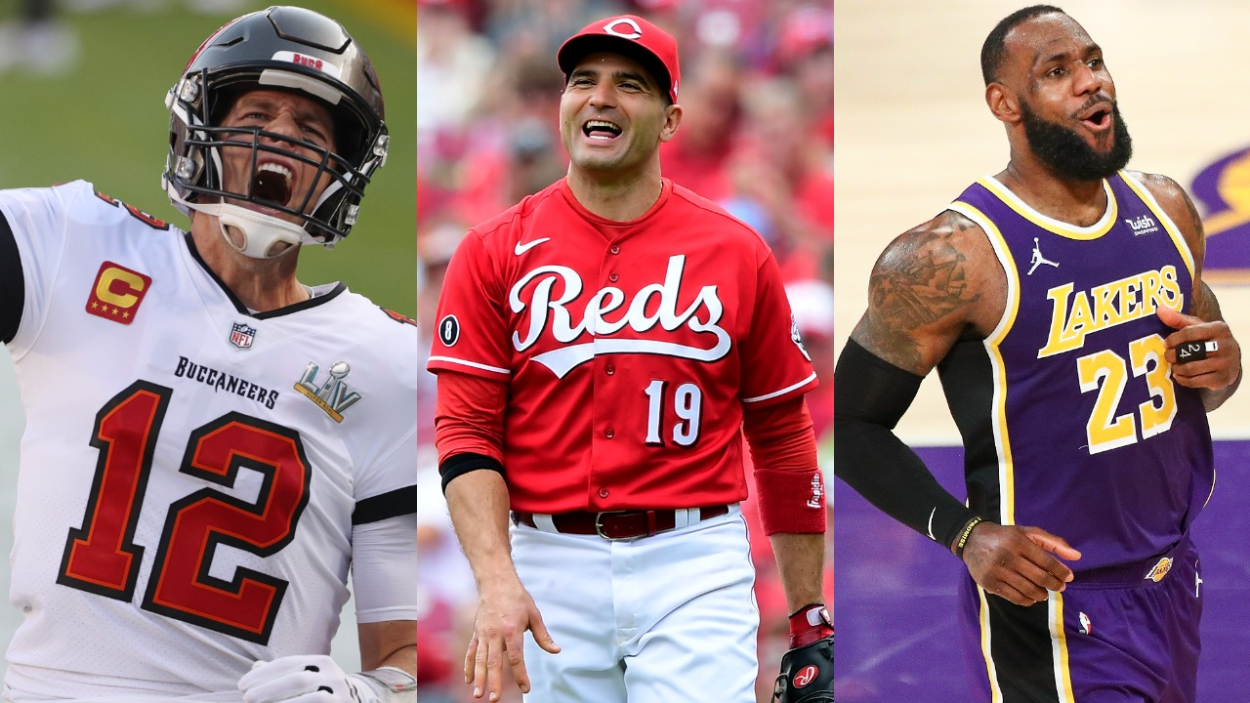 Brady and James have focused on healthy diets, effective workouts, and strict recovery methods to stay in tip-top shape. Brady even has an entire business centered around his fitness philosophy called TB12.
Joey Votto, though, has never been one to post workout videos on Instagram, but he seems to be in just as good of shape now as he was when he won the NL MVP award in 2010. And his numbers are proving it.
Votto struggled the last couple of years. He hit .261 to go with 15 home runs and 47 RBIs at 35 years old in 2019, before recording a .226 batting average, 11 home runs, and 22 RBIs in the COVID-19-shortened 2020 season.
Through June 9 of this season, Votto, who turns 38 in less than a month, continued having a hard time at the plate, only hitting .216 to go with five home runs and 18 RBIs. However, since the All-Star break, Votto has been unstoppable. He has a .351 batting average, 14 home runs, and 32 RBIs in 25 games. He even went on a stretch where he hit nine home runs in seven games. 
The six-time All-Star has ultimately raised his season batting average to .285. He now also has 25 home runs and 72 RBIs, which are all the highest for him since the 2017 season.
Votto is truly proving that age is just a number; he and Nelson Cruz are the only players in the MLB this season who are 37 years of age or older and hitting over .270 with 20 or more homers. His play has also put the Reds right in the middle of playoff contention, as Cincinnati is 62-54 and 3.5 games back from the wild card.
However, the star first baseman is doing all this by taking a different approach at the plate.
Joey Votto has used a different approach at the plate
Joey Votto has also been a get-on-base guy throughout his career with the Reds, as he has led the NL in on-base percentage seven times and in walks five times. This season, though, Votto has essentially been trying to hit home runs.
"Oh, I'm trying to homer," Votto said during his seven-game home run streak, per Cincinnati.com. "That's the difference. I've been trying to homer."
As athletes age, they must approach the game differently than they did when they were 25. Between 19 and 28 years old, LeBron James took over 80% of his shots within the 3-point line. That number dropped to 66% over the last two seasons. Tom Brady has also taken a different approach, and now Votto is all about home runs. They are all aware that they must play differently, and the success they have continued to have while doing it is incredible.
Father Time may be undefeated, but guys like Brady, James, and Votto are making things much harder for him.
Stats courtesy of Baseball Reference, Pro Football Reference, and Basketball Reference