John Elway's 1983 Draft Negotiation Is Still a Great Lesson for NFL Draft Prospects
John Elway is still the Broncos' best quarterback ever, but it took an ordeal to get him to Denver in the first place. Although another NFL franchise chose him, Elway went to great lengths to avoid them. The maneuver worked out for him. But was Elway's conduct respectable or a display of poor character? 
John Elway's college career pegged him as a star
Entering the 1983 NFL Draft, John Elway was a highly prized talent. The Stanford football player didn't do a lot of winning during his career as a Cardinal — the team went 20-23 during his tenure — but Elway's greatness shone through. 
Named the Pac-10 Player of the Year twice, he led the country in touchdown passes, 24, in 1982. Elway was a consensus All-American in '82 and finished second for the Heisman Trophy behind Georgia's Herschel Walker. In four years at Stanford, Elway threw for 9,349 yards and 77 touchdowns.
Despite his success, Elway's most famous college game will be remembered because of the athletic feats of the other team. His final matchup was the "Big Game" against Stanford's big rival, California. Cal won with "The Play," a move involving five laterals and band members on the field during play. It spawned a long debate over the play's legality.
Despite the team's mediocrity, Elway remained the prize for NFL teams seeking a quarterback. He made headlines before he even saw the field. 
Elway threatens his way out of Baltimore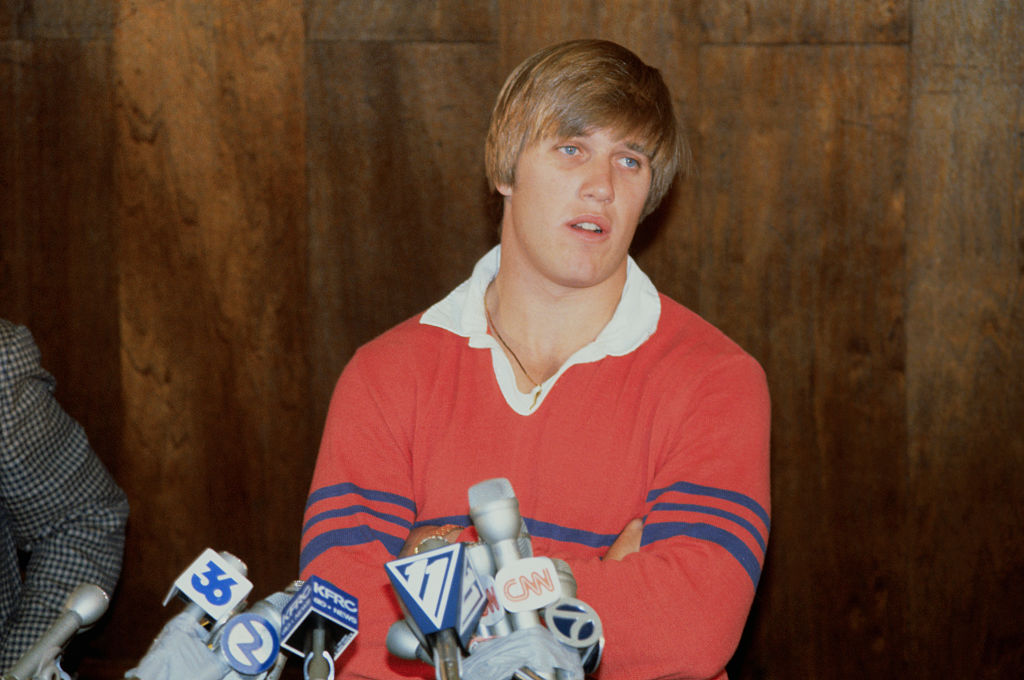 The Baltimore Colts had the first pick in 1983 and desperately needed a QB. (They went 0-8-1 in the previous strike-shortened season.) But Elway announced he would not play for the Colts, according to the Mile High Report, saying he would play baseball if the team didn't trade him.
Elway's refusal to play in Baltimore derived from a contentious relationship between Elway's father and Colts coach Frank Kush. While Kush coached at Arizona State, he developed a reputation for abusing his players in the name of toughness, according to Reggie Jackson by Dayn Perry.
Kush's practices were likened to a desert boot camp. He called his players names when they tired. He also regularly worked his running backs against the entire defensive line — without an offensive line — running the same play over and over. The coach's actions turned off both players and coaches, including John's father, Jack Elway.
John's claim that he would play baseball was not without substance. He played shortstop and right field at Stanford and hit .318 in Class A ball in the Yankees farm system. However, the quarterback was much more hyped as a football prospect.
The Colts drafted John but he continued to say he had no desire to go to Baltimore, preferring to play for a West Coast team. The Colts, fearing that they'd get nothing out of their top pick, blinked first.
They traded the rights to John to the Denver Broncos for QB Mark Herrmann and the rights to offensive lineman Chris Hinton, as well as the Broncos' initial pick at No. 4 and a first-round pick in the 1984 NFL Draft. The trade defined the trajectory of both franchises for over a decade.
Other players who used John Elway's strategy
You don't have to be a genius to see which franchise got the better of the trade. John was Denver's quarterback for 15 years. He led the team to six AFC Championship Games and five Super Bowls, winning two in his final two years as a player.
The 1986 Super Bowl MVP returned to the franchise as General Manager and Executive Vice President of Football Operations in 2011. While the team has struggled in recent years, John still does great things for the Broncos. Denver has won four division titles, two AFC Championships, and Super Bowl 50 during his tenure. 
John joined the Pro Football Hall of Fame in 2004. Meanwhile, the Colts moved to Indianapolis a year later and didn't win a playoff game until 1995. 
John's conduct was unbecoming, but he got to dictate his career path in a way most football players never get to do. There's a reason why the only other example of this happening involves another highly touted quarterback from a football family.
The San Diego Chargers selected Eli Manning in the 2004 draft. But he and his father, Archie Manning, made it known that he would not report to the team if they kept him. San Diego traded Eli to the New York Giants for the draft rights of Philipp Rivers and three other picks.
Another exciting QB may try to force his way to a better situation in this year's draft. There have been rumors that Joe Burrow could tell the Cincinnati Bengals he'd rather play somewhere else if they draft him with the No. 1 pick. 
A few decades later, John's demands may set a precedent for young players who don't want to do what the league tells them to do.
Follow more updates from Sportscasting on our Facebook page.