John Harbaugh Insists That Marcus Peters Has a 'Heart of Gold' Even After His Disrespectful Celebration
Baltimore Ravens cornerback Marcus Peters is the kind of player you want to play with, and never against. Like Draymond Green in the NBA, he's known for being intense, maybe too much so, toward opposing teams. But, also like Green, he's a beloved locker room figure, with support throughout his organization.
He's notable for his antics, to the point that it distracts from his athleticism. His most recent antic, a rude celebration after picking off Ryan Tannehill, has some questioning whether Peters is a liability. His fellow Ravens — including his head coach — couldn't disagree more.
Marcus Peters backs up his antics with action on the field
Peters, drafted in 2015 by the Kansas City Chiefs as NFL.com reports, didn't earn his first-round pick with bluster. He quickly proved himself on the field, racking up eight interceptions in a rookie year when he looked like a seasoned veteran. That easily justified his Defensive Rookie of the Year honors that year.
He was worth the fully guaranteed, four-year, $9.58 million contract that followed. Yet the Chiefs, as part of their shift to the Super Bowl-winning squad we know today, traded Peters to the Los Angeles Rams in 2018.
The controversial move seemed prescient, according to Sports Illustrated, as Peters turned in a career-worst year immediately after. It was decidedly less controversial when the Rams offloaded the declining CB to the Ravens in 2019.
But Peters has a way of defying expectations. With the Ravens, he found a more natural fit for his athletic tools. The new Peters was openly fierce, and relished in a humiliating interception against his former team, according to the Baltimore Sun.
His newfound confidence, backed up entirely by his oppressive defensive contributions, likely has the Chiefs front office wondering if they made the right choice.
The disrespectful celebration that defines national perceptions of Marcus Peters
NBC Sports reports that Peters slammed the door shut on the Tennessee Titans during their crucial Wild Card clash. The fiery CB's late fourth quarter interception set the Ravens' sideline to an eruption of joy, and Peters rode the wave.
He ran up to the Titans' logo on the field, with many of his teammates joining him. It was a callback to the Titans doing the same to the Ravens during the regular season. He stomped on the logo, danced, and bowed. 
The antics cost Peters $15,000 in fines. But his team are fully in support of the wild behavior. ESPN reports that no less than Ravens head coach John Harbaugh is willing to stick his neck out to defend Peters. "I like him and I love him. He's genuine. He's as authentic as it gets," Harbaugh said.
The kind of player you want on your team, but never to play against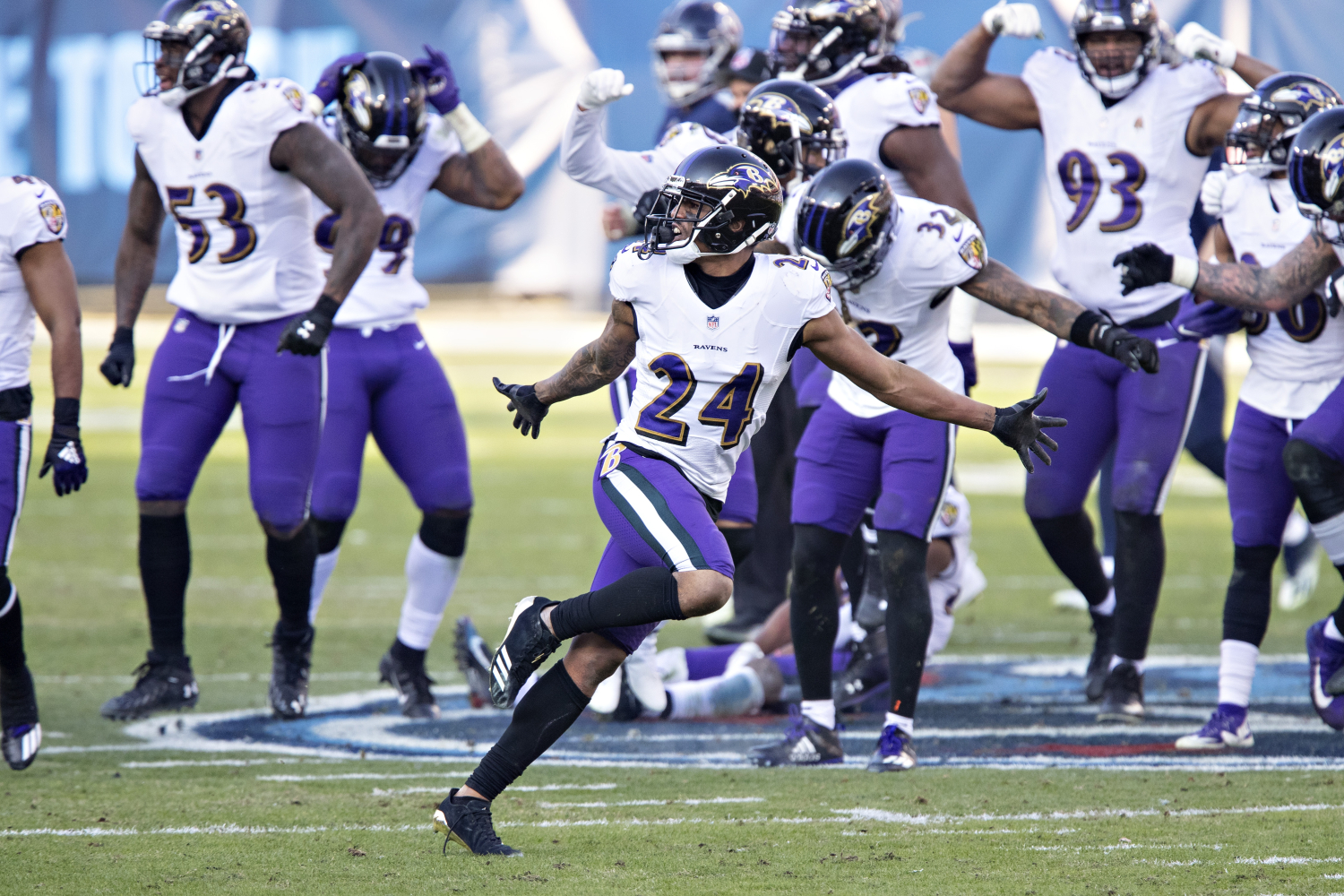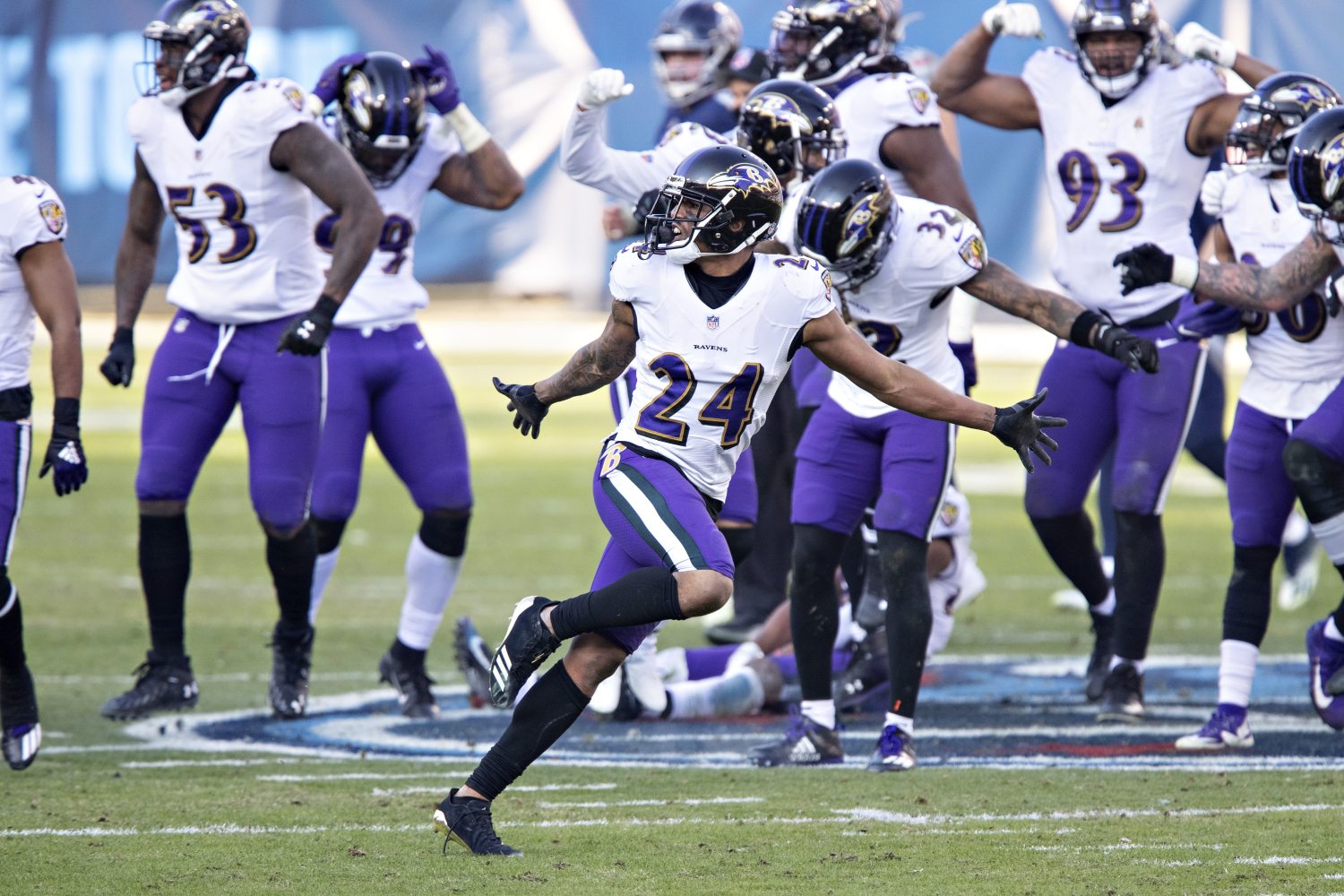 Peters repeatedly comes up clutch, pulling down game-changing interceptions time and again. But his antics are sometimes downright disrespectful.
Consider the time the NFL stepped in to punish him for spitting in Cleveland Browns wide receiver Jarvis Landry's face, according to Pro Football Talk. Could this type of behavior be a liability more than a boon?
The angle that saves Peters is his dedication to saving the wild man behavior for the moments after he does something great. Consider poor JuJu Smith-Schuster, now a punchline for losing efforts following his pregame logo dances.
As annoying as Peters is to the opposition, he's a boon to preserving the momentum on his own teams. As long as he doesn't start goofing around without backing it up with action, he's the kind of guy most players want to work with.