John Harbaugh Just Provided an Unsettling Update on Lamar Jackson and the Ravens' Overall Playoff Chances
The Baltimore Ravens received a valiant effort from backup quarterback Tyler Huntley during the team's Week 15 loss to the Green Bay Packers. He scored four total touchdowns and was a failed two-point conversation away from guiding Baltimore to a massive upset win over Aaron Rodgers and company.
While Huntley's incredible performance is one of the better feel-good stories from this year's regular season, the truth of the matter is the Ravens need their former MVP-winning quarterback, Lamar Jackson, back under center for the final stretch. Currently the No. 8 seed in the AFC, it's difficult to imagine the Ravens clawing their way back into the wild card picture without Jackson.
Ravens HC John Harbaugh gave a worrying update on Lamar Jackson
Jackson suffered an ankle sprain during the Ravens' Week 14 loss to the Cleveland Browns, hence his lack of availability the past week-plus. The initial hope was it was nothing more than a low-ankle sprain, and Jackson would be able to return to the lineup rather quickly. However, head coach Jim Harbaugh's update paints a different picture entirely.
"I don't have any updates on that [Jackson's health]," Harbaugh said. "That's wait and see for all those guys. Every single guy you're going to ask me about is all going to be day by day. We'll just see where they're at as we go."
With a massive Week 16 game with the Cincinnati Bengals right around the corner, it's hard to view this update as anything other than concerning. It's relatively uncommon for coaches to be unsure about a player's health status on Wednesday, followed by them playing on Sunday. Common sense suggests Jackson won't be available this weekend.
Lamar Jackson still isn't practicing
Following Harbaugh's ominous update, it was also revealed Jackson was held out of the Ravens' Wednesday practice. Again, it's uncommon for players to miss Wednesday practices due to injury and play the following Sunday.
There's still time for Jackson to get healthy and return to practice. However, it's worth wondering if the Ravens intended to start Huntley regardless. Jackson had struggled during his last few starts, whereas Huntley excelled against a highly challenging opponent.
By no means is this suggesting that Huntley is better than Jackson. However, a 100% Huntley likely gives the Ravens a better chance of winning than a less-than-100% Jackson.
The Ravens desperately need a win this weekend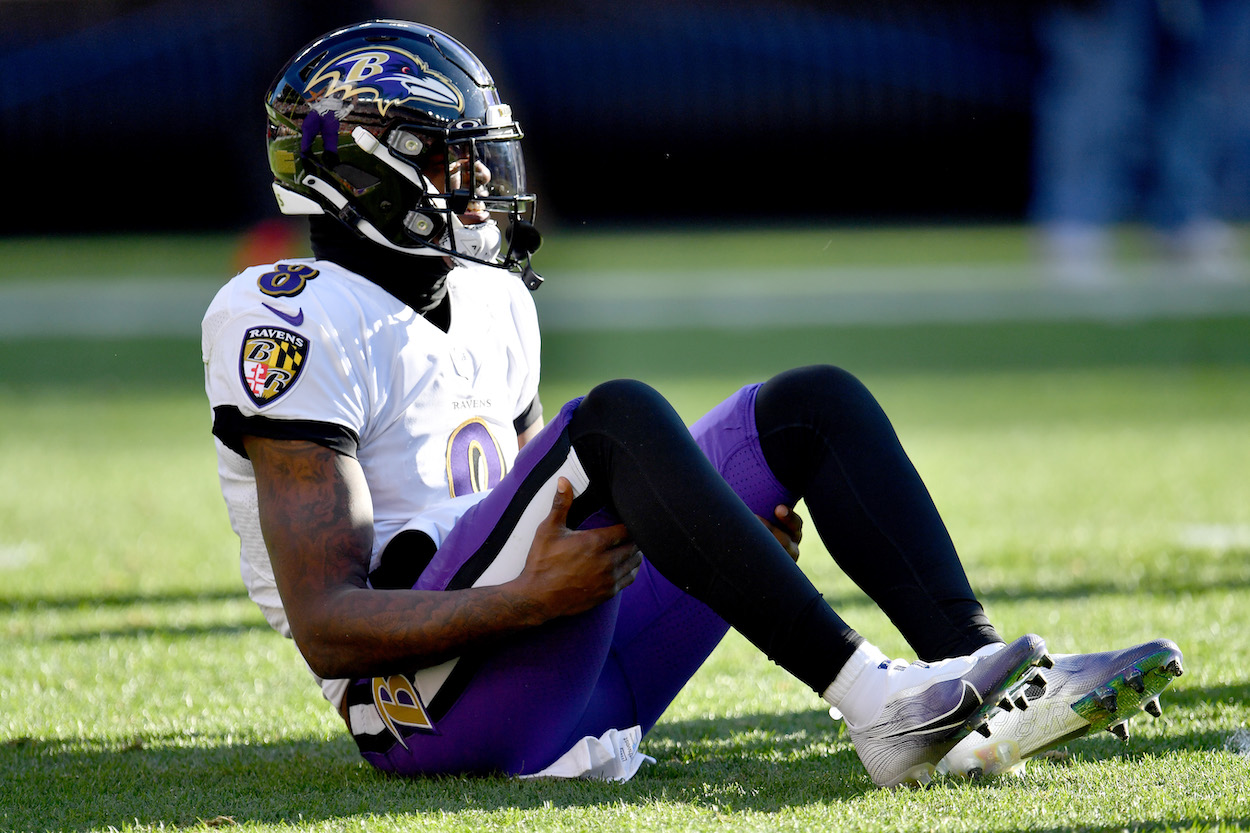 Jackson's current injury issues aside, the Ravens desperately need to find a way to win this weekend. They've lost three straight and are running out of time to make up ground.
For starters, the AFC North is currently the most competitive division in the NFL. Every team in the division has between seven and nine wins — tiebreakers could easily decide the final standings. Additionally, the race for the three wild card spots in the AFC is heating up. The Indianapolis Colts and Los Angeles Chargers feel like locks for the No. 5 and No. 6 seeds, with an all-out scramble currently taking place for the final spot.
The Buffalo Bills, Las Vegas Raiders, Pittsburgh Steelers, and Miami Dolphins are all in the mix, alongside Baltimore.
Whether it's Huntley or Jackson under center against Cincinnati, they need to find a way to pull out the victory.
All stats courtesy of Pro Football Reference.