John Harbaugh Sends a Strong $23 Million Message About Lamar Jackson's Future Ahead of the 2021 NFL Draft
Lamar Jackson has been a star on the Ravens, but is still on his rookie contract with the team. John Harbaugh, though, has a strong message. This is a look at Jackson's contract situation and what Harbaugh said about it. It also looks at how Jackson has become a star so far in his career.
There have been plenty of well-documented storylines surrounding quarterbacks throughout this NFL offseason. One, though, that maybe hasn't been reported on as much (except for maybe in Baltimore) has been whether the Baltimore Ravens are going to pick up quarterback Lamar Jackson's fifth-year contract option. There's really no reason for them not to, as Jackson just won the NFL MVP award in 2019. But there has been growing speculation, especially recently, as to whether the Ravens could make some moves in the 2021 NFL draft to potentially select Jackson's replacement.
However, Ravens coach John Harbaugh might have just put all those theories to bed.
The Ravens haven't picked up Lamar Jackson's fifth-year contract option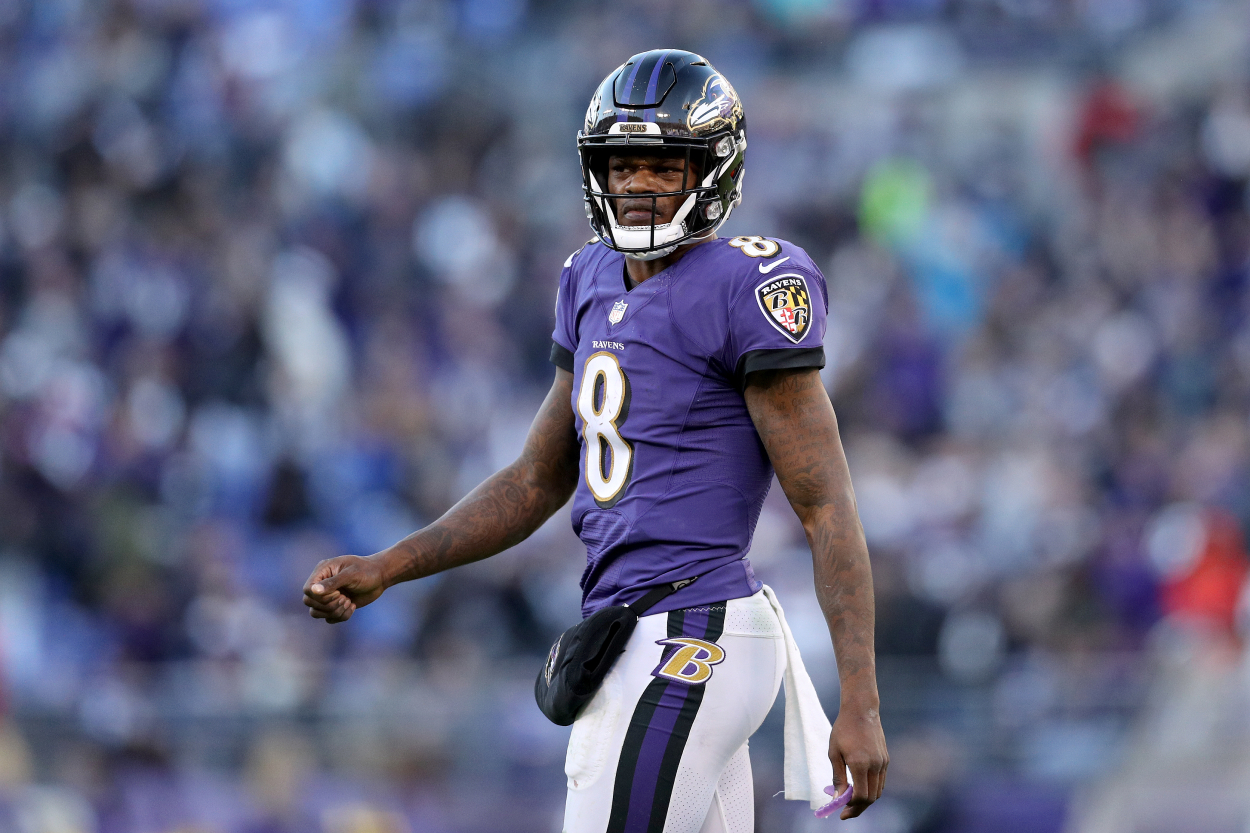 As the 2021 NFL draft nears, the Ravens have yet to pick up Jackson's fifth-year option on his contract. For money-saving purposes, it makes sense, as he would make $23 million in 2022, per Spotrac. Jackson, however, would most likely be turned off by the Ravens not investing in him, especially with all he's done in his first three seasons, and would then leave in free agency after 2021.
Why would Baltimore want a player like Jackson to go elsewhere?
Many have asked that question, but there have still been theories floating around that the Ravens could use the picks they received from their Orlando Brown trade with the Chiefs (which includes a 2021 first-round selection) to try and trade up for a guy like former Ohio State QB Justin Fields.
That doesn't seem all that likely now, though, as Harbaugh's recent message might have put an end to any of those thoughts.
John Harbaugh promised that the Ravens will pick up the QB's option
Harbaugh recently appeared on The Rich Eisen Show just days before he and the Ravens look to find new talent in the 2021 NFL draft. Eisen ultimately asked him about Jackson's fifth-year option, and Harbaugh had a strong message.
"Can I make that guarantee right now on your show?" Harbaugh said on the April 27 episode. "… His fifth-year option will be picked up. Guarantee it."
OK, so Jackson is a part of the Ravens' future plans?
Well, Eisen asked Harbaugh if the Ravens have thought about taking advantage of Jackson's cheap rookie contract and then moving on from him once the deal is over for another affordable rookie QB instead, but Harbaugh didn't necessarily answer the question.
"No, his fifth-year option's going to get picked up," Harbaugh said. "He's definitely going to be our quarterback. So, that's the plan, absolutely."
So, does this mean the Ravens could pick up the fifth-year option but still move on from Jackson after his rookie deal? That still doesn't seem likely, given all the success he has had. Harbaugh also had nothing but praise for his QB later in the interview; he probably just didn't want to talk about an extension to the media with the hopes of keeping those discussions between the team and Jackson.
Obviously, though, this is still a storyline that fans should keep an eye on, as Jackson is one of the most dynamic talents in the NFL.
Lamar Jackson has become a superstar for the Ravens
Not every quarterback deserves to get their fifth-year option picked up, but Jackson certainly does.
After just starting in seven games in his rookie season — and going 6-1 in those starts — Jackson had an incredible year in 2019. He threw for 3,127 yards, an NFL-leading 36 touchdowns, and only six interceptions in 15 games, while also running for 1,206 yards and seven touchdowns. Jackson even led the Ravens to a 14-2 record that season, and not only earned Pro Bowl and First-Team All-Pro honors, but he also won the league MVP award.
The former Louisville star was then not as successful in 2020, but still led the Ravens to the playoffs and even picked up his first playoff win. He ultimately threw for 2,757 yards, 26 touchdowns, and nine interceptions and ran for 1,005 yards and seven touchdowns.
Overall, in 46 games and 37 career starts, Jackson has a record of 30-7 as a starter. He has also thrown for 7,085 yards and 68 touchdowns while also running for 2,906 yards.
He is a type of quarterback the NFL has never really seen before, but Jackson has had a ton of success playing the way he does. This will probably lead to multiple NFL contracts for the young star and potentially a long future with the Ravens.
Stats courtesy of Pro Football Reference